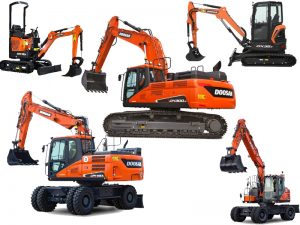 EMS are delighted to announce that they have been appointed as the dealer for Doosan Mini, Mobile and Crawler Excavators within the additional territories of Munster and Connaught, effective January 2 2020.
EMS will be providing service support to the existing Doosan customer base in Munster and Connaught with immediate effect and selling the full range of mini mobile and crawler excavator product throughout the territory from the beginning of 2020.
Of the appointment of EMS to the additional territory Anthony Pearce ,UK & Nordics Regional Sales Leader, said: "Since starting our relationship with EMS they have grown their business in a positive and sustainable manner whilst becoming a key player within the Doosan dealership network.
I see this latest move as a fantastic opportunity whilst continuing to provide the Irish market with an unrivalled level of service and customer support."
" We are delighted to be appointed for this additional territory and look forward to offering existing users and potential new customers the fantastic DX product ranges that Doosan currently have to offer and also the 0% finance solutions provided by Doosan Finance. Together with extended warranty options and service contract solutions EMS and Doosan have an excellent proposition that delivers value for all existing and potential new customers" Seamus Flynn, Sales Director at EMS.
For more information please contact us on 01-4511282