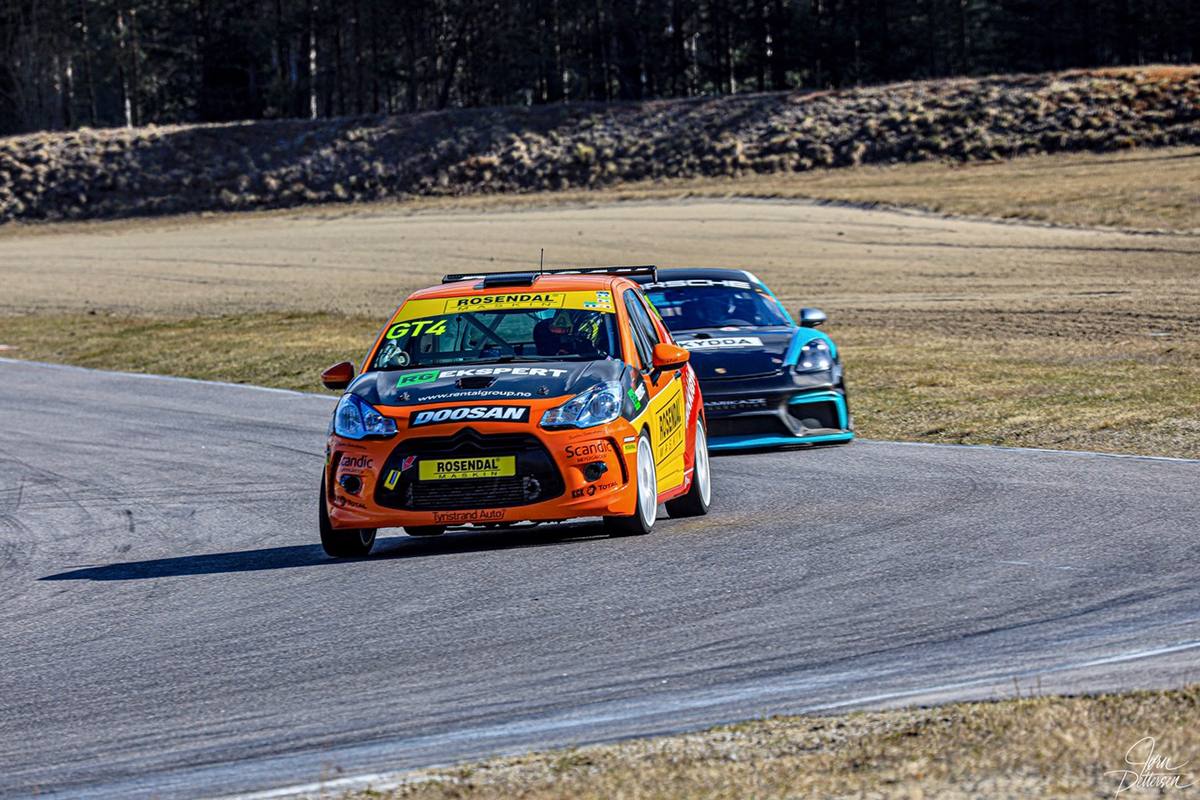 – Rosendal Maskin AS is the Authorised Doosan Dealer for Norway –    
Excitement is mounting in Norway as Niklas Eker Abrahamsen prepares to take part in the Arctic Circle Midnight Cup race late in the evening on Saturday, 24th July 2021. With sponsorship from Askim-based Rosendal Maskin AS, the Authorised Doosan Dealer for Norway, 16-year-old Niklas will be competing in his GT4 class Citroën DS3 R racing car, emblazoned in the Doosan orange colours and the logos of both Rosendal and Doosan.
After several years of absence, the Arctic Circle Midnight Cup is returning to the Arctic Circle Raceway (ACR), the largest race track in Norway and the northernmost race track in the world. The 3753 m ACR race track is located 30 km south of the Arctic Circle and 25 km north of the biggest town in the area, Mo I Rana. Opened in 1995, the ACR is custom built for road racing and, because of the midnight sun, it also offers the possibility of 24-hour racing in full daylight in the summer.
Rosendal Sponsorship Renewed for Next Two Years
Rosendal has been the main sponsor for Niklas since 2019 and recently renewed the contract for a further two years, with an increase in budget. The link between Rosendal and Niklas is down to his proud father, Frode Abrahamsen and Tor Anders Høgaas, the head of Rosendal. Frode is now Sales Manager Norway for Commercial Specialty Tires at Continental Dekk Norge AS and has worked with Tor in the past, including on recent new product development projects for Doosan articulated dump trucks (ADTs).
Niklas is a young sports car driver with very high potential, as demonstrated by the fact he is already part of the Norway National team. In addition to the Arctic Circle Midnight Cup, the busy schedule for Niklas includes six races in the Norwegian GT4 Championship and five events in the Citroën DS3 Nordic Championship, a total of 12 race weekends between May and October this year.
His racing career began with karting at the age of nine and he was 2017 Norwegian Champion in 60 ccm karting. He took second place in the 2019 Nordic 125 ccm SKCC Championship and then switched to circuit car racing in 2020, where in his first nine races, Niklas managed to win two, and had two third places and two fourth places. This resulted in him finishing in overall sixth place in the championship in the first season, despite driving in six fewer races than his competitors.
Since last year, Niklas has been part of Team Norway, the official National Team for motorsport, managed by the local FIA governing body. In Team Norway, Niklas is part of a detailed talent programme, designed to find new talents in motorsport and to provide continued support for young drivers like himself. Niklas is now in high school and with the support of the National Team, he was accepted at a school that offers sports as a study subject, so he gets much needed support to further build his talent.
As well as Rosendal, Niklas can also count on RG Rental Group and Dekklaven One as sponsors. RG Rental Group is Norway`s biggest construction equipment rental company, offering a wide range of products including a big fleet of Doosan DA30, DA40 and DA45-7 ADTs. Dekklaven One is the largest tyre retailer in southern Norway.
Rosendal Maskin AS
Rosendal is the long-standing Authorised Dealer for Doosan in Norway, responsible for sales and service of the entire Doosan range, both the compact and heavy lines, including wheel loaders, ADTs and mini, crawler and wheeled excavators, as well as all attachments, accessories and spare parts available from Doosan.
Customers benefit from the superb on-site service network offered by Rosendal, covering everything from emergency repairs to routine maintenance. The company's factory-trained engineers have many years of hands-on experience of repairs and servicing of all types of plant and machinery.
For more information on the Doosan range, visit the website: www.eu.doosanequipment.com