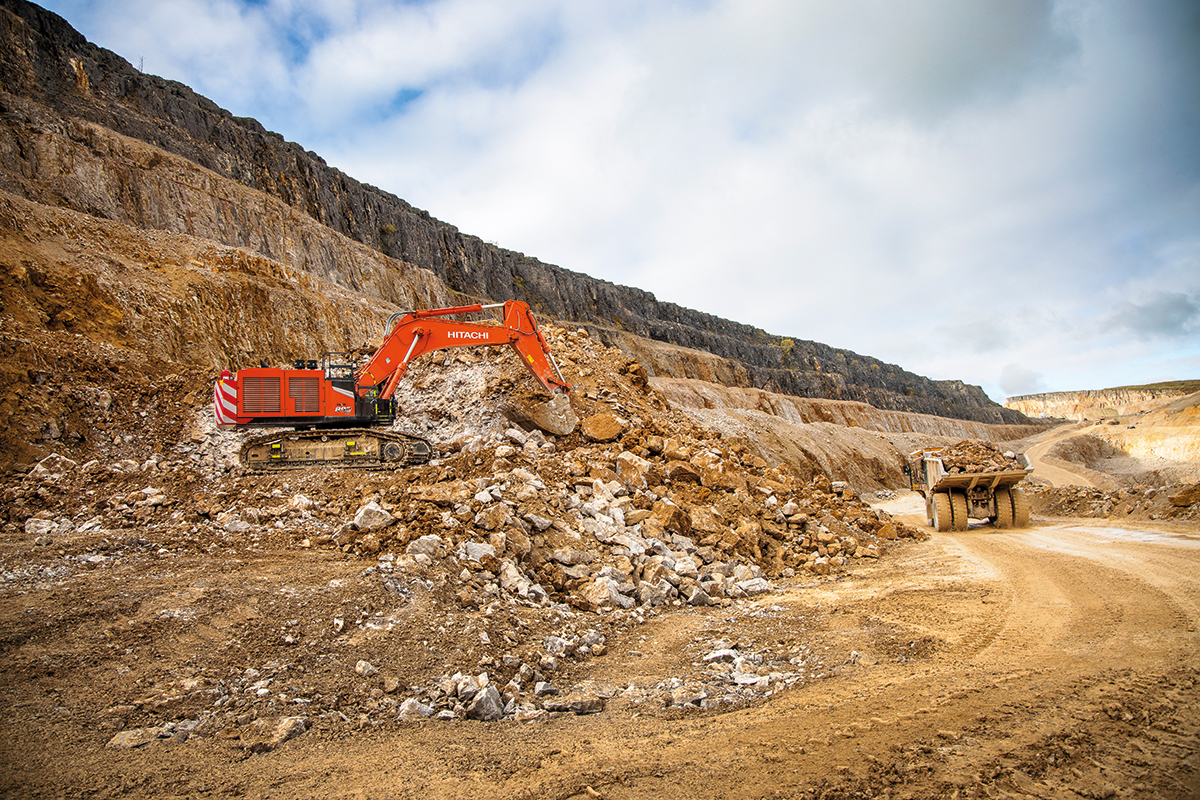 The leading construction materials group Breedon has invested in two new Hitachi large excavators for its Cloud Hill and Dowlow quarries in Derbyshire.
Delivered on site in October 2021, the two ZX890LCR-7s were selected due to the excellent cost of ownership of the company's first Hitachi machine (a ZX890LCR-6) purchased two years previously with a 19,000-hour, five-year service contract.
Supplied by Hitachi Construction Machinery (UK) Limited (HCMUK), the three Hitachi Zaxis excavators are working at Breedon's three largest quarries, which are the only sites to utilise 90-tonne machines. The ZX890LCR-6 works 20 hours per day at the Holme Hall quarry and has accumulated 8,500 hours feeding two million tonnes of materials per annum into a mobile crusher on the South Yorkshire site.
The latest generation ZX890LCR-7s were chosen with 17,500-hour, seven-year contracts to account for the shorter shifts at Cloud Hill and Dowlow, where they are utilised to load rigid dump trucks. The responsibility of purchasing the large excavators is held by Carl Ashurst, the Area Operations Manager for Breedon's Central area in the UK.
Decision criteria
"Each Breedon area decides which machines it should buy and the five 90-tonne machines in the group all work within our region," he explains. "Three of these large excavators are now ZX890s and we've been impressed by the overall package offered by Hitachi since we took the decision to buy the first Zaxis-6 machine."
Breedon considers the availability and productivity, fuel economy, and repair and maintenance costs over the lifetime of its excavator fleet before making a purchase decision. "The ZX890LCR-6 has hit its production targets at Holme Hill and we have saved up to one third in fuel costs compared to the previous machine," highlights Carl. "The early signs are that the new models will deliver similar results in comparison to their predecessors.
Significant savings
"When combined with the reliability, the savings we've made with the Hitachi excavators are significant, especially when you consider that they are working on our three largest quarries. This is also important because the new ZX890LCR-7s have to keep running under tough working conditions for seven years and we need to have a degree of certainty for the cost of ownership. Hitachi has proved to be much better than the competition in this respect."
HCMUK has also excelled in terms of meeting Breedon's needs with two specific options according to Carl: "Rather than having the steps – that allow access to the cab and upper structure – at the rear of the machine, we're really pleased with how they've been positioned at the side. In addition, the buckets have been designed for each application – loading trucks and feeding crushers – which has resulted in an optimum level of penetration and efficient loading of the materials."
Watch YouTube Video by clicking here. https://youtu.be/K1gpH3pU12I