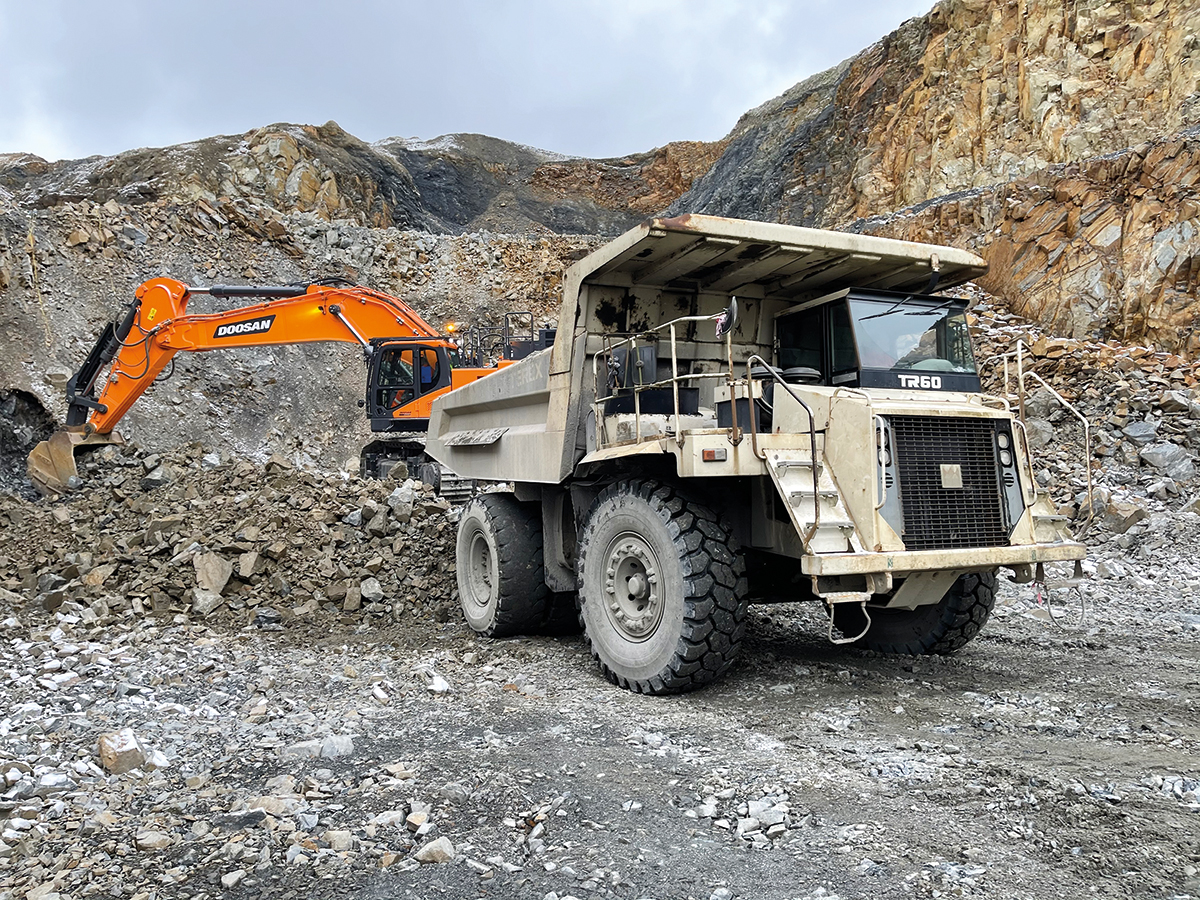 Northern Ireland's construction, quarrying and waste handling & recycling companies are having to make the switch from cheap 'red' diesel to full price'white' diesel from April this year. We assess the impact of this change in both Northern Ireland and the Republic. Matt Bailey reports.
From the start of April this year, construction, quarrying, mining and recycling & waste handling businesses across the UK and Northern Ireland will no longer be able to use discounted 'red' diesel in their machinery. Red diesel is significantly cheaper than standard 'white' diesel attracting a duty that is 46.81 pence per litre less than for white diesel as well as having a reduced 5% rate of VAT for supplies up to 2,300 litres.
Obviously this change will represent a significant increase in overheads for the industries affected that could see many already struggling companies having no option but to pass on the additional costs to their customers. As well as these obvious effects, there are also potentially implications both sides of the Irish border, especially when you take into account that diesel prices are already lower in the Republic.
Seeing red
Red diesel is diesel fuel that has been marked with a red dye and other chemical markers to indicate that it is rebated and has therefore been subject to less fuel duty than normal (white) road fuel diesel. The red marker allows Her Majesty's Revenue and Customs (HMRC) to check whether red diesel is being used illegally.The current law (until April 1st 2022) states that red diesel can be used in any machine which is not a road vehicle, this currently covers most construction equipment including generators.
After April 1, red diesel and rebated biofuels will be restricted further. UK Government guidance states: "This measure is expected to have a negligible administrative impact on those businesses and civil society organisations that will lose their entitlement to use red diesel and will need to switch to white diesel, although it will increase their fuel costs. This will include sectors, for example, such as construction, mining and quarrying, ports, manufacturing (eg. ceramics, steel, timber), haulage (for transport refrigeration units on lorries), road maintenance, airport operations, oil and gas extraction, plant hire, logistics and waste management. Whilst these businesses will need to pay the full duty rate for using white diesel, this measure is expected to incentivise these rebated fuel users to seek to use greener alternatives or use less fuel."
To date the availability of 'greener alternatives' in the construction industry has been limited with an ever increasing number of battery-powered, emissions-free machines available at the lighter end of the scale. There are solutions currently in the pipeline for heavier plant, and many of the major manufacturers are devoting time and resources to high profile battery or hydrogen-powered projects. Of course, much work has also been done by manufacturers to wring the maximum efficiency and fuel economy out of diesel engines while decreasing their emissions in line with global and regional targets.
The high cost of going green
This push for a greener construction sector however will come at a punitive cost. One building firm in Carmarthen, Wales told the BBC that the restriction of red diesel use will cost it £200,000 per year. Dafydd Jones, from the contractor TRJ told the broadcaster that he has called on the UK Treasury to delay the introduction of the new rules after two challenging years.
"It means an additional outgoing for us of £200,000 per annum on top of what we already spend on fuel," he said. "In the last 12 months we've spent in the region of £750,000 on both road going fuel and red diesel, when you add on the additional £200k, we're at nearly £1m. The Treasury is going to gain a hell of a lot of income from the industry, across the board." The Irish News reported that four leading industry bodies (Construction Employers Federation (CEF), Federation of Master Builders (FMB), Mineral Products Association NI (MPANI) and Manufacturing NI) have warned that the removal of the rebate will cost Ireland's construction, manufacturing and minerals sectors up to £25 million a year and will heap huge additional costs on businesses at time of severe cost inflation and material shortages.
Paul Brogan MD of Antrim-based quarrying business McQuillan Companies told UTV his business could lose £500,000, because of the restrictions. "We currently use about one million litres a year of fuel," Paul told UTV. "So in rough terms this will cost us £450,000 to £500,000 per annum, just as a result of the removal of that rebate."
Cliff edge
The DUP Member of the UK Parliament for Upper Bann, Carla Lockhart told UTV that the loss of the rebate would, "… have a disastrous impact on our economy. It will cost millions and it will see a reduction in services and drive up the price of houses for both public and private use." When Machinery Movers Magazine spoke to Carla she confirmed her opposition to the removal of the rebate. "Ultimately its biggest impact will be on costs," she told us. "As the industry well knows, alternatives are simply not available to power machines across construction, quarrying and waste recycling. Therefore the rule change will simply force companies to use white diesel, driving up cost with no environmental benefit derived whatsoever."
Carla and her colleagues are lobbying for help. "Working with the industry we are pressing Government to offer a transition period to allow for the development of alternative fuel sources. Currently the cliff edge of March 31 is unfair, and will cause an immediate hit on costs. It must also be said that thus far the Government has failed to show how this will actually improve the carbon emission impact. That shows how ill-considered this policy is.
"The Government is putting the cart before the horse here," Added Carla. "The alternatives must be there before you can use them. And in the context of an industry where a large amount of machinery is imported, it is unrealistic to expect companies based elsewhere to change their production to suit a UK policy that is not matched elsewhere in their marketplace. It is also worth noting the rebate rules are changing for some biofuels too, which flies in the face of the stated objective of the change."
The effects of the change will be felt way beyond the construction, quarrying and waste handling sectors though. "Ultimately it will drive prices up," Carla said. "The cost to Northern Ireland alone is likely to be £20-25m – that is the price of a new school or hospital. For first time buyers, it will be more difficult to get that first step on the property ladder because of inevitable house price rises.
"In addition it will make Northern Ireland based firms less competitive against ROI firms," she concluded. "It is also expected to see an increase in smuggling across the border. Neither of these help stimulate our economy and protect jobs." Heavy hit
Jonathan Campbell is managing director of Antrim-based plant dealership, Sleator Plant. He thinks the change will hit his customers in the wallet. "It will have a direct impact on our customers who will see their profit & loss suffer in the first instance and that will have a direct effect on their ability to trade in the short term," he says. "In terms of Sleator Plant, the effect will be felt through our customers' ability to buy capital goods when their P&L and cashflow is taking a heavy hit with the change."
Jonathan recognises the unfairness of the change too. "It's unfair on construction, quarrying and waste to have this foisted upon them so soon after the announcement with other sister industries such as agricultural having a bit more leeway."
Fishing, farming and horticulture are among the sectors that will still be able to use red diesel after the new rules come in. Like most people Jonathan sees the need to cut down on emissions but he thinks it is unfair to hit the industry with the full fuel costs before there is a full range of viable replacements available. "I fully agree and accept carbon emissions need greater control and would welcome tiered support to our industry as we get to grips with the change from red diesel to white. This support could be over a couple of years to help the industries directly affected.
"At present alternative energy-powered machines such as electric and hydrogen are in the embryonic stage of production," adds Jonathan. "Some have entered the market with fairly mixed results.
However most of these machines are of the smaller variety as manufacturers test the water with their technology. To me, it's clear the technology is not at the advanced stage to cover traditional powered machinery and it is incumbent upon the government to ensure that the move from red to white diesel aligns with machinery technology advancements. We're just not ready for the change yet."
Border quarry
Loughran Rock Industries is a family-owned aggregates business based at Cladybeg, County Armagh. The company is a leading provider of crushed stone, concrete blocks and ready-mix concrete in the County Armagh area. It supplies construction materials into both the local building and agricultural sectors. The quarry employs 30 full-time personnel and produces around 400,000 tonnes of rock per annum. Company director Colin Loughran is concerned about the effects the switch to white diesel will have on the company's business. "We are going to have to put our prices up to match the increase in fuel costs," he told us.
The Loughran Rock Industries quarry site, up in the hills in Armagh does not currently have access to the three-phase electrical power necessary to run large scale crushing and screening plant without using diesel. "We are quite isolated," said Colin, "so we don't have access to a three-phase supply and it would take a huge investment in infrastructure to get three-phase to the quarry – the nearest source is around 10 miles away. We will be completely reliant on white diesel power in the absence of any viable alternative."
The Loughran quarry is very close to the border. "We are very near the border," confirmed Colin. "We will find it very hard to compete with companies from the Republic who are able to use green diesel – the green-dyed cheaper form of diesel in the South. I think companies based near the border are going to find it more challenging because they face more competition from companies in the ROI who won't have the same high fuel costs."
For isolated sites there is also a security issue when storing volumes of high value white diesel fuel. "We will certainly have to look carefully at our security measures," said Colin. "It will probably be necessary to increase security measures on site which will be another significant cost."
With a range of challenges and no real upside in terms of the environment Colin is not optimistic. "This may prove to be the last straw for many older guys in the industry who are coming up to retirement age."
Knock-on effects
It seems inevitable that the increasing fuel costs for contractors and suppliers will have to be passed on to their customers, pushing up the cost of things like infrastructure and amenities projects as well as house building. "It's inevitable that consumers will have to pay for the change and this will come in the form of increasing house prices which will add to inflationary pressures on the economy," says Jonathan Campbell.
Many others in the industries in both the North and South see further problems resulting from the change, especially in the border region. With a big fuel price differential, Northern Ireland-based operators could head to the republic to fuel up – or set up companies in the South to exploit the difference while large scale smuggling may once again become a serious problem.
"This will be quite interesting to see developing as I believe Northern Irish contractors will be attracted to the more relaxed law in the Republic," said Jonathan Campbell. "How else can they get value from their machines? This will have a big impact on the Northern Ireland economy and I fear that we are sleep walking into accepting something that could be devastating for our industry."
[box type="shadow" align="aligncenter" class="" width=""]Alternative solutions
UK-based international engineering and construction company Laing O'Rourke recently announced that it is going to replace all red diesel in its UK plant with hydrotreated vegetable oil (HVO) before the end of March this year. The company says the switch will reduce emissions from plant equipment by up to 90 per cent as it works to achieve operational net zero by 2030.
While the timing of this move is interesting, HVO is also set to lose its rebate in April. Laing O'Rourke says it regards HVO as a 'transition fuel' as it works towards a plant fleet that is entirely made up of electric and hydrogen powered equipment. "Our vision is to have all our plant powered by electricity or hydrogen by 2030.
This is not possible right now, but from 2025 we expect to see a marked increase in the availability of electric and hydrogen plant equipment from manufacturers, and from then we will start to replace the HVO powered plant in our fleet," said Alex Warrington, managing director of Select Plant Hire UK, one of Laing O'Rourke's specialist plant businesses.[/box]