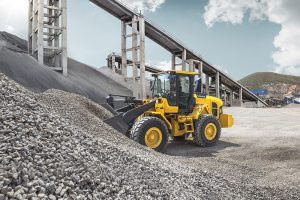 EcoOperator training is slashing fuel consumption, machine wear and environmental impact among Volvo customers all over the world. One such company to embrace the training is Algerian limestone quarrying company SAPAM.
 In the Northern Algerian quarrying industry, competition is tough.  Companies are seeking new ways to generate profits by the most efficient means. With this in mind, limestone quarry business SAPAM has applied Volvo CE's EcoOperator training to develop its employees. The programme focuses on improving operator behaviour to benefit fuel consumption, machine wear and uptime – ultimately boosting profitability.
Investment in operators
 While machines are the enabler, it is ultimately up to the operator to execute a job safely and cost efficiently.
"SAPAM always invests in its personnel," explains Salhi Kader, production manager at SAPAM. "Investment in personnel is the future of society. If we don't invest in our personnel, we have no future."
SAPAM recognises that an operator's knowledge is not limited by his or her years in the field. By employees undertaking EcoOperator training, they are unlocking new skillsets to help them get the most out of their machines.
The one-day course teaches operators to drive sparingly on site without affecting productivity. Although machines in drive mode are restricted to using 'half gas', they are able to take on the same workload and complete it at the same rate. This means fuel costs can be cut by up to 25%, improving company profits and reducing environmental impact. On a global scale, EcoOperator training is reducing yearly fuel consumption by up to 35,000 litres.
"The EcoOperator training makes operating comfortable, cost beneficial and environmentally friendly for us and future generations," says Ben Hassan Abdulhamied, wheel loader operator at SAPAM.
Long lasting results
After operators were put through training, SAPAM management noticed a decrease in the cost of fuel, tyres and spare parts for its Volvo machines.
As EcoOperator training focuses on shifting operator behaviour, follow-up is imperative to maintain high levels of operational efficiency. A day's follow-up is undertaken by EcoOperator trainers once every six months where they review the machine, workplace, driving routes and tools and put operators to the test with economical driving exercises.
EcoOperator training hours, like those at SAPAM, are stacking up globally, providing insight and statistics to application engineers to determine what needs to be improved in the programme. Ultimately, however, this data is proving that companies are gaining knowledgable and skilled operators who are able to produce at the highest level with the lowest fuel consumption.
"For these operators, it will become a love story for the operator and his machine," Salhi concludes.