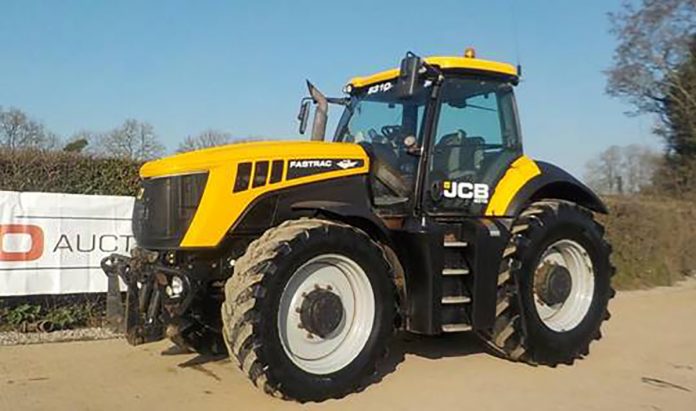 Euro Auctions host another successful specialist one-day 'off site' sale for RJ Barnett Agri Contractors in County Armagh, NI 
The eagerly anticipated RJ Barnett Agri Contractors auction took place on 7th April at 95 Mullanasilla Rd, Richhill, Armagh, BT61 9LL, Northern Ireland drawing a keen audience of bidders on the day, resulting in strong prices and a highly successful sale.
Euro Auctions showcased their exceptional ability to host 'off site' sales with the recent auction conducted for RJ Barnet which was held at the clients yard at Richhill, Armagh, attracting an audience of over 500  registered bidders.
Over 200 lots of good quality and well maintained equipment went under the hammer, including: Tractors, 10t Excavators, Flat Beds, ATVs, Bowsers, Compressors, Trailers, and attachments. Approximately 50% of all lots were bid for and won by online buyers, with the rest coming from the floor on the day. This was very much a 'home sale' with 99% of all lots going to buyers in the UK and the Republic of Ireland. That said, buyers in Belgium, Finland, Poland, Iraq, Cyprus and Portugal were successful in buying lots.
Martin Peters of Euro Auctions comments on the sale: "This was a very solid sale, with all machinery and equipment being well maintained and in good order. The sale attracted an international audience, however, on the day, the home market from the UK and the Republic of Ireland we successful in bidding on and wining approximately 99% of the lots for sale. This pattern is becoming very common at all  Euro Auction sales, with the home audience bidding harder than international buyers, trying to keep the equipment and machinery in the country."
Notable lots, with specification and price, include:
Tractors
2011 Fendt 936 PROFI  4WD Tractor, 65k Vario Box, Front Suspension, Cab Suspension, Front Linkage, Front PTO (Engine Rebuilt 2 Years Ago) (Reg. Docs. Available) £44,000
2016 Fendt 936 PROFI PLUS 4WD Tractor, 65k Box, Front Linkage, Cab Suspension, Front Linkage & PTO, Auto Steer (Engine Rebuilt at 4900 Hour/2019) £83,000
2016 Fendt 724 PROFI PLUS 4WD Tractor, 55k Box, Front Linkage, Front Suspension, Cab Suspension, 7 Spool Valves, A/C, Front Linkage & PTO. (Reg. Docs. Available) £52,500
2013 Fendt 722 PROFI PLUS 4WD Tractor, 55k Box, Front Linkage, Front Suspension, Cab Suspension, Front Linkage & PTO, Auto Steer, New Vario Gear Box in 2020            £36,000
2014 Fendt 718 PROFI 4WD Tractor, Front Linkage, Front Suspension, Cab Suspension, 4 Spool Valves, A/C £40,500
2012 John Deere 6170R 4WD Tractor, 50k Auto Power, Air Brakes, Front Linkage, Front Weights, 4 Spool Valve (Reg. Docs. Available) £34,000
2013 John Deere 6150R 4WD Tractor, 50k Auto Quad, Front Linkage, Air Brakes, 3 Spool Valves, A/C (Reg. Docs. Available) £33,000
2011 JCB Fastrac 8310 70k Vario Box, 5 Spool, Front Linkage, Front & Cab Suspension, Air Brakes, A/C) (Engine Rebuilt in 2021, Receipt Avaiable) (Reg. Docs. Available) £32,500
2006 New Holland TM155 4WD Tractor, 40 k Range Comand, 4 Spool Valves, Cab Suspension (Reg. Docs. Available) £23,000
Trailers
2012 Kane 18 Ton Half Pipe Twin Axle Silage Trailer, Hydraulic Taildoor, £13,000
Kane 16 Ton Half Pipe Twin Axle Silage Trailer, Hydraulic Taildoor £11,500
Red Rock 13 Ton Twin Axle Silage Trailer, LGP Tyres £8,500
2018 Red Rock 5500 Gallons, Front & Rear Steer Tri Axle Slurry Tanker, Top Fill, Recessed Barrel, Sprung Draw Bar, Bauer SX1000 Pump, DCI Arm, Side Tube £39,000
2018 Red Rock 5500 Gallons, Rear Steer Tri Axle Slurry Tanker, Top Fill, Recessed Barrel, Sprung Draw Bar, Bauer SX1000 Pump, DCI Arm, Side Tube, Air & Hyd Brakes. £38,000
10t Excavators
2018 Hitachi ZX130LCN-6 600mm Pads, QH, Piped, Aux Piped, CV, Reverse Camera, Side Camera, Boxing Ring £48,000
2014 Hitachi ZX130LCN-5B 600mm Pads, CV, QH, Piped, Aux Piping, Boxing Ring Reverse Camera £33,500
2007 Komatsu PC138US-8 700mm Pads, QH, Piped, CV, Reverse Camera, Bucket £17,500
Self-Propelled Harvester
2014 Claas 970 Jaguar Self Propelled Harverster, 40k Box, 4X4,  Man V8 Engine, Class 300 Pickup Head, Pickup Hitch, Metal Detector & Stone Detector, Blower Adj, Auto Lube, Spout Extension. (Recent Full Service 2022) £85,000
For all upcoming sales visit the Euro Auctions website at www.euroauctions.co.uk