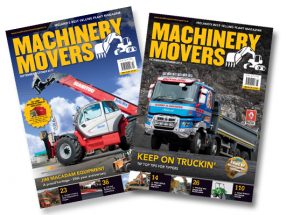 MACHINERY MOVERS MAGAZINE is Ireland's only paid for and best selling construction and quarry machinery title with a circulation of 9,250 printed copies every issue and readership of 20,000 industry professionals throughout Ireland.
Our online traffic is growing each year with over 40,000 unique visits & 223,181 page impressions to Machinerymovers.ie in 2017.
We are dedicated to working hard for those who work with us, offering outstanding value and influence for your advertising spend. As we are uniquely Irish, we are best placed to understand the needs and demands of the Irish industry. We also regularly exhibit at both domestic and international trade shows, you can trust Machinery Movers Magazine to get your message across to the very widest audience.
MACHINERY MOVERS MAGAZINE has a dedicated team of industry journalists, business insiders and technical experts covering the construction equipment and quarrying machinery sectors in depth in the North and South of Ireland as well as the UK, mainland Europe and the world beyond, with over 40 years combined experience working for and with the industry in Ireland. We attend major product launches at home and abroad, we visit sites and factories for in-depth, exclusive reports and we have extensive contacts throughout the industry.
MACHINERY MOVERS MAGAZINE is an essential read for construction and quarry industry professionals. With a lively mix of plant news, new products and services, rental and plant hire features, dealer news and plant machinery sales it is the trusted source of business intelligence for the industry across all of Ireland. With a major new machine highlighted ever issue in our New Equipment Focus and regular coverage of equipment auctions, product launches, trade shows and events, we have got it all covered, bringing the information direct to our readers in print and online.
For rates and technical information, please contact us below…