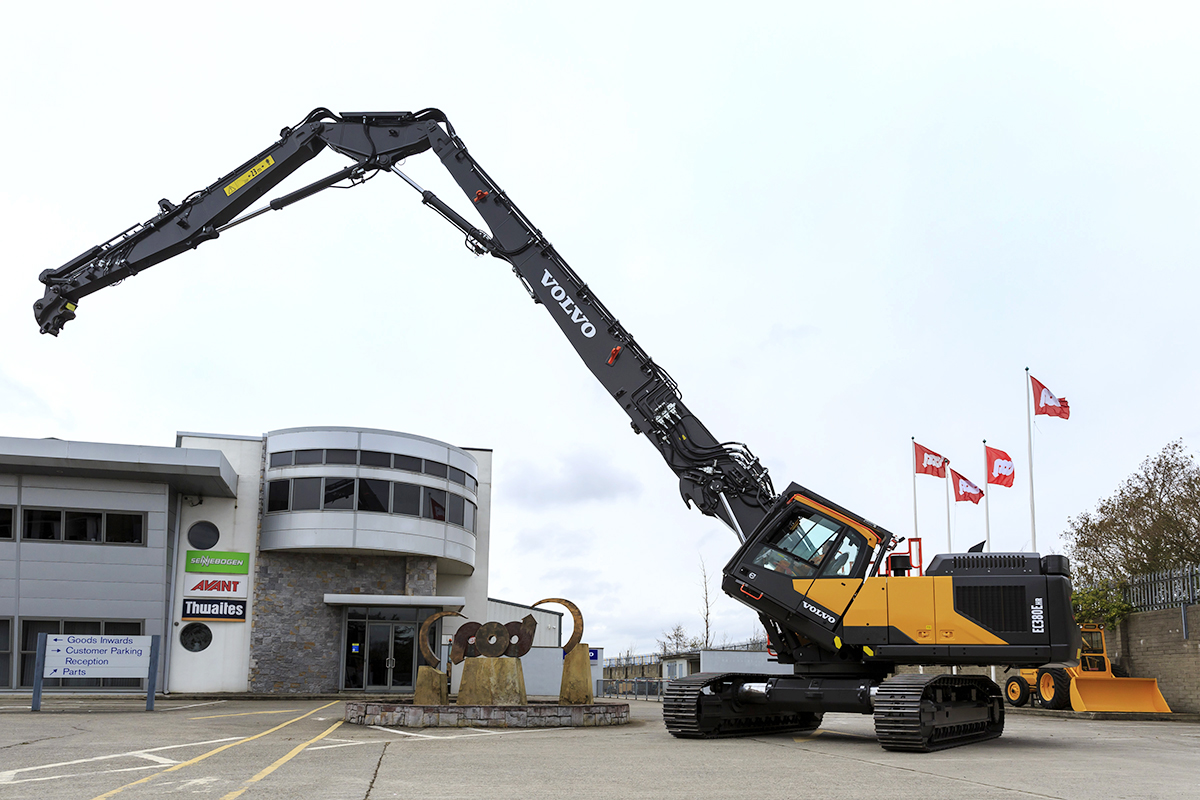 Pat O'Donnell & Co., sole dealers for Volvo Construction Equipment in Ireland, took a special delivery of a customised EC380EHR fitted with multi-demolition boom.
The multi-demolition boom is designed and manufactured by Volvo Construction Equipment for ultimate versatility. The innovative hydraulic modular joint uses a hydraulic lock mechanism to release digging equipment and change from high reach demolition boom to a standard configuration. In addition to a 23-meter-high reach demolition boom and a 6.9 meter digging boom the machine was supplied 3-meter boom extension with the following advantages.
Adding another 3.0 metres to your pin height, the MD boom can carry an optimal tool weight of up to 4 tonnes.
It can be configured into 4 kinds of boom geometry due to double bending feature – Straight & straight, Straight & bent, Bent & straight and Bent & bent. This greater flexibility means that operators can used the extension boom to demolish 3-4 story buildings (15m height) using a larger tool as well as conducting underground demolition deeper and closer to the machine at -10m including tool.
This machine was also equipped with a fully extendable hydraulic undercarriage using Volvo's unique sliding tube design. This provides a wide stance for increased stability, safety and allows the use of a 3-ton tool weight at 23 meters.
The EC380EHR was a special order by a customer for a specific tendered demolition job and it started the job this month in the North.
The Volvo EC380EHR is equipped with the latest innovations to increase productivity. The machine is designed to make a working day worth more and a robust structure, heavy tool weight and outstanding hydraulics ensure a strong performance in even the toughest of demolition projects.
These high-reach excavators are equipped with a Volvo cab that has been designed to offer industry-leading levels of comfort. A high visibility cab and carefully placed cameras ensure operators have a clear view of the jobsite at all ties, for the ultimate safe, productive working environment.
For more information on the Volvo EC380EHR and the multi-demolition boom contact sales@patodonnell.com, tel: 01-6161000.