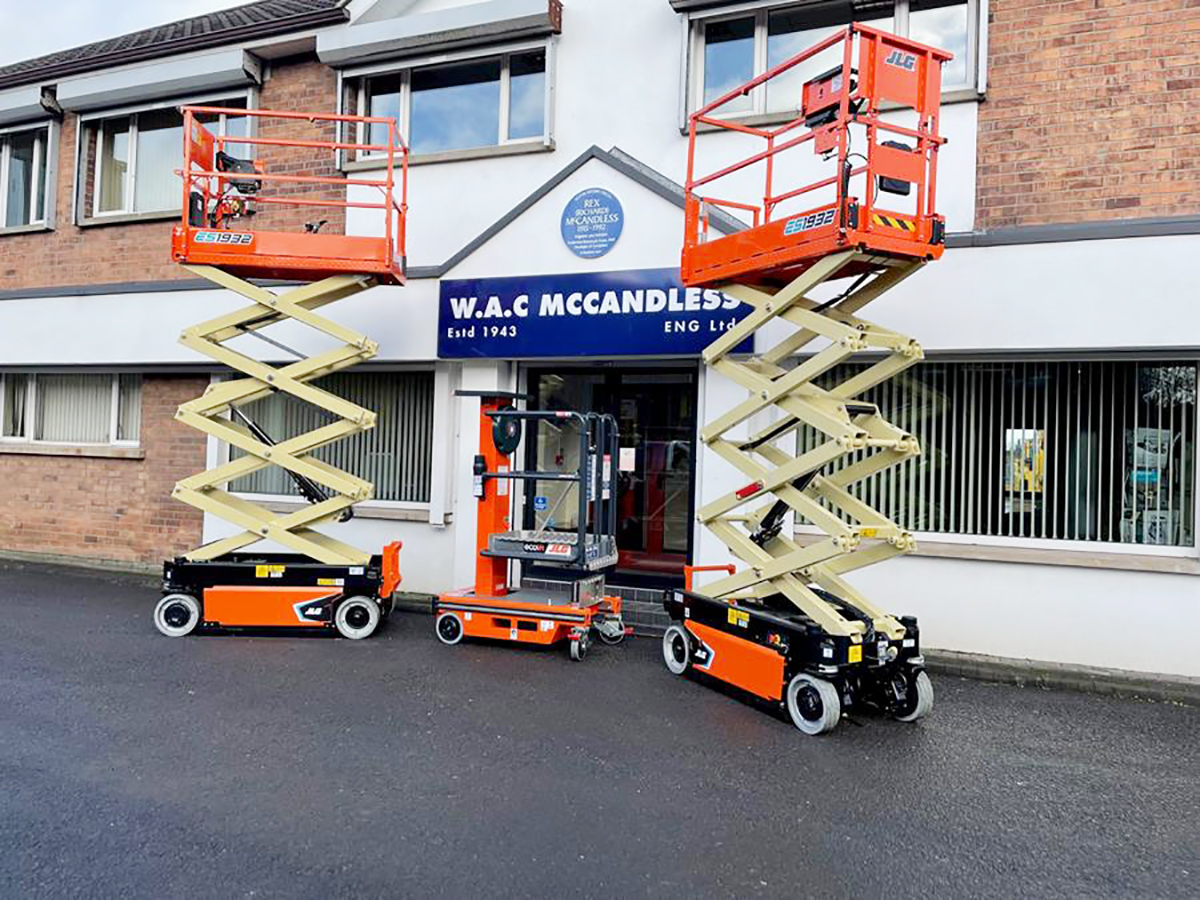 JLG, the leading global manufacturer of mobile elevating work platforms and telescopic material handlers, has appointed a new distributor for Northern Ireland. As of 1 January 2022, WAC McCandless (Engineers) Ltd, based in Belfast, will be responsible for sales and service for the complete range of JLG powered access equipment, in addition to low level access Power Towers products.
With more than 60 years' experience in sales, service and parts supply for quarrying and construction equipment, the Northern Irish company has a proven track record as a distributor. Excellent customer service is its main priority and it takes pride in supporting customers with a dedicated team of factory-trained workshop-based and mobile service engineers. JLG UK will support its new distributor with product training for service personnel, training on warranty and parts for support staff, as well as ongoing sales and technical support, and have access to JLG's Financial Services team.
Fresh approach and new opportunities
The appointment of a new distributor marks a change in approach for JLG following Brexit and in response to the global pandemic. "We are handling Northern Ireland and the Republic of Ireland in different ways, post-Brexit," says Glyn Carlile-Stanton, JLG's Industrial Channel & Distribution Manager for the UK and Ireland. "We believe a distributor is the right way to go in the North. To deliver machinery there from our European production facilities, it no longer makes sense to come through the UK – particularly for reactive orders, such as Friday night calls for equipment required on the following Monday morning.
"Demand for equipment is high, but the expectations from manufacturers during the early part of the pandemic was that it would be lower. So now everyone is chasing product, and we are learning lessons from the pandemic about how best to support our customers."
In the Republic of Ireland, the company will continue to sell its products direct, with a team led by UK-based Brad Abrahams, with Simon Harper in support. "This new approach offers a chance for us to regenerate the market," adds Glyn. "McCandless have a strong service-led ethos, providing total care for their customers, and offering a stable platform for JLG. We're looking forward to working with them."
Gerald Carvill, Sales Director of WAC McCandless, commented: "WAC McCandless are delighted to announce the addition of the JLG access equipment range to our product portfolio, which is well known and respected throughout Northern Ireland, having been in the market for many years. The premium range of product JLG supply fits well with the other premium brands we supply and we are looking forward to getting started with machine stock arriving over the new few weeks."
To contact WAC McCandless (Engineers) Ltd, please call 028 9035 1811 or visit www.wacmccandless.com.