New Takeuchu TB-216 raises £35,000 for Breast Cancer at Euro Auctions sale  
During the Euro Auctions sale in Leeds on 23rd August a new Takeuchi TB216 Fully Hydraulic Compact Excavatorwent under the hammer raising funds for Jock's PINK Tractor fundraising campaign for Breast Cancer Care, selling for £22,500 with the highest bidder being Ian Burton, of Taylor & Braithwaite.
Jock's PINK Tractor appeal is the brainchild of Jock Paterson and his wife Karen of Ayrshire based John M Paterson Plant and Machinery sales, who set up the campaign nearly 12 months ago, by purchasing their first Pink Tractor, however, due to the demand, they purchased a second later that year and have donated 20% of all hire revenues to the campaign.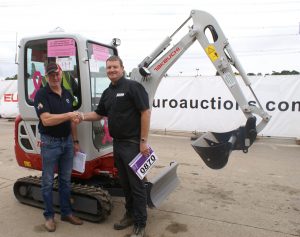 The final part of the fund raising was the auctioning of a brand new TB216 Takeuchi mini-excavator. With a 9-kW engine, 2,375mm dig depth, 2845mm dump height and 3695mm ground reach, this bit of kit is an ideal purchase for landscapers, contractors, utilities, tool and plant hire companies. Jock approached Euro Auctions, asking if the Takeuchi could go over the ramp during the August sale, knowing Euro Auctions has 'global reach' and would market the mini-digger to a wider audience.
"Jock is a good customer of Euro Auctions and when he asked for our help it was a resounding yes from the team. We hoped that this special lot (which had been branded in support for breast cancer care) would go for good money and considerably more than the 'typical' anticipated auction price, as all the money is going to an excellent cause," commented Jonny Keys, Operations Manager at Euro Auctions. "However, when the bidding started it was very brisk and we expected it to top out at about the £20,000 mark, however, we were all staggered when the price kept going up, with the hammer finally coming down at £22,500."
The successful buyer was Ian Burton, of plant specialist Taylor & Braithwaite, who last year embarked on a similar fundraising campaign supporting Cancer Research, raising £34,000 which Jock Paterson also supported.
"We all know someone with cancer and we are always looking over our shoulder" explains Ian Burton, "Which is why we launched our own campaign last year. We had no charitable endeavour for 2018 and when we heard about Jock's PINK Tractor it was the perfect opportunity to make a difference, so we attended the sale to see what was going on. Jock was a loyal supporter of our campaign last year, so on this occasion, it was our turn to support."
But the fun of the auction did not stop there! Once the bidding was over, the hammer was down, and the successful bidder was announced, the Euro Auction auctioneers and 'bid catchers' asked the crowd to raise their bidding numbers if they were interested in donating £250 to the campaign. In a shot, there was a sea of bidding numbers in the air and nearly 50 pledges were recorded, adding an extra £11,250 to the final total of the sale.
Jocks  Paterson should have the last word, "The initial aim for Jock's PINK Tractor was to raise £10,000 in a year which has been totally smashed. The total currently stands at a little over £70,000, which has left me speechless. I cannot believe the generosity of the Euro Auctions crowd, it was a humbling experience and I am still in a state of disbelief. We all probably know someone who have been affected in some way, either directly or indirectly by breast cancer. Some family members and friends have lost loved ones to this cancer and it is now the most common cancer affecting one in eight women in the UK plus it also affects men too. We just felt cancer cases are occurring more often and thought we could do something to try and help, so decided to set up the campaign and have been overwhelmed by the generosity of everyone."
John M Paterson Ltd has a reputation for courteous, professional service from its Ayrshire base and has rapidly expanded over recent years diversifying into Plant and Machinery sales, long and short-term hire and haulage. It also specialises in Tractor Hiab's, Tractor MEWP'S and Tracked MEWP's.  Their machinery is on hire all over the UK with special rates available for long term hires all organised under the Scottish Plant Owners Association conditions.
In order to donate to the cause, or for more information, visit www.justgiving.com/fundraising/john-paterson9 orwww.jmpaterson.co.uk/pinktractor, alternatively call 01655 760666.
Jock's PINK Tractor is a registered charity in England & Wales (1017658) and Scotland (SC038104)