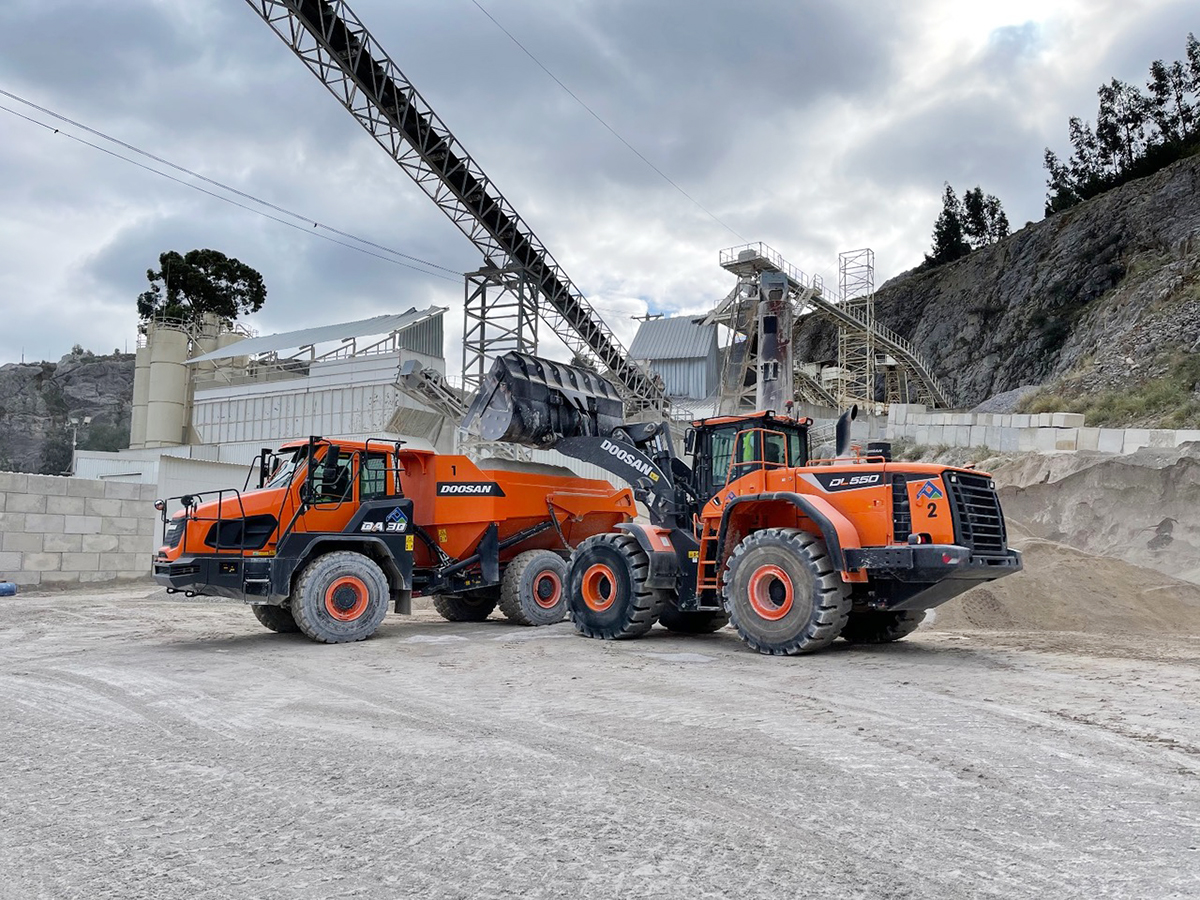 Canteras de Santullán, a family-owned, independent quarrying company, has purchased new Doosan equipment for the company's operations based in Bilbo (Bizkaia) in Spain. The new Doosan machines include two DL550-5 wheel loaders, two Doosan DA30-7 articulated dump trucks (ADTs) and a DX420LC-5 crawler excavator.
Since the business was founded in 1965, Canteras de Santullán has been dedicated to the production of limestone products for use in the construction and industrial sectors, with an annual production of more than two million tonne of crushed ore.
Competitive Bid Process
The Doosan equipment was chosen after a competitive bid process involving equipment from five different manufacturers. All the new Doosan machines are used in the production of the limestone products and work 24 hours a day to meet demand.
Pedro de Andrés Sáez, General Manager of Canteras de Santullán, commented on the main reasons for choosing Doosan machinery: "In the first instance, we wanted machinery with the design and features we need for the specific requirements of our production process. From the beginning, Doosan was able to offer machines adapted and configured to meet these needs.
"And second, but not least, was the operational control provided by the DoosanCONNECT telematics system, available as standard on the Doosan machines. We think it is very important to be able to monitor and control from the office the location of the machines, as well as their status, hours, fuel consumption and maintenance schedules. The DoosanCONNECT system collects all this information perfectly, offering us a complete fleet control solution."
The Doosan DL550-5 wheel loaders load aggregates, sand and other products into dump trucks and external trucks taking materials direct to customers. The Doosan DX420LC-5 excavator is used to reduce blocks of limestone produced by blasting at the quarry face with a hydraulic breaker, and to load rock into trucks taking it to the primary plant. The DA30-7 ADTs are used for general material handling applications to supply the stockpiling operations.
Pedro de Andrés Sáez continued: "The fact that all the machines use engines from the same manufacturer will also be a great advantage in the future when it comes to unifying spare parts and servicing procedures. But the most important factor of all is the aftersales technical service provided by Adal Exclusivas Generales, the official Doosan distributor in the area, with the support of Centrocar, the exclusive Doosan importer for Spain, Portugal, Angola and Mozambique. The fleet of new Doosan equipment machinery is already providing significantly better productivity than the machines they have replaced."
For more on Doosan construction equipment, please visit the website: www.eu.doosanequipment.com