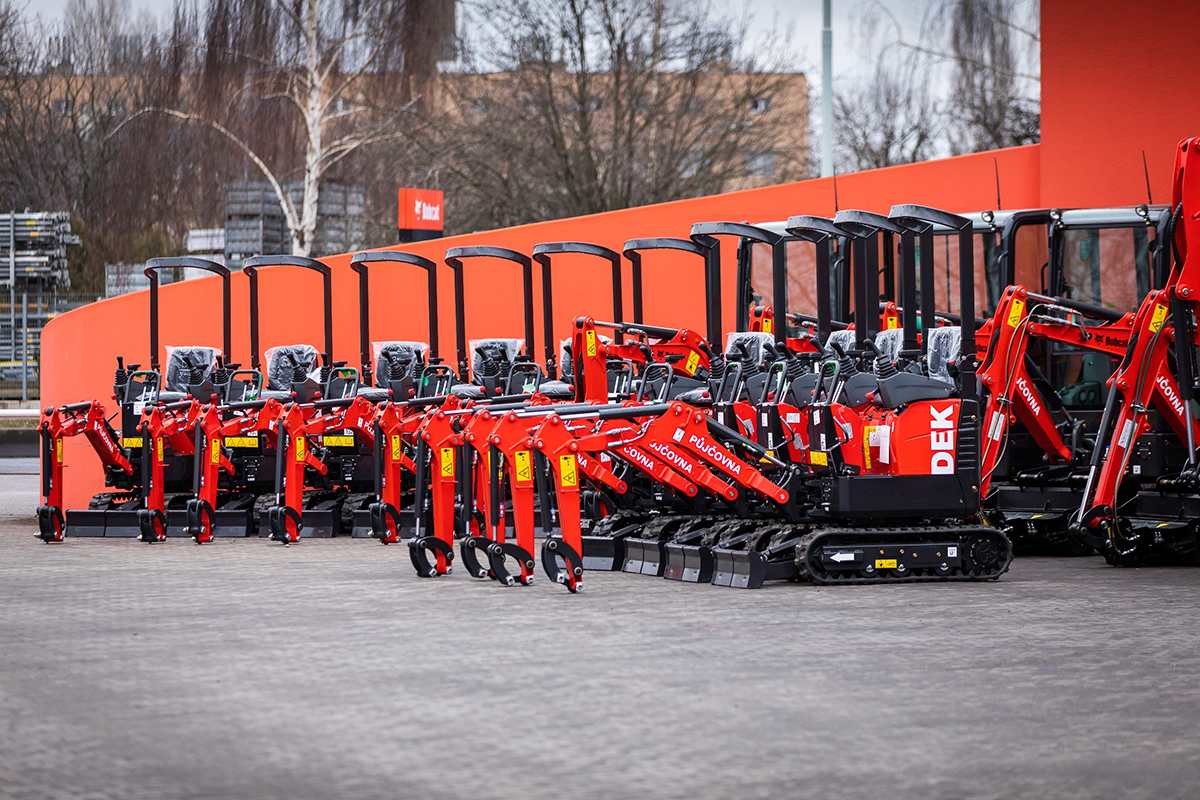 Doosan Bobcat EMEA and the company's exclusive dealer for the Czech Republic, Bobcat CZ Plc, have announced another record order from the same customer – DEK Rental – with a new batch of 76 Bobcat machines.
DEK Rental has taken delivery of 76 new Bobcat mini-excavators covering operating weights from 1.0 to 8.5 tonne (namely the E10z, E19, E35z, E50 and E85 models). "After last year's record order for 68 mini-excavators and loaders, this new delivery of another 76 machines becomes the largest one-off order that Bobcat has ever secured in the Czech Republic," says David Hubik, District Manager for the Czech Republic and CEE region at Doosan Bobcat EMEA.
DEK Rental has extensive experience with the Bobcat brand – first in 2017, the company purchased 10 Bobcat mini-excavators, following this two years later with another 51 Bobcat mini-excavators and thirty Bobcat skid-steer loaders. A fleet of 167 Bobcat machines is now available for hire in the colours of DEK Rental, serving customers from its 74 branches throughout the country.
DEK Rental Appreciates Bobcat's High Quality
"Bobcat machines have proved their quality, durability and reliability," says Michal Svejcar, Director of DEK Rental. "We have had several years of experience with well over one hundred Bobcat machines. Thanks to its network of 10 specialized branches, the dealer, Bobcat CZ, has the entire country very well covered. The service is therefore not only high quality, it is also quick, which is essential for both us and our end customers."
Doosan Bobcat manufactures a significant part of its product range at the company's plant in Dobříš in the Czech Republic, where the company's new headquarters for Europe, the Middle East and Africa are also located.
In addition to the new headquarters and the production plant, Doosan Bobcat has extensive training and innovation centres on the same site in Dobříš. "Everything from product development, production, quality control and testing to customer service and product training takes place at the same location. As a result, we can guarantee the high quality and reliability of Bobcat machines, as well as offer a first-class service," adds David Hubík.
A Successful Twenty-Year Span as a Bobcat Dealer
Bobcat CZ Plc has been the exclusive and Authorized Dealer for Bobcat compact loaders, mini-excavators, telehandlers, attachments and spare parts since 2000. The company has a comprehensive rental fleet of machines and attachments, with a network of 10 sales and service centres spread throughout the Czech Republic. Bobcat CZ provides sales, warranty and post-warranty service, rental, operator training and supply of spare parts for more than 3000 customers.
For more information about Bobcat and Bobcat products, visit the website www.bobcat.com