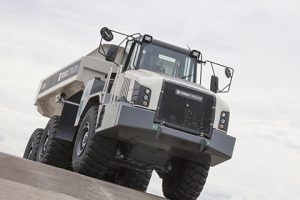 With the predicted growth in the US and Canadian construction industries, Terex Trucks is strengthening its presence and investing in these key markets.
The Gen 10 TA300 articulated hauler is a proven performer, even under harsh conditions.
This year, the US construction industry is expected to grow by 5%, owing to positive trends in housing and large-scale infrastructure projects. It is also predicted that Canadian construction will increase by 4% in 2018. With this kind of growth on the horizon, it's no surprise that Terex Trucks is expanding its operations and has hired a new regional sales manager to cover the north eastern territory of the US and Canada.
Kevin Clark joined Terex Trucks on April 2nd, bringing over 25 years' industry experience with him. He has previously worked at dealerships, contractors and original equipment manufacturers (OEMs).
"It's great to be working with Terex Trucks and I've been able to hit the ground running thanks to my previous experience with the machines, both in the field and in the retail business," says Kevin. "My first big sale in 1998 was a 3066 Terex Trucks hauler, which I sold to a contractor who was buying his first Terex Trucks machine. We are still in touch and he now operates a large fleet of TA300s."
Kevin Clark is Terex Trucks' new regional sales manager for north east America and Canada.
"I've always been passionate about the truck line and the people behind it," continues Kevin. "Over the years, I've seen the physical changes and technical improvements that have made the Terex Trucks machines the great products that they are today. I'm proud to finally be part of the Terex Trucks family."
"From the very first conversation we had with Kevin, it was clear that his knowledge of and passion for haulers will benefit our customers," says Robert Franklin, Sales and Marketing Director, Americas, at Terex Trucks. "Kevin has worked both at one of Terex Trucks' largest articulated hauler dealerships and at one of the largest users of our machines, so he is bringing fresh and relevant insights to the role. He has a passion for our products and is a great asset to our team."