Preparations are in full swing. As the technical and conceptual sponsor of the bauma trade fair and partner of Messe München, VDMA organizes events for the partner country of Canada and for future apprentices, supports the bauma Forum and will be a point of contact at the trade fair throughout the week.
Frankfurt am Main, March 18, 2019 – The bauma trade fair is the leading industry event for construction machinery, building material plants, mining equipment, construction vehicles and construction equipment. Covering a total exhibition area of 605,000 square meters, it is also the largest trade fair in the world. In 2016, bauma broke all previous records with a total of 3,425 exhibitors from 58 countries and 583,736 visitors from 219 countries. The trade fair is held every three years, with its next installment taking place from April 8 to 14, 2019 in Munich. VDMA's main point of contact is in the Press Center East EOO.200/P.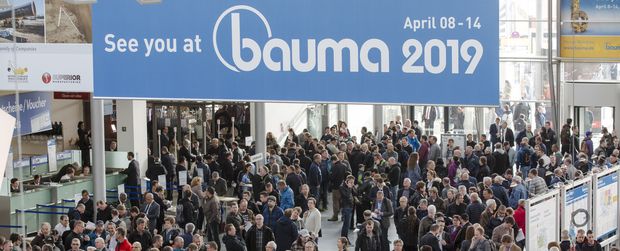 The activities begin on the evening before the trade fair starts, with the presentation of the Bauma Innovation Award 2019 at the Court Church of all Saints. A total of five winners across five categories will be awarded the prize, which is being held for the 12th time, with the invited guests including guest of honor Hubert Aiwanger, the Bavarian State Minister of Economic Affairs. The ceremony will take place in the Court Church of all Saints in the Munich Residence on Sunday, April 7, 2019 at 5:00 p.m.
THINK BIG! – The topic of youth and youth development is currently occupying the majority of capital goods manufacturers. The increasing level of digitalization requires apprenticeships to include new content, as well as the updating of many outdated job profiles. And who better to describe the business world to young people wondering what career path to follow than apprentices currently in the middle of their training?
At the "THINK BIG! – Live at bauma 2019" career event, participants can craft, construct and try things out at the stands of participating companies. Fun and action, as well as information on apprenticeships, internships and degree courses are all available here, with the aim of getting young people enthusiastic about technology. Apprentices assist in crafting and in many cases designed and created the participation opportunities themselves. As is the case for the other "THINK BIG!" elements, great emphasis is placed on addressing the young people on equal terms. After all, an enthusiastic apprentice is more convincing than 1,000 trainers.
At Werkstatt Live! – the show stage of THINK BIG! – apprentices conduct maintenance and repair work on excavators and other equipment while being questioned about their lives and work by the moderators. The whole show is displayed on large screens.
Degree courses also play a significant role. Students from the Baden-Württemberg Cooperative State Universities (DHBW) provide information on the cooperative study courses and showcase real objects or experiments. Students from TU Dresden and other technical universities are also on hand to answer questions on mechanical engineering degree courses and provide insights into ongoing research projects. The events will be held at the west entrance of the ICM throughout the entire week.
The bauma Forum with VDMA Mining in Hall C2.214 provides visitors with a range of international presentations and panel discussions. Highlights include the Innovation Day on Monday, April 8, from 10:00 a.m. to 11:30 a.m. The 15 nominees for the bauma Innovation Award will once again present their developments here. The highlights continue with the Network and Conference Event of the partner country with presentations from policymakers and business actors, Canada Day I – Construction and Infrastructure from 12:00 p.m. to 3:30 p.m. and Canada Day II – Mining on Tuesday, April 9, from 10:00 a.m. to 1:00 p.m. Aspecial focus on Latin America will take place on Wednesday, April 10 from 2:00 p.m. to 4:00 p.m. and on India from 4:00 p.m. to 5:30 p.m. on the same day. Many visitors will no doubt be intrigued by the In practice: digitization in construction talk at the bauma Forum on Friday, April 12 from 10:00 a.m. to 1:00 p.m. Research live will take place on Wednesday, April 10 from 10:00 a.m. to 12:30 p.m. and again on Saturday, April 13 from 11:00 a.m. to 4:00 p.m. and is specifically aimed at young engineers. The Real estate innovation network will examine all aspects of digitalization within the life cycle of a property focusing on radical change brought about by the digital transformation on Friday, April 12 from 4:00 p.m. to 6:00 p.m.
Partner country Canada is not only hugely appealing from an economic standpoint thanks to its position as the seventh-largest market for construction machinery or its abundance of raw materials, but also as an open and reliable business partner. CETA, the free trade agreement recently signed by the EU and Canada, will provide bilateral trade with new impetus. One of the major benefits is the almost complete elimination of tariffs on both sides. For Canadian companies, this means almost unrestricted access to European markets, and vice versa.
The joint Canadian stand C2.226 and the Canada Visitor Lounge at VDMA in the eastern entrance provide opportunities to network with international business partners in a targeted manner. In addition, the approximately 45 Canadian exhibitors will be accompanied by representatives from the world of politics. And there will also be an opportunity for relaxed networking: During the Canada Night in the Almhütte on the site grounds, guests are invited to round off the day in a Bavarian atmosphere along with Canadian exhibitors and visitors on Monday, April 8, from 6:30 p.m