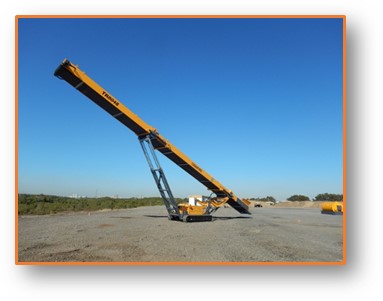 Barford Equipment

, the UK based manufacturer of world leading track, mobile and stationary screens, wheeled and tracked conveyors plus trailers, has just announced three new equipment models meeting demand from global customers for high specification and competitively prices solutions.

"The world's construction machinery, aggregate, quarrying and mining markets have long appreciated the equipment available under the Barford banner and over recent months we have significantly expanded both the range of machines on offer as well as the global distributor base from which they can be sourced," explained Stephen Murphy, Distribution Manager for the Barford product range. "Barford is a well-known brand in the UK and across Europe, having built an enviable reputation and possessing a long and illustrious history, but it was relatively unknown in the US market; but that's changing."

The new Barford models being

introduced this summer comprise the TR8048 Track Mounted Stockpile Conveyor; the BF7042 Tracked Mounted Bin Feeder; and the SM312, a Single Axle Mobile Double Deck Screen.

TR8048 Track Mounted Stockpile Conveyor

has an 80ft reach and a 48" wide belt. It also includes a twin-drive discharge belt complete with hydraulic slew hubs and a Cat 2.2 turbo engine with hydraulic oil cooler and a remote control movement.

The BF7042

Tracked Mounted Bin Feeder has a 42" wide belt and an extended reach of 70ft. Other features include a twin-drive discharge belt complete with hydraulic slew hubs and a Cat 4.4 elect automation control movement.  It also ships with a 'Mulch' option that has an agitator attachment to break up material before it goes onto the belt) and there is a larger BF7048 Mulch variant.

 

SM312 Mobile Double Deck

is a single-axle mobile

12X4 ft (3m x 1.29m) Double Deck Screen complete with double drive pump to suit auxiliary, extended folding fines conveyors and incorporates a CAT 2.2 37kw engine and removable towbar.

Earlier this year Barford successfully entered the US market, launching the SR-124 and the S-104, two new track mounted screener, to meet local demand. Both were previewed at the Spring Sale in Kissimmee, Florida in February coordinated by top auctioneers

Yoder & Frey

and proved to be the perfect event to develop brand awareness amongst prospective distributor representatives and buyers.  As a direct result it has signed up a number of Barford Equipment distributers and the objective is to have one in each US state.

Further afield several new distributors have also been signed up in in Australia to cover both Perth and Sydney. The European network is also undergoing expansion with new distributors being signed up in several of the key EU markets but others are still being actively sort particularly those with direct mining, aggregate, recycling and construction sector knowledge and experience.

Barford tracked SR-124 and S-104 three way split screeners

The two robust and refined Barford screeners launched earlier this year comprise: the SR-124 (pictured) a tracked three way split heavy duty screener, with a 12 x 4 screen box that fits into a 40ft HC container; and the S-104 a tracked three way split inclined screener with a 10 x 4 screen box that again fits into a 40ft HC container – Key features of the Barford range which have been incorporated through design to realisation.

The SR-124 is built around a Caterpillar power unit while the engine on the S-104 is produced by renowned British manufacturer JCB but is also available with a Deutz engine. 

Other Barford manufactured products

In addition to the two tracked screeners being launched, Barford Equipment also manufacturers a range of straight and radial tracked and wheeled stockpile conveyors.  Other products include: the D16, a 16 ton, twin axle dump trailer; The R15 / 15 ton twin axle rock trailer; And the L22, a 19 ton, 22ft long chassis twin axle low loader. There is also a range of screen boxes, the US40 with its 3.75m2 / 40ft2 total screening area being the most popular.  Other models provide 1.8M2 /20ft2 or a 6.5m2/70ft2screening areas.