1200 bidders vie to secure the pick of the 600+ quality lots on offer at Euro Auctions latest event. 
Euro Auctions, the leading international auctioneers of used industrial plant, construction machinery and agricultural equipment, has seen a more than threefold increase in bidder registrations over the past year for its growingly popular Brisbane sale. The recent one-day auction on 21st June pulled together consignments from across the region and attracted around 1200 bidders; one in ten of whom secured lots, and there were 40 first time buyers.
"Our Brisbane auction attracts bidders from right across the Asia-Pacific region and even further afield with over 1000 buyers now regularly registering interest and joining each of our sales via the internet," stated Paul Haynes, Euro Auctions' Territory Manager for NSW. "With over 600 quality used and 'as new' lots going under the hammer at this particular sale there was something for everyone. And with no reserves, some real bargains were on offer."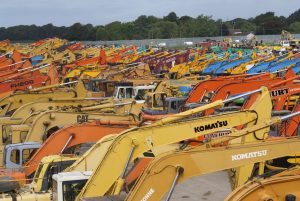 Some 50 vendors consigned lots to this sale which included an extensive range of heavy plant and agricultural machinery ranging from a new Terex Finlay 883+ to well used but still perfectly serviceable Volvo L250G.  The final hammer total for this sale was almost $7m and the sale of over half of all lots were completed online.
Paul Haynes continued: "Demand for quality used equipment is definitely on the up here in Australia and the yearly growth trend Euro Auctions has experienced at all its global sites, continues here. Global demand for new equipment is on the rise which is having a really positive knock-on impact on demand for quality used equipment.  Strong prices and the expanding number of vendors consigning equipment for inclusion in our upcoming auctions means bidders are ever keen to participate in our auctions."
Euro Auctions today
"We are delighted with how global sales are building and in this our 20th year of operation we are expecting to report some records," concluded Jonnie Keys, Operations Manager of Euro Auctions. "We deliver a first-rate service to consignors and our proactive marketing, reputation for offering excellent quality equipment and our unrivalled service offerings all make all result in us being the auctioneers of choice for discerning bidders."
In 2018 Euro Auctions will host around 60 key auctions, operating from 10-sales sites in seven countries on four continents around the globe.  Collectively over 75,000 lots are auctioned each year, consigned by more than 6000 regular vendors. Each auction also has massive appeal with sustained corporate marketing initiatives regularly reaching a global audience of over 150,000 potential buyers; one in five of whom actively register as bidders, with over 10,000 actually taking delivery of one or more consignments. This has resulted in a global annual turnover in excess of €400-million with market growth continuing to expand.
Upcoming Euro Auctions sales
The next Euro Auctions events planned for Brisbane, Australia is on 30th August followed by an online sale on 04th October.  Other auctions around the globe include: the ever-popular three-day sales in Leeds, UK, 22nd-24th August and then 17th-19thOctober. Elsewhere in September there is a one-day sale in Dubai on 17th ; Dormagen, Germany hosts a two-day sale on 05th-6th; there is a sale in Dromore, Ireland on 14th-15th; and a one-day sale in Zaragoza, Spain on 19th.  In the USA, under the YODER & FREY banner, there is a one-day sale in Ashland, Ohio on 20th September and then one in Kissimmee, Florida on 24th October.
All offer potential buyers a great opportunity to acquire some impressive lots with full details and bidder catalogues for all these events being available on the Euro Auctions website at www.euroauctions.com.  Potential consignors should also contactinfo@euroauctions.com or call +44 (0) 2882 898262