C & AJ Marshall Builders Ltd, based in Leeds in West Yorkshire in the UK, has purchased a new compact Bobcat telehandler TL30.60 for housebuilding projects, to carry out lifting and loading work and for handling recycled construction, demolition and excavation materials to be reused on site.  The new TL30.60 is backed by the three year/3000 hour warranty that is standard for all models in the Bobcat rigid frame telehandler range.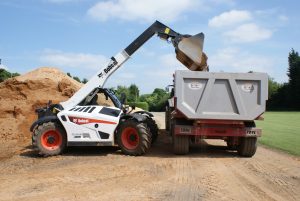 Ben Marshall, owner of C & AJ Marshall Builders, said: "We are very impressed with the new Bobcat telehandler.  It complements the larger telehandlers we also run on our sites which are designed more for lifting rather loading.  The new Bobcat TL30.60 is now a core component of the turnkey contracts we offer clients – covering everything from demolishing existing buildings, recycling as much as possible for use on site to building the new properties and handing them the keys at the end."
In the turnkey contracts available from C & AJ Marshall Builders, debris from demolished properties is sorted and with the sand, stone and aggregates dug from the site is fed by the TL30.60 into a compact crusher screen, from where it is stockpiled by the telehandler for reuse on the site.  The TL30.60 combines this with other work such as the unloading, moving and lifting of pallets of bricks and other building products from trucks visiting the sites.
Extra Power and Extra Speed
Powered by aBobcat D34 Stage IV enginewith an output of 74.5 kW (100 HP), the TL30.60 at C & AJ Marshall Builders offers more power and a higher maximum travel speed of 40 km/h.
Ben Marshall continued: "Wepurchased the AGRI version of the TL30.60 telehandler, with a number of additional features providing higher comfort and productivity.  The new Bobcat telehandler is fully road certified so that it can be driven quickly between sites to do different work.  The boom suspension system is a really useful feature for travelling on the roads, keeping the boom stable and preventing it from bouncing over bumps." 
The Bobcat D34 Stage IV engine offers electronic fuel injection; High Pressure Common Rail technology; turbo-charged air management and Cooled Exhaust Gas Recirculation for lower emissions and does not require the use of Diesel Particulate Filter (DPF) technology.
Described by Bobcat as a compact productivity model, the TL30.60 provides a maximum lifting capacity of 3 tonne, a maximum lift height on its 24 inch tyres of 5.9 m and a maximum horizontal reach of over 3 m.
Ben Marshall added: "The telehandler provides good lifting capacity and lifting heights. It also meets our requirement for having a relatively small footprint, being able to work and move within the confined spaces on our sites.  We get the most out of the Bobcat telehandler by using it with a number of attachments including opening/closing pallet forks, a 1.4 m3rehandling bucket and a 0.8 m34-in-1 combination bucket."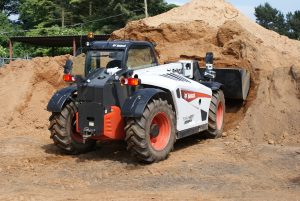 As an AGRI version, the new TL30.60 telehandler also includes air conditioning; an automatic fan inverter; a Sears high comfort air suspension seat and premium cab finish (deluxe steering wheel, armrest, aluminium panels); a trailer brake valve and a drawbar coupler tow hitch.
Like all new generation TL models from Bobcat, the TL30.60 offers several other higher comfort and productivity features, including Power Lift, an efficient lifting technology that optimises the use of hydraulic flows between telescopic boom cylinders to increase the lifting capacity; an automatic parking brake for enhanced safety and operator convenience and Boom Cushion Retract, that automatically slows down the boom speed when the boom is nearly fully retracted or at min/max angles, increasing safety and operator confidence. 
The TL30.60 also offers a number of tried and tested smart operating features as standard – the SMS (Speed Management System), which allows the travel speed to be adjusted independently of the engine speed; the SHS (Smart Handling System), which allows the speed of the boom movements (lifting, telescoping and tilting) to be adjusted, depending on the type of work being carried out; AFM (Auxiliary Flow Management), which allows the hydraulic output to be adjusted to match attachment requirements and to set a continuous flow and the FCS (Fast Connect System), which provides quick and easy interchange of hydraulic attachments via an integrated pressure-release system.
Another standard feature is the ECO mode, which maintains optimum hydraulic performance without using the engine's full power, adjusting the main machine features to produce a balance between top performance and providing the best performance/fuel consumption ratio.