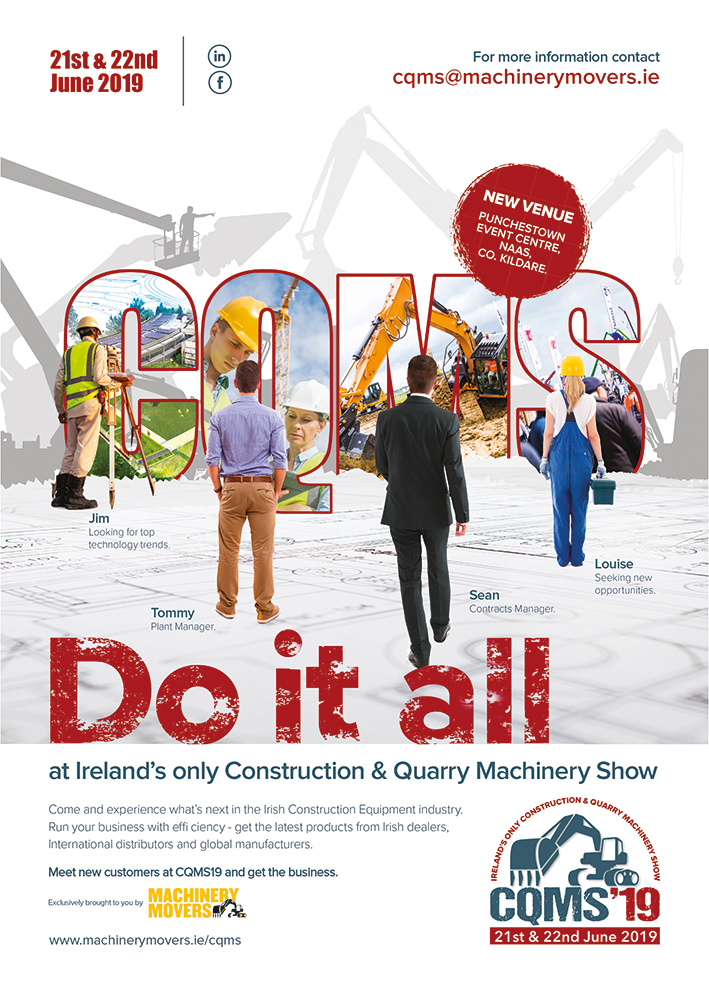 The Construction and Quarry Machinery Show (CQMS) is set to take place at Punchestown Racecourse from June 21st-22nd. CQMS is Ireland's biggest construction machinery sales event and the only one of its kind in Ireland. It is estimated that the value of finance deals at the 2019 show would be in the region of €5 to €6m. We will see lots of new exhibitors at CQMS '19, showcasing a wide variety of plant machinery, tools and services to the industry. CQMS is an ideal place for end users to look at the latest equipment available for the Irish market.
Sales of construction plant machinery are recovering strongly since the recession, growing back to 2,500 items of new 'yellow plant' machinery sold last year compared to just 300 units sold during 2010 when the construction crash was at its worst. This seems to be largely fuelled by contractors building houses. Whilst this is some way off the Celtic Tiger peak of around 5,000 sales per year, business is still expected to be very brisk at the Construction and Quarry Machinery Show (CQMS) – where over 10,000 visitors are expected to inspect €70m worth of construction and quarrying machines, taking in everything from the very latest in remote technology which includes machine control guidance systems which will massively increase productivity and cut down on waste.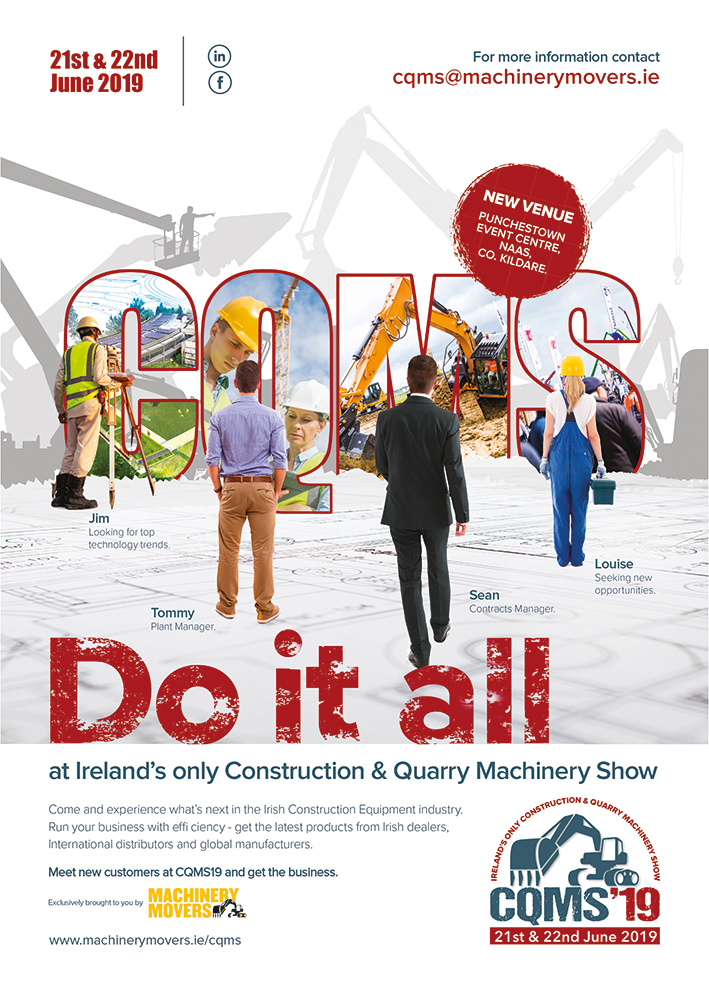 Visitors to the show, which is held every second year, will also be able to view and learn about the future of 'green machinery' such as the new wave of hybrid and electric dump trucks and excavators coming onto the market, which are just as powerful as their diesel equivalents. However, diesel is not yet dead as manufacturers are rising to the green challenge and are beginning to produce diesel powered machines that are exceptionally clean and quiet enough to rival their potential electric counterparts.
Big names
Show visitors will be impressed with the latest and best products from leading companies such as Komatsu, Kobelco, Takeuchi, Yanmar, Euro Auctions, Hitachi, AIB Finance, Bomag, Dynapac, Takeuchi, Dieci, Volvo, Sino, LiuGong, and RB Auctions. Earthmoving tyre providers such as Magna Tyres, BKT and Continental will showcase their toughest rubber, while attachment providers like Hill Engineering and Geith will be there to display the best tools to complement your machine. Tilt-rotators are becoming an essential piece of kit for excavator owners, and top tilty makers Engcon, Steelwrist, Rototilt and Kinshofer will be turning heads with their latest products in a dedicated demonstration area. Many Northern Irish dealers will be there, including Glendun Plant Sales, WAC McCandless, Epiroc and many more.
Komatsu will be showcasing their new pre-installed software which is the very latest in cutting edge machine guidance systems. There will be a host of other brand-new exhibitors such as welfare cabin providers Rego Hire and drilling and trenching experts Lucas Plant Hire. Ashbourne Truck Centre will also be showcasing their huge range of quarry-spec trailers. There is lot more for the visitor to view at the show such as new cabbed dumpers, new electric specialist equipment, quarry plant and demolition tools from Worsley Plant.
One highlight of the show will be the two-kilometre-long tipper truck route, where machines from the likes of DAF, Renault, Sino and MAN will be available for test drives.
An expert view
Visitors can also take in the conference section, where Minister Damien English will talk about Project Ireland 2040 and where the Government will be focusing the spend on capital projects. Tom Parlon will talk on areas where the CIF feel this finance will be needed most, while Brendan Crowley, Head of Asset Finance at AIB, will give a talk on financing construction equipment in the future. There will also be speakers from the worlds of civil engineering and recruitment, and construction equipment manufacturers will talk about products we can expect to see in the future.
Brian Coogan from CQMS, who also publishes Machinery Movers magazine said "CQMS '19 provides a really strong barometer as to how the economy is actually performing given that it is in constant touch with all the 2,200 machinery operators in the country involved in all civil, plant, civil engineering and infrastructural build projects. Construction equipment dealers can't get their hands on this type of machinery fast enough. Demand is growing and coming from the likes of small firms building houses to the very largest contractors working on the nation's biggest infrastructure projects. CQMS gives the industry an great opportunity to see the latest equipment and technology. It really is a one stop shop for all those involved with building Ireland "