New Takeuchu TB-216 to be auctioned at Leeds in August to  support Breast Cancer Care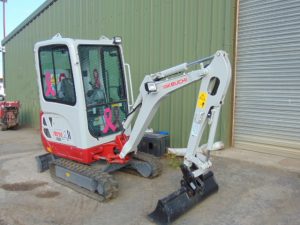 At its 22-24th August sale in Leeds, Euro Auctions will include a new Takeuchi TB216Fully Hydraulic Compact Excavator that will be sold in support of Jock's PINK Tractor fundraising campaign for Breast Cancer Care; the brainchild of Ayrshire based John M Paterson Plant and Machinery sales.
"We hope that this special lot (which has been branded in support for breast cancer care) will go for considerably more than the 'typical' anticipated auction price as all the money is going to an excellent cause," stated Jonny Keys, Operations Manager at Euro Auctions. "We should have around 4000 lots at this August sale at our Leeds site so general interest will again be really high and with this being such a fantastic cause we hope this will achieve an above average price considering the publicity the buyer will get."
The highly versatile, simple to operate (1.5 tonne weight class)  TB216 is one of Takeuchi's best‑selling mini-excavators. With a 9 kW engine, 2,375mm dig depth, 2845mm dump height and 3695mm ground reach it offers excellent reach and performance making it ideal for landscapers, contractors, utilities, tool and plant hire companies requiring trailer towing.
Jock Paterson and his wife Karen embarked on the campaign last summer, by  purchasing their first  Pink Tractor, however, due to the demand, purchased a second  later that year and have donated 20% of all hire revenues from them to the campaign.  Corporate sponsorship was also made available to local companies and clients with adverts being placed on one of the tractors and its loader at a cost of £200 per sticker. This tractor was then used for a number of promotional activities and events throughout Scotland where it has generated significant interest and encouraged people to donate via the Just Giving page. The other unit has been out on regular hire, generating revenue for the charity.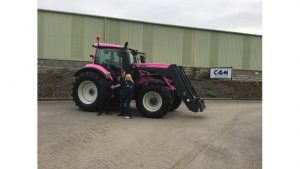 The initial aim for Jock's PINK Tractor was to raise £10,000 in a year which has been totally smashed. The total currently stands at over £35,000 plus gift aid and it is hoped that this will be doubled by the additional activities over the next few months, including the auctioning of the Takeuchi  TB216 Compact Excavator.
"We all probably know someone who have been affected in some way, either directly or indirectly by breast cancer. Some family members and friends have lost loved ones to this particular cancer and it is now the most common cancer affecting one in eight women in the UK plus it also affects men too," explained Karen. "We just felt cancer cases are occurring more often and thought we could do something to try and help, so decided to set up the campaign and have been overwhelmed by the generosity of everyone."
John M Paterson Ltd has a reputation for courteous, professional service from its Ayrshire base and has rapidly expanded over recent years diversifying into Plant and Machinery sales, long and short term hire and haulage. It also specialises in Tractor hiabs, Tractor MEWP'S and Tracked MEWP's.  Their machinery is on hire all over the UK with special rates available for long term hires all organised under the Scottish Plant Owners Association conditions.
The upcoming Leeds auction
As with most sales organised by Euro Auctions at its Leeds site, this three-day auction, on between 22-24 August, is expected to attract over 4000 lots and draw interest from several thousands of bidders, plus reach many more around the globe. A full schedule of upcoming Auctions can be obtained by visiting the Euro Auctions website atwww.euroauctions.com which includes full details for consignors along with bidder catalogues for all upcoming events. Alternatively email info@euroauctions.com or call +44 (0) 2882 898262.
In order to donate to the cause, or for more information, visit www.justgiving.com/fundraising/john-paterson9 orwww.jmpaterson.co.uk/pinktractor, alternatively call 01655 760666.  Jock's PINK Tractor is a registered charity in England & Wales (1017658) and Scotland (SC038104)