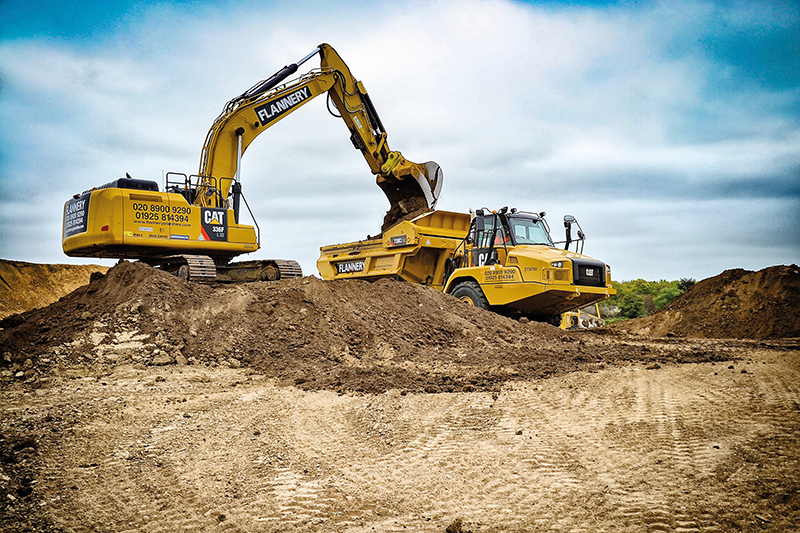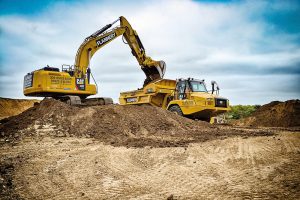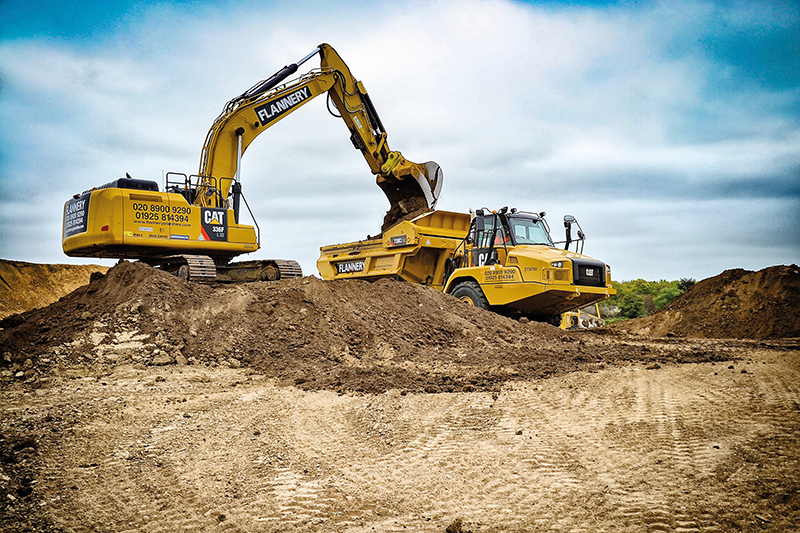 It all started with one machine and now there are thousands. Flannery is a well-known plant hire firm – Darren Scully meets the founder and his team and takes a look at at their latest excavator.
Many in the plant hire industry are self-starters. They know how to get up early in the morning and do a hard day's graft. It is not an easy life, there are plenty of unexpected challenges. Many have tried and failed to set up a successful plant hire firm, but some have achieved it. One individual who really has succeeded is Mr Patrick Flannery. He left his native Ireland with not much, except hope and determination.
After working on the sites in London as a labourer he believed he could make it work as a machine operator. So, he got some money together and bought a JCB 3CX backhoe loader. With hard work and blood, sweat and tears, he grew the business and now he has over 3,000 machines with the Flannery name on them.
Flannery Plant Hire Ltd, officially started trading in 1972. It was originally based beside the Oval cricket ground in London. The company started small but grew steadily over the decades and established a head office very close to Wembley stadium.
They currently have depots in Newport, Birmingham, Manchester, Northumberland and Aberdeen, allowing the business to deliver nationwide coverage. They operate a massive fleet of construction equipment and the company has become known as one of the leading plant hire specialists in the UK.
The fleet comprises Caterpillar, Hitachi, Komatsu, JCB and Hydrema to name a few. They are a family business and they pride themselves on the personal touch as well as keen attention to detail. Safety is paramount as well as operator welfare, they truly understand that their best asset is their staff.
They also have their own training department, this ensures operators are trained to the highest standards and they undergo health checks to make sure they are fit for the daily challenges and pressures that go with the job. They currently employ over 1,000 staff.
While out in the yard taking a close look at their new Caterpillar 320 excavator (more about that later) I was introduced to the owner of this massive business, Patrick Flannery. He is a native of Kilbride in the County of Mayo. For those of you not familiar with the geography of Ireland, Mayo is a county on the west coast. It is fair to say that thousands of her sons went on the become machine operators and worked all over the UK.
Patrick arrived in London in the autumn of 1969. His brother had arranged work for him as a labourer on a building site working a hand shovel for two years. He had a strong liking for machinery and reckoned he could do a good job as a machine operator. He saved up the money to buy a JCB 3CX Backhoe in 1972. He went for that brand of machine because it was very popular on house building sites at the time. He was also in the right place at the right time as building contractor, Wimpey, were looking for young lads with machines to put to work.
He had only had the machine a year when he bought his second one. Three JCBs later, Wimpey wanted a track machine, so Patrick bought a Hymac 580C. At that time, Hymac was really the only show in town for an excavator. Before he knew it, the fleet had grown to twenty plus machines.
In the 1980s things really took off and the fleet grew into the hundreds. He started to pick up more and more work and then eventually moved into a new state of the art depot beside Wembley in 2000. Since then they have kept on expanding, creating new depots and buying new machines. They reach all parts of the UK now and show no signs of slowing down. They have big plans for the future.
Obviously in the early days finance was not as easy to come by as it is today. I asked Patrick if it was a struggle to get the money together to buy his first machine. "JCB at the time did a good finance package," he explains. "I had to put down a £2,000 deposit and the machine cost £5,000 in total. Then you had to pay back the rest over three years. I was very happy with the service from JCB, they took care of the customer, I got to know Cyril Bamford and I did many deals with him over the years. They are very good people to deal with."
He has in the past also developed a very close relationship with Caterpillar. I asked him to explain this relationship and when it all happened. "In 2008 we really started to buy big off them," he says. "We developed a good relationship and they buy back the equipment from us when we need to trade up. We work well with them and they build a very good product. They have nationwide coverage so if there are any issues they can be dealt with quickly."
Not only do Flannery invest heavily in equipment they also invest a lot of time and money into their operators. They have their own training department which currently has five full time trainers. I spoke to Pat's son, Paul Flannery, about this and how it works. "Our trainers are CPCS qualified," says Paul. "What they do is go out on the job and see any new starter on their first day. They will induct them and ask theory-based questions and then do a practical test and observe them at work. So, if the operator is qualified on a 360 excavator the trainer will make sure that they are competent on that machine before they go to work. We cover the entire range of CPCS categories so if you drive a machine for us you will be tested and we make sure that you are fully up to date with the safety aspects of the job. We go above and beyond of what the industry expects because we are very proud of our safety record and the quality of our operators."
To make sure the plant is well maintained, and downtime is minimal they have invested heavily in their own plant service department. They currently have thirty service engineers on the road covering the entire country and they also use monitoring systems on all the machines that are linked back to the service office. If a machine breaks down the diagnostics can usually tell the engineer what the problem is before he leaves the depot. That way he can bring the correct spare parts and tools to get the machine up and running quickly.
As Patrick is a plant man who started life in the cab I ask him for his views on machines today compared to the past. "Today they are simple to drive," he says. "Back when I was driving a Hymac you would have to use every part of your body to operate it. You had to keep the cab door open for the lever to operate. When you first drove them, you could pick it up quickly but a good while back I had a go on a Hymac after many years off it and it took me nearly a week to get used to it again. None of the new breed of operator could drive that machine now! I was very handy on the Hymac and knew exactly how to get the most out of her."
I ask Patrick for his top tips to be a good machine operator. "The most important tip is to be very steady and careful," he says. "That is the most important aspect I think. We all go to work in the morning and we should all be going home in the evening. Especially working around London, you could do a lot of damage with cables and wires when digging so just take it easy. Everyone will know about it if you do damage so that is why it is important to take your time."
Before we finish our chat, I ask Patrick for his views on Brexit and how it could affect the industry. "Well I don't think it will for a while," he answers. "There is a huge amount of work coming up. I would reckon if they stick to their plans for all the work to be done there is a good ten years ahead."
He also has no intention of slowing down himself and he really looks forward to his working day. "I really enjoy it. I will be coming in here for many more years to come," he says with a smile. "I need to keep an eye on the young lads, they are mad for work and they can't wait to get in here early and stay all day. I have to come in late in the evening and send them home to get the dinner."
It was great to spend some time with a hard-working Mayo man who has created a massive operation from such humble beginnings and he is still very humble. He loves what he does, and he cares greatly for his team.