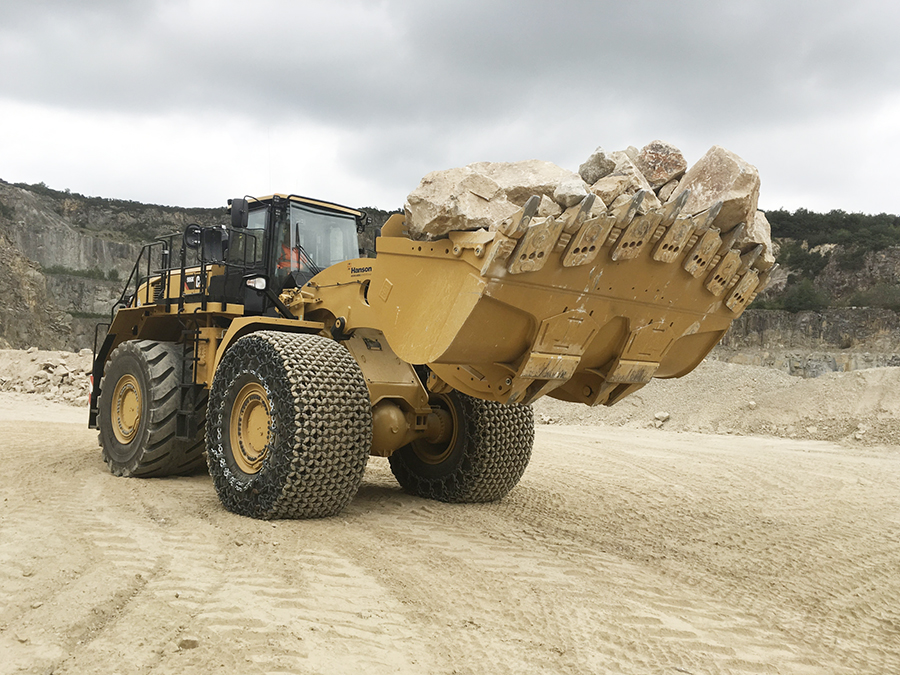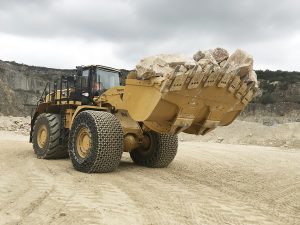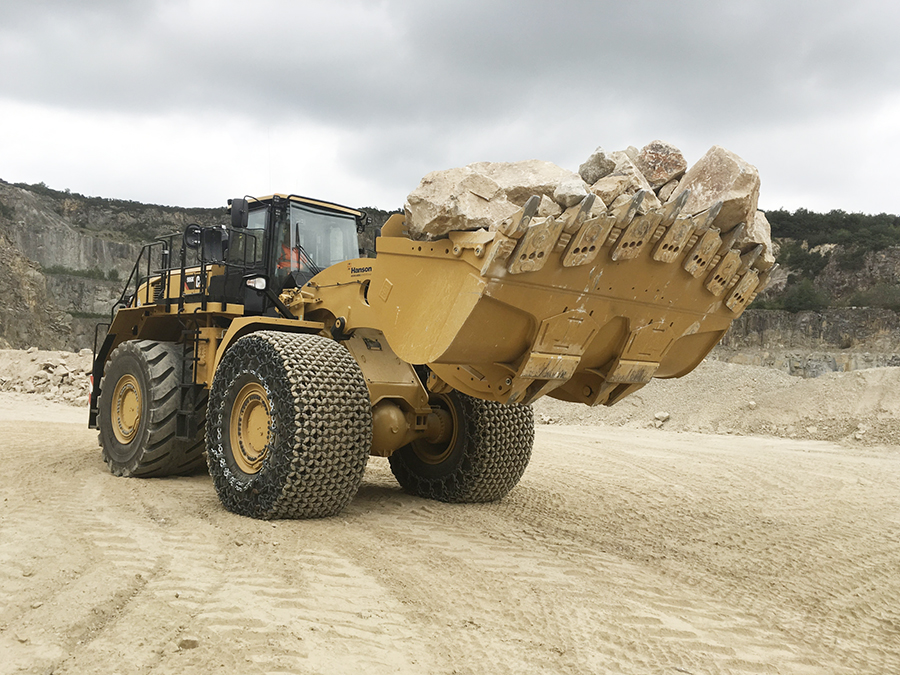 Hanson,one of the largest suppliers of bulk construction aggregates in the UK, has invested in the Cat 986K Wheel Loader – the first machine of this size and class in UK – in a deal with Finning UK & Ireland. The machine was chosen for its compact sizing and advanced technology features.
The wheel loader is the penultimate addition in a series of new Caterpillarassets added to Hanson's fleet as part of a 31-machine deal struck in 2018, and will be in operation at Hingston Down Quarry in Cornwall. Hanson has worked extensively with Finning over many years, building a strong relationship that has led to a number of ongoing projects with the business.
The Cat 986K combines reliable, efficient loading with machine longevity, providing lower cost of ownership. Performance is optimised thanks to the power shift transmission, torque converter with lock-up clutch and axle shaft disc brakes.
VisionLink® offers insight into the health, location and productivity of the machine, helping to increase productivity, control costs, improve operator performance and ensure safety on site. Cat Connect PAYLOAD technologies such as Cat Production Measurement provide on-the-go load weighing to assist operators with achieving precise targets every time, further optimising efficiency and increasing jobsite productivity.
The Cat 986K also boasts a redesigned state-of-the-art operator cab featuring STIC steering, touch screen display, enhanced safety with improved access/egress, and better cab visibility. Serviceability is improved with ground-level or platform access and grouped service points, and a suite of performance series buckets are available too.
Sizing was an important determining factor in Hanson's selection of the machine, and the Cat 986K proved to be the ideal size – larger than a Cat 982M but more compact than a new Cat 988K. The recent reintroduction of the Cat 988K range saw machines larger than their predecessors, and so the Cat 986K was launched as a size replacement for the original Cat 988G.
The machine will be maintained through a Customer Service Agreement (CSA Under the agreement, Finning will also provide technical support through the Finsight condition monitoring team, supplying Hanson with data on machine health that links to the CSA. This data will provide accurate information to organise preventative maintenance operations, as well as information on uptime and machine productivity.
Dave Jenkins, Unit Manager at Hanson UK, explained: "We were in the process of renewing aspects of our fleet at Hingston Down Quarry last year. We sought advice from Finning and Caterpillar on which machines to invest in for better site management and optimisation, and they recommended the new Cat 986K.
"The whole of the site team at the quarry are looking forward to the arrival of the first UK basedCat 986K, with the loader bringing all of Caterpillar's latest improvements with ongoing upgrades andadvanced technologies. This machine is matched perfectly with our face fleet, which includes a 772G and continues the long standing partnership that this quarry has had with Finning – a relationship forged over many years.
"We have been operating our current Cat 988G face loading shovel since its arrival in 2005, and this machine is performing really well after a long working life. It's still running on its original powertrain, which is proven testament to the Caterpillar standards of durability and reliability for the whole life of their machinery."
Phil Battle, Head of Quarrying & Aggregates – Finning UK & Ireland, added: "The Cat 986K Wheel Loader is the right size, perfectly matched with Cat off-highway trucks to maximise the volume of material moved and offer the lowest cost per tonne.
"The robust structures withstand tough loading conditions to achieve multiple lifecycles – for a lower total cost of ownership. Hanson will see improved mobility, versatility, and technology built into the 986K Wheel Loader to burn less fuel, operate more efficiently, and achieve a low total cost of ownership."
For more information on Cat products and services from Finning UK & Ireland, please visit www.finning.com, or for more information on Hanson UK, please visit www.hanson.co.uk.