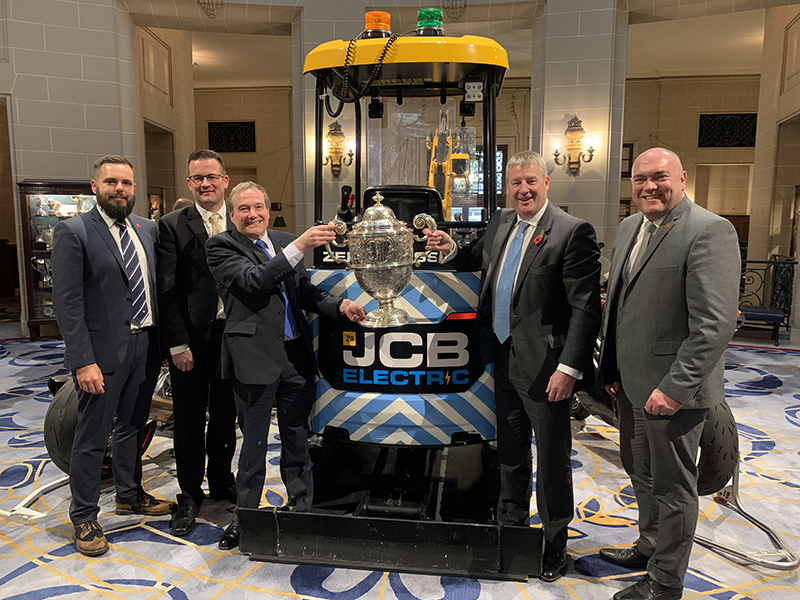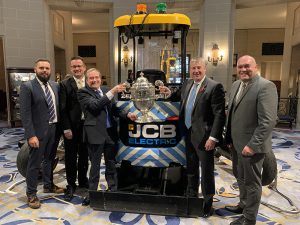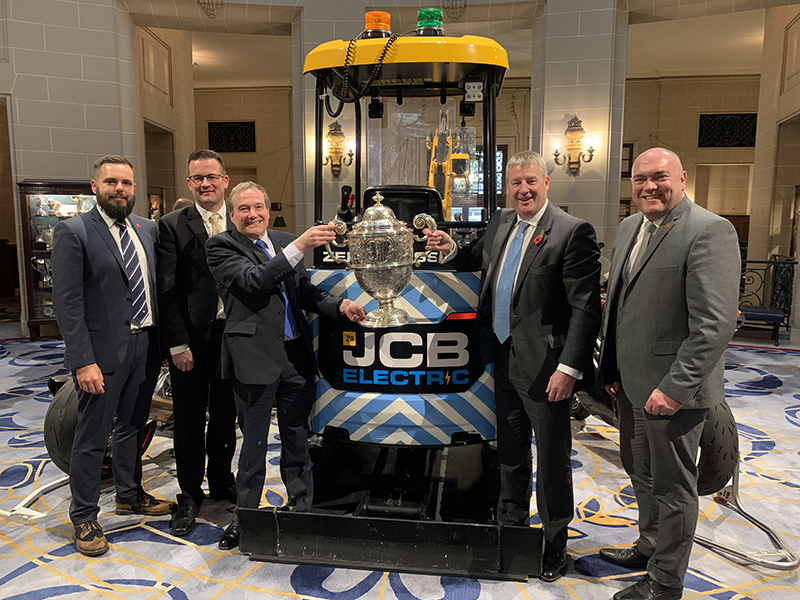 JCB's world-first electric mini excavator has scooped one of the automotive industry's most prestigious honours.
The Royal Automobile Club presented JCB with the Dewar Trophy for 'Outstanding Technical Achievement in the British Automotive Industry' for the 19C-1E – the construction industry's first fully electric mini digger.
The Trophy – only awarded in years when the RAC's expert committee believes there are contenders of sufficient merit – was presented at the Royal Automobile Club in Pall Mall yesterday (Wednesday October 30).
The award comes just weeks after the electric digger began rolling off the production line at JCB Compact Products in Cheadle, Staffordshire. JCB is one of only four companies in the 113-year history of the Trophy to win it more than once, having received the accolade in 2006 for its diesel landspeed record breaking JCB Dieselmax car powered by two JCB engines.
JCB Chairman Lord Bamford said: "I'm absolutely delighted that JCB has been presented with the Dewar Trophy. For our new electric mini excavator to be recognised in this way is tremendous for the company and the team which has developed it."
The Award was accepted on behalf of the team behind the machine's development by JCB's Director of Advanced Engineering Bob Womersley.
He said: "The Dewar Trophy is one of the most prestigious accolades in British engineering. It is really proud moment for the whole of the team involved in the JCB electric excavator development. The Trophy is normally given to automotive companies and for JCB to receive it, as a construction equipment manufacturer, is quite an honour."
John Wood MBE, Chairman of the Dewar Technical Committee, said: "Awarding the 2019 trophy to JCB was a unanimous decision by the Dewar Technical Committee. It represents a bold commitment to the introduction of novel technology in the off-road sector."
Now in full production, global sales of the 19C-1E are off to a flying start. The revolutionary machine is a staggering five times quieter than its diesel counterpart and can be fully charged in under two hours. The model is expected to be a big hit with companies working inside buildings and in emissions and noise-sensitive inner-city areas. Fully charged, the 19C-1E can put in a typical full day's shift for a mini excavator.