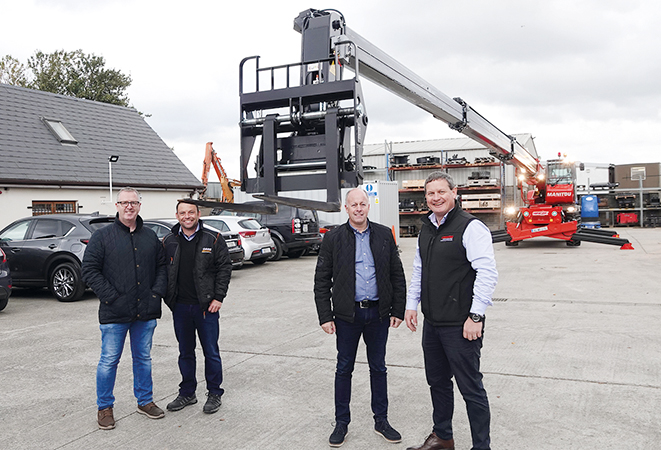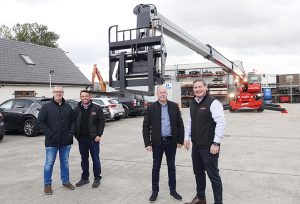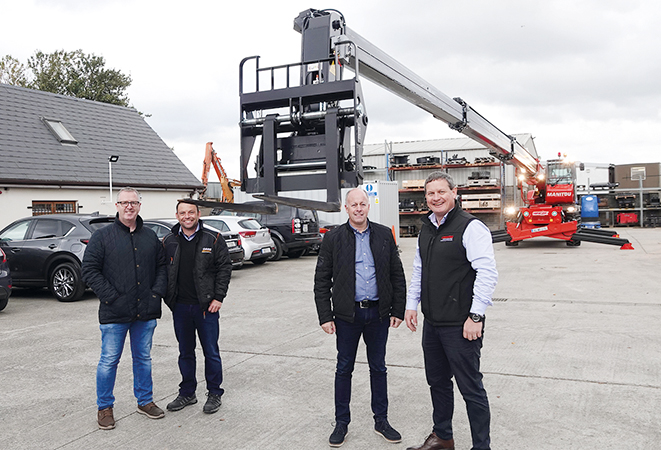 Plant and tool hire company Hire2K operates a large and diverse fleet, covering everything from tools and small equipment to diggers, dumpers, telehandlers and generators. The company recently added some Manitou telehandlers to the fleet. Managing director Rory O'Connor says this has been a successful decision. "We had done a lot of research on the Manitou brand and decided to go with Manitou on this occasion. We called into Darren in Jim Macadam Equipment and found him to be very helpful – he couldn't do enough for us. He organises training days for my staff and training days for my customers. They're a pleasure to deal with", says Rory. The new MRT 2550 is Hire2K's biggest telehandler to date. When a customer needed a machine with a reach of over 22 metres for a new housing project, Rory looked into the options available. "I'm proud to say we're one of the only hire companies in Ireland with this machine on our fleet. They required it, and we always put the customer first, so we got it", he says. Rory got his first in-depth look at the MRT 2550 at CQMS in June. "I saw the machine at CQMS, at around the same time that I was speaking to our customer about the height issue they have. I spoke to Darren and John about the specs, and it ticked every box", he says.
The show gave Rory an opportunity to spend the time he needed to find out all the details and make a decision. "I had heard a lot about this machine, but I had never seen it in the flesh until CQMS. I spent a long time on the Macadam stand. We went through it in detail, and Darren and John were extremely helpful", he says.
Since adding the Manitou machines to the fleet, Rory says the response has been good. "It's been going very well. The customers using the Manitou machines have been very happy with them"
Strong product, strong backup
Jim Macadam Equipment are based in Ballymount, Co Dublin. They have been crowned Manitou Construction Dealer of the year 2019 and have also been certified under the Case Pinnacle program for the third year in a row. "We've won again this year and we're very proud to have it. We work very hard with both the Manitou and Case products", says Darren Mcadam, managing director at Jim Macadam Equipment.
Darren speaks about the work that goes into being a successful dealer. Working hard to serve the customer is a crucial part, he says; "We're very open here. We don't hide in ivory towers. We're on the phone to customers all day, every day. Our staff are willing to give our customers and their engineers the knowledge to help themselves."
He also gives credit to the quality of the Manitou range. "We have very little trouble with the products we have. The Manitou is a very reliable product, and this is showing in their resale value, which has surpassed a lot of other brands", he says.
Darren puts the company's strong business down to the fact that they're not solely serving the construction industry. "There is not just one sector working away in Ireland. There is manufacturing, industry, the building is going well, there are regulations on working at height – all of this feeds into people needing more machines. We're supplying a broad range of businesses, and the hire companies are supplying them in turn too", he explains.
Proven quality
To find out more about the Manitou product and its quality, we spoke to John Cahill of Jim Macadam Equipment. John has been hands-on with telehandlers for 22 years and has worked on various brands during his career. He explains the benefits of the rota's remote-control system. "It's great for an owner, because he doesn't have to pay someone to sit in the cab for 12 hours a day while a banksman tells him to boom in or out. He can put down the jack legs, lock the door, start the machine with the remote control, walk up to the scaffolding and boom the machine up to himself", he says.
The MRT 2550 also comes fitted with the new Manitou Connect telematics system. This allows both the dealer and owner to keep an eye on the machine remotely. "We or Rory can know exactly what's going on with the parameters of the machine. If someone doesn't put AdBlue in the machine or decides to turn a switch off, we will know", explains John. This technology is useful for keeping up with maintenance too. "If there is an upcoming fault or a problem starts to occur, we get a message about it", says John.
In his time working on Manitou, John has been impressed with the durability of the machines. "It's a brilliant product. I can sleep at night now. I have had one call in the last 18 months, and it turned out that a wire had just come out of a solenoid. I've been out on site and have seen what hardship lads put machines through. The Irish market is a proving ground for machines", he says.
The 2550 is a very versatile machine, says John; "The rota is the machine to have, especially in Dublin. It's very expandable, you can put a fly jib, forks, a man basket on it – the options are endless."
The MRT 2550 has a reach of 25 m, while it is rated for a maximum lift capacity of 4,999kg. Power comes from a Mercedes-Benz-sourced Stage IV engine which makes 115 Kw and 675 Nm of torque. The engine is mated to a hydrostatic transmission.
To help you work safely, the operator can program and save the movement speed of the jib and can also set the machine to work within a limited zone.
Constantly expanding
Hire2K was founded by Rory O'Connor in 2001. In the years since, the company has grown into a leading hire firm, and now employs nearly 50 people across its two depots on the Navan Road and Naas Road. Rory is very proud of the fact that Hire2K is wholly Irish-owned, and always makes an effort to support Irish dealers and manufacturers. "We still have staff who have been working with us since day one", says Rory. "This is a great privilege for me, and it says a lot about how we run the business."
Rory has invested in a number of Manitous recently as part of an update to Hire2K's Access Division. "We put resources into areas that need improving or need additional equipment. Last year, we invested a lot in generators. This year, we have been working on our Access Division, which is currently extremely busy", he says.
"With the new 2550, we now have 22 telehandlers in the fleet", says Enda Finnerty, sales manager at Hire2K. "Last year, we invested in generators and now have 72 generators in the Power Solutions fleet. There are now about 250 machines in the plant fleet alone. We're constantly expanding", he says. Hire2K puts a priority on having well-maintained, good quality equipment, and backing this up with reliable service. "Service is everything at the end of the day. If there are lads on site waiting for a teleporter, we aim to have it out to them within the hour. If they're waiting for hours, it costs the customer a lot in relation to staff and downtime", says Rory.