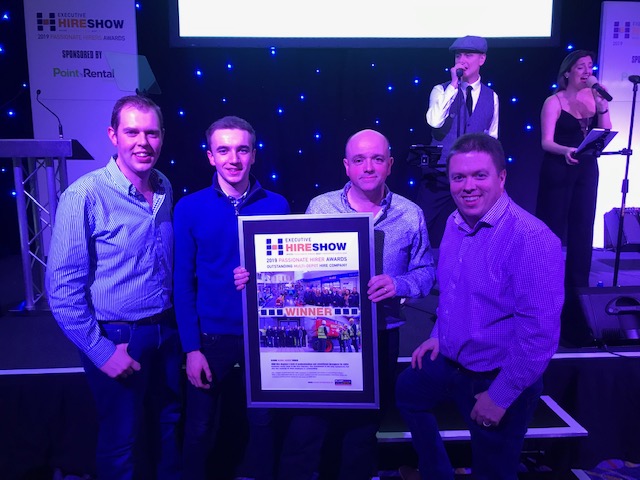 The high quality of Cookstown-based KDM Hire has been recognised, with the company having been announced as a Winner in the 2019 Executive Hire Show Passionate Hirer Awards, which took place at the Ricoh Arena in Coventry.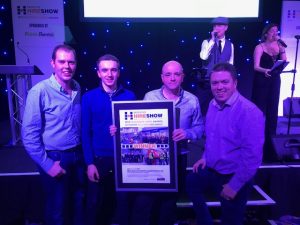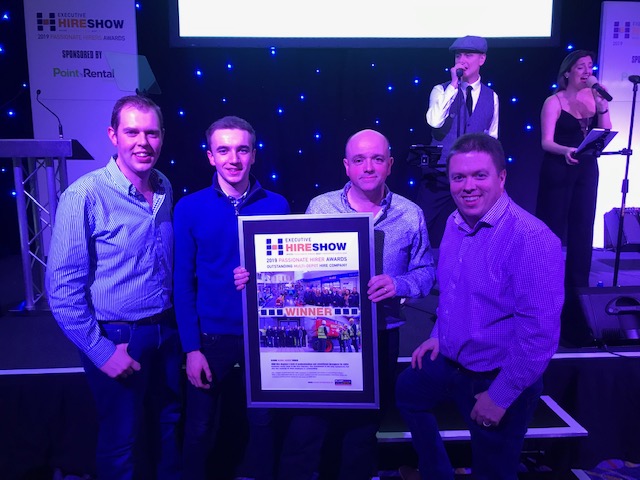 The company was nominated in the Outstanding Multi-Depot Hire Company category, from no fewer than 750 outlets throughout the UK and Ireland that members of the Show team visited in the lead-up to the annual exhibition for tool and equipment hire professionals, held on 6 and 7 February.
Following 'mystery shopper' visits and calls to their depots, Finalists were scrutinised under a broad range of  criteria including: presentation and functionality of premises; staff enthusiasm and competence; efficiency in handling enquiries and orders; quality of products and delivery vehicles; and innovation in offering a wide range of equipment and exploring new technological opportunities.
The quality of the company's printed promotional materials and website was also assessed, along with its use of social media and supporting local community initiatives.
KDM Hire & Sales has a depot in Belfast complementing its head office in Cookstown, which recently added a four-acre facility as a base for its dedicated accommodation and storage division, K-Cabin. The Award judges were impressed by the breadth and depth of the KDM hire fleet, the professionalism of all staff, and the company's commitment to staff training and development.
The judges commented, "KDM Hire displays a level of professionalism and commitment throughout its entire business rarely seen in the hire industry. The investment in not only equipment, but also the training of each employee is outstanding. As well as offering an extremely comprehensive fleet, it holds regular board meetings and Health & Safety audits, giving a clear sense of identity and purpose. It plays a role in its local community supporting sports teams and charitable causes."
Having been successful in the Passionate Hirer Awards ten years ago, the business has kept moving forward, with the Awards judges adding that "this company is extremely pro-active in everything it does. With a new dedicated site for its K-Cabin welfare and site accommodation business, there are certainly exciting times ahead for the team at KDM Hire."
KDM Hire was the Winner of the Passionate Hirer Award back in 2009, and the Runner-Up in the Show's 2016 10/10 Anniversary Awards celebrating the tenth exhibition and recognising the outstanding companies from the previous winners.