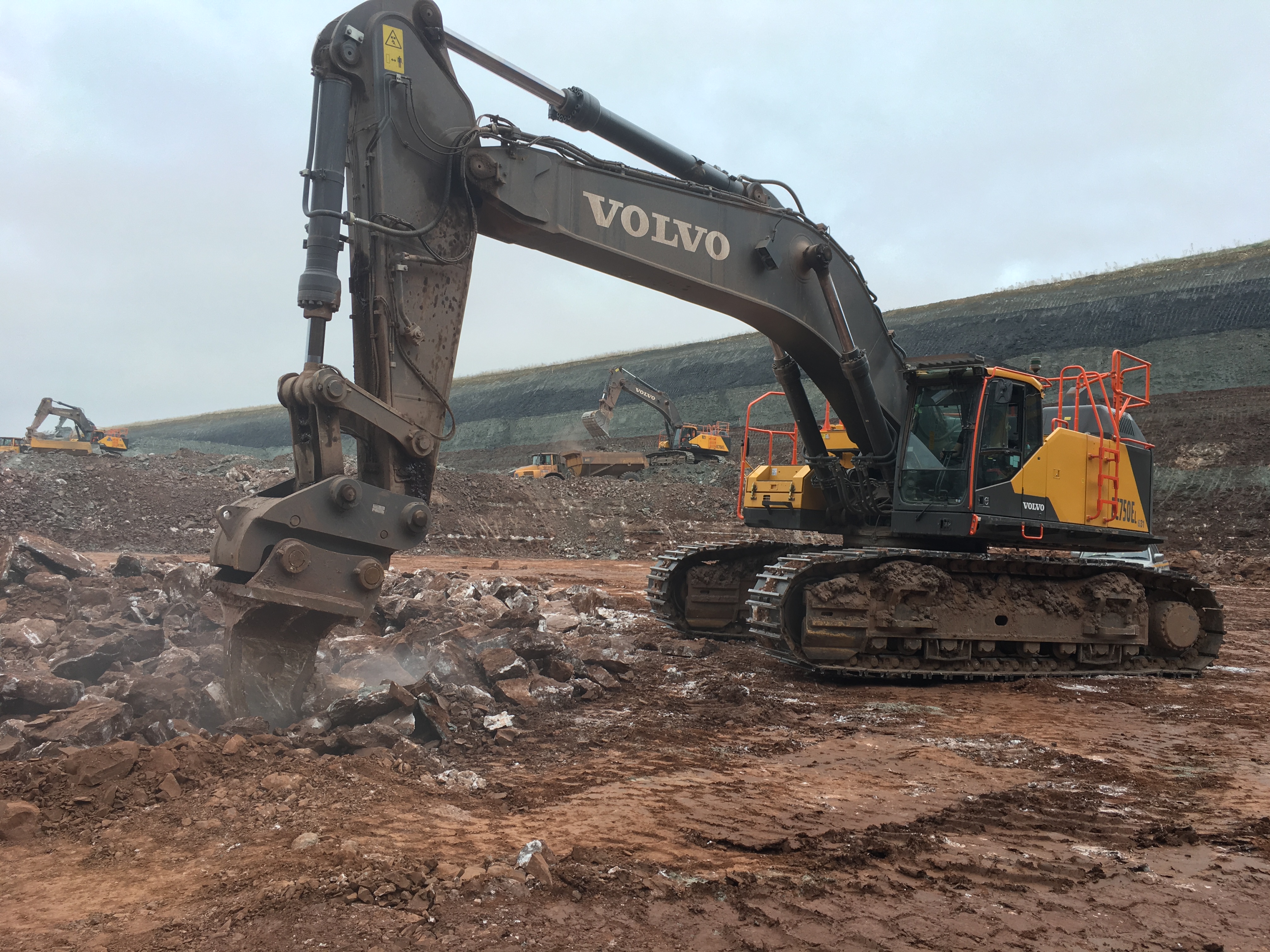 Titan ripper tooth and Tefra coupler make their mark on Hall.
A ripper tooth from Hill Engineering, fitted to one of just a few 75-tonne crawler excavators in use in the UK, is enabling Hall Construction Services to operate twice as fast at the only active gypsum quarry in the country.
The gypsum quarried is used in the production of high-quality plaster products for applications such as ceramics, the food industry, brewing, decorative work, medical and dentistry.
The heavy-duty Hill Titan ripper tooth, combined with the manufacturer's fully-automatic Tefra coupler, is chomping through 4,000m2a day, twice the amount that would have been possible with a 4m3rock bucket.
The Tefra coupler is also enabling faster attachment swaps between the Titan ripper tooth and loading bucket which is used to dig seams of gypsum between 100mm and 300mm thick, leaving anything between 300mm and 600mm to be blasted.
Hall Construction Services' project manager Robert Hall explained they had decided they needed a ripper and quick hitch for a Volvo EC480 crawler excavator they were using at Saint Gobain's open cast gypsum mine near Newark in Nottinghamshirewhich produces nearly 500,000 tonnes of the material every year.
But the machine was not big enough so they ordered a Tefra coupler and Titan ripper tooth for their Volvo EC750.
"It was a bit of a gamble because there aren't many applications for an EC750 ripper and it might not have worked but it has certainly paid off. It is a fantastically designed ripper tooth. It cuts through rock like a knife through butter," said Robert.
Hall Construction Services first specified Hill Engineering attachments almost two years ago when Volvo recommended the manufacturer's next-generation, ultra-safe Tefra coupler for two EC480s and the EC750.
"We had heard of Hill before and Volvo suggested they were a good quality product. We thought we would see what Hill's product range was like and they have been outstanding. They are very well built and just get on and do the job."
And the job for Saint Gobain, extracting gypsum from thin seams between 30m and 40m below ground, is a long one. Hall Construction Services commenced on site late in 2016 and are contracted for five years.
The family-run company is currently working seven seams, with the Hill Titan ripper tooth in use on three of them, and is also using EC750s with 5.7m3buckets to move 3 million m3of overburden annually to reach the seams.
Hall Construction Services is also currently involved with the Scottish Mines Restoration Trust in the open cast restoration of Scottish coal sites. Their plant portfolio totals over 150 pieces of equipment, ranging from mini diggers to 180-tonne excavators and includes articulated and rigid dumpers, dozers and road wagons.
Ross Fairweather, Hill Engineering's northern UK sales manager, said: "We are very proud to be supplying Hall Construction Services with our Tefra and Titan products as we are confident they will stand up to the most extreme of applications. We pride ourselves on the quality and reliability of the products we produce and we are always on hand if we are needed to assist any of our clients."