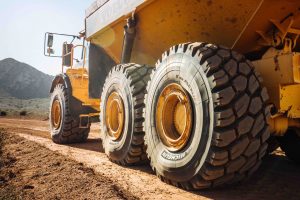 Michelin is introducing a new generation of tyre for the earthmover market which has been designed to extend tyre life, improve traction and deliver better comfort and stability versus the generation of products they replace.
Optimised for fitment to loaders, graders and articulated dump trucks, the new Michelin Xtra FlexLife range is being launched in July 2019 in 29.5 R25 and 875/65 R29 sizes for the original equipment and replacement markets, with an additional five sizes set to join the line-up in 2020.
Commenting, Annika Girod, Michelin's Segment Manager Off-Highway Transportation North Europe, says: "The new Xtra FlexLife range will give machinery manufacturers and customers a genuine competitive edge, with as much as 25 per cent more rubber in the tread to wear down. In testing, we've seen tyre life increased by up to 20 per cent on loaders and 10 per cent on articulated dump trucks, versus our previous generation tyres.*
Another benefit with the new tyres, according to Michelin, is greater comfort and stability, thanks to the ability to run the Xtra FlexLife tyres at reduced pressures versus the products they replace – typically around 14.5psi lower on loaders, and 11psi lower on articulated dump trucks. Coupled with a smoother ride for the driver, reduced machine vibration cuts wear and tear on the vehicle and supports a longer life in service.
Volvo, one of several manufacturers involved in the design and testing of the Xtra FlexLife, is already offering the new tyres as original equipment.
The five additional sizes due to launch next year include the 23.5 R25, 26.5 R25, 750/65 R29, 775/65 R29 and 20.5 R25.
*Compared to XHA2 and XADN+ respectively