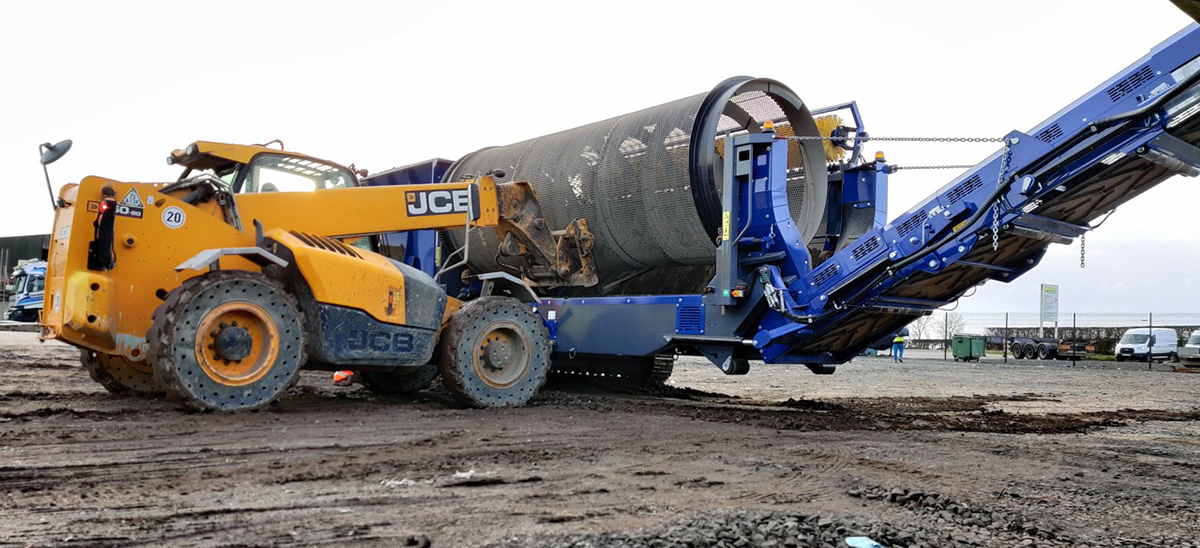 EDGE Innovate have Introduced their latest trommel offering with the launch of the EDGE TRT620R. The new 620 class trommel will take its place in EDGE's ever popular trommel line up.
Designed for maximum productivity and superior screening efficiency, the new EDGE TRT620R tracked trommel has a heavy-duty construction design coupled with high manoeuvrability. This ensures that the TRT620R is the perfect screening solution for a wide range of applications including compost, mulch, soil, biomass or construction and demolition waste.
SIGNATURE FEATURES
The EDGE TRT620R has uniquely combined a remote operated, 180° radial fines conveyor with the ability to track, screen and stack material simultaneously. This functionality allows for enhanced production capacities, reduced material handling and the ability to create large radial or windrow stockpiles. The positioning of the radial fines conveyor whether at 0° or 180° allows the TRT620R to have the same small footprint of a side conveyor trommel format but with a much superior product separation and reduced material contamination.
Designed to accept several other trommel manufacturers drums, the EDGE TRT620R enables operators to take full advantage of their existing drum stock as well as loaned drums from other operators and drums from equipment hire outlets. A quick and simple drum exchange procedure is facilitated via an innovative sliding feeder design and double sided 180° swinging drum doors, allowing the screening drum to be exchanged in a matter of minutes.
With a screening area of over 30m² (35.8yds³), the EDGE TRT620R is fitted with a 2m X 5.5m (6.5' X 18') long spiral drum with variable drum speed and adjustable screening angle. EDGE are set to compliment the versatility of the TRT620R by offering a range of different drum types and screen apertures.
Offering the largest hopper capacity in its class, the EDGE TRT620R encompasses a 1400mm (55") wide, variable speed feed conveyor with forward / reverse functionality. A large hopper opening ensures optimum flow of material to the screen drum. EDGE's intelligent load management system constantly monitors drum pressure and regulates feeder speed resulting in superior uptime by eliminating material overload and ensures optimum screening production at any given time.
OPERATIONAL FEATURES
An HMI control panel with an intuitive operating system enables automatic start up and shut down whilst allowing operators to customised operating parameters to ensure optimum throughput across all applications. A hydraulic raising chassis provides additional ground clearance and excellent service access to the power unit assembly. Adjustment of the drum screening angle from 0-5° is also achievable thanks to a variable angle feature. This function allows the operator to adjust the rate at which material travels through the drum screen.
A wireless remote with an operating distance of up to 100m (328') gives the operator control over feeder speed, tracking, tipping grid cycles and rotation of the radial fines conveyor.
The EDGE TRT620R utilises the latest engine technology, the EDGE TRT620R is powered via a Caterpillar C3.6 Tier 4 Final / STAGE V engine, resulting in extremely low engine and noise emissions. Further fuel savings are made possible thanks to a unique Eco-Power Saving Mode which reduces engine speed to idle when not processing material.
With superior stockpiling ability, efficient screening, intelligent load management and quick drum exchange; the EDGE TRT620R is your perfect screening partner.
For additional information regarding the newly available TRT620R track trommel or any other services provided, EDGE Innovate staff will be on hand at Let's Recycle Live on stand LD6 from the 15-16thSeptember 2021.
Further information can be found at edgeinnovate.com.