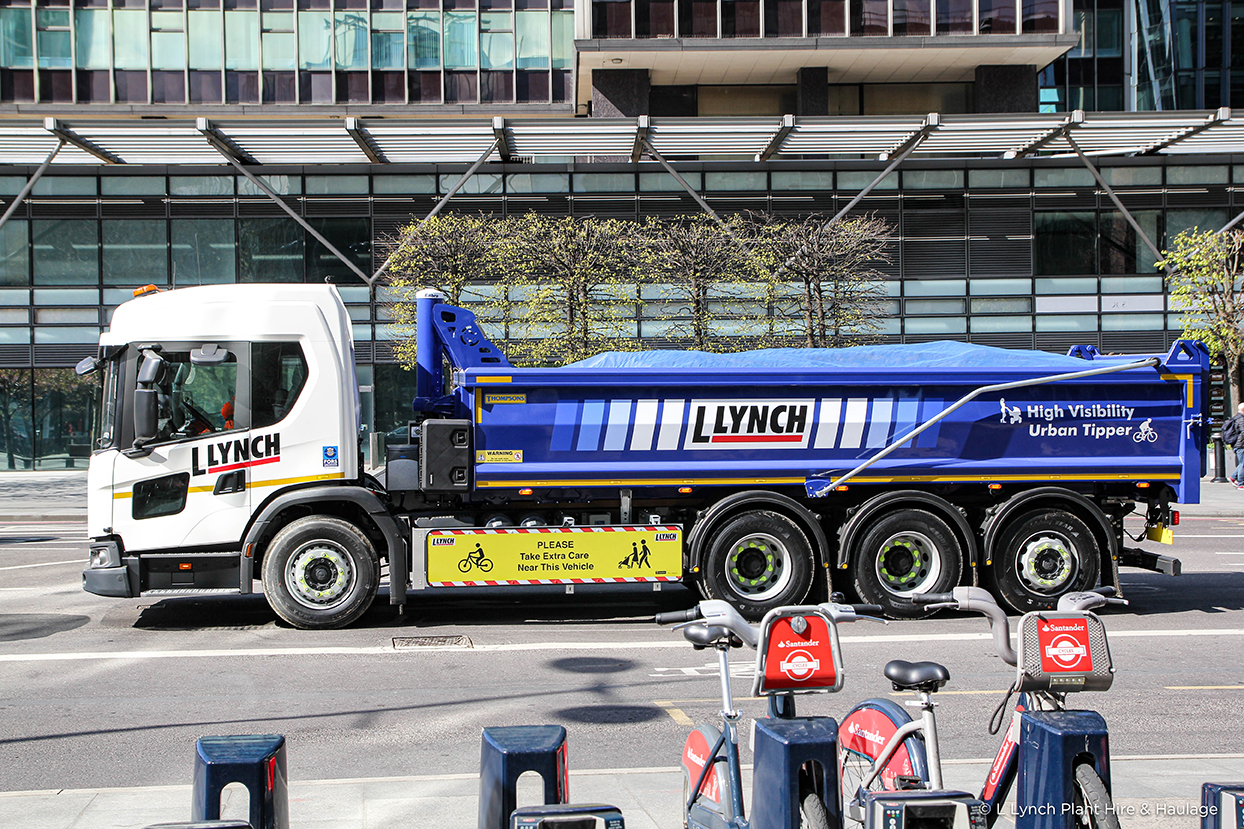 Lynch has invested in brand new Scania Low Entry Urban Tippers, primarily for muckaway use on projects in and around London. These Tippers help to support TFL Direct Vision Standard and our collective ambitions to improve safety for all road users.
These 32-tonne gross weight vehicles are all based on Scania L-Series (L360 B8x4*4NB) rear-steer, double drive chassis, and are equipped with 14m3 Loadmaster Lite bodies.
The Low Entry design means that they are more accessible, and easier for drivers to enter and exit – reducing the risk of slips, trips, and falls. Driver visibility is greatly improved, thanks to the lower cab and wide view from the driver's seat.
Drivers are put at the same level as vulnerable road users, making it easier to see pedestrians, cyclists, and motorcyclists. Access to site and adverse terrain is assisted thanks to factory-fitted air suspension which raises the cab by 120mm, aiding clearance while maintaining the visibility advantages.
The new Lorries are fully fitted out to the highest specification, including: 
TFL 5 Star Direct Vision Rating including Scania City Safe Window
Euro 6 Engines
ULEZ Compliant
Meets the FORS Gold Standard
Advanced Driver Assistance Systems
Left Turn Alarms to alert VRUs
360 Camera System (forward, nearside, offside, rear and load security)
Lane Departure Warning
High Voltage Alarms
Tipper Load Indicators
Automatic Tailgate with additional Safety Latch
State-of-the-art Tracking System
Exterior Sink Unit
Night Heaters to reduce idling time
High Visibility People Panels
CITY DRIVING
VULNERABLE ROAD USER VISIBILITY
Steve Bremner, Fleet and H&S Director, explains why we chose to invest in Scania. "Providing the best possible service to our customers means investing in the safest and most efficient vehicles. Scania's L-series design has enabled us to achieve the highest possible TfL Direct Vision Standard rating and support our collaborative goals of improving road safety in urban environments. The driver's visibility of the road ahead, vulnerable road users, site operatives and other hazards is dramatically increased. We're glad to have also opted in for Scania's highly recommended maintenance package."
We are excited about being part of this journey to make London's streets safer and realise the Mayors' Vision Zero for safer roads. Our Drivers have already covered 10,000 miles in these new Tippers, and we have showcased the features and benefits of these Lorries at the London Zoo Lorry holding bay – feedback has been positive.
We would like to thank everyone involved in making this goal a reality!
To find out more about our new Low Entry Urban Tippers, please contact our Haulage Team: 020 8900 9992