Uisce Éireann working in partnership with Donegal County Council and their
main contractor Coffey is providing vital new wastewater infrastructure for
the community of Coolatee, Co. Donegal.
This important project will eliminate the discharge of untreated wastewater into the Foyle and Deele Rivers, resulting in improved water quality that will enhance the local environment and support social and economic development.
The project also includes a new Integrated Constructed Wetland (ICW) which is a sustainable, natural wastewater treatment system that is designed to look and function in a similar way to a natural wetland. It is an environmentally friendly way to treat wastewater that will result in reduced operational and maintenance costs, as well as biodiversity creation, while also reducing energy consumption and carbon emissions.
Westport Equipment supplied an innovative ground support system to the Coffey team for construction of an underground Septic Tank Structure.
This system offered faster installation/removal, Health and Safety advantages and additional environmental benefits throughout the temporary works.
It reduced the necessity for frequent lifting operations and eliminated the use of hydraulic hammers, resulting in decreased noise and vibration. These factors, known to impact neighbours and adjacent structures, were effectively mitigated.
The Challenge
The primary challenge we confronted was the contractor's lack of experience with Westport Equipment's Slide Rail Shoring System. Initially, the project called for conventional methods involving sheet piling and hydraulic frames for temporary works.
However, these methods pose inherent Health and Safety risks, consume more time, and can lead to significant equipment damage with high replacement costs.
There was a short window of opportunity to prove the project was feasible using Slide Rail Shoring and provide a Temporary Works design. Westport Equipment's design team provided a detailed set of drawings and calculations which showed the reduced footprint of the dig while still allowing for adequate working room and safe access to the excavation.
This included sequences on how to install the system and provided a value engineered alternative to sheets and frames.
Ruairi O'Neill, Business Development Manager for Westport, comments; "We were delighted to receive this opportunity from Coffey, it's always a brave choice embracing new methods of construction and we were able to turn around the design very quickly and gave support on site to make sure everything went smoothly on the first install. We look forward to further similar work in the future."
The Equipment
Slide Rail Shoring is a modular component system that is used in place of driven tight sheeting or hydraulic brace shoring systems. It is a "dig and push" system that allows for quick installation of a typical pit or linear system, usually in one day.
The system is installed from the top down and removed from the bottom up, minimising the size of excavations, soil disturbances, and restoration time and cost. It is designed to provide soil support for excavations, adjacent structures, and existing utilities with low vibration during installation.
The system can be used in a variety of applications, including bad soil conditions, lift/pump station installations, tight quarters, fuel tank installations, C.I.P. foundations and footings, boring and receiving pits.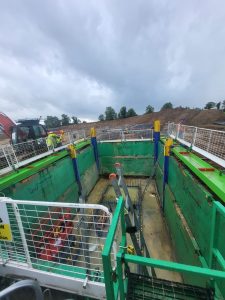 The Solution
Westport Equipment provided equipment for a pit 11 metres long by 6.7m wide by 4.5m deep that would leave a single cross strut support across the excavation.
Once a suitable foundation was poured the contractor was able to utilise a unique external tie back system allowing for the removal of the cross strut and provide a clear and open excavation.
Nobody was required to enter the excavation until formation level was achieved. Subsequent entry was made using Westport Equipment's Ladder Access platforms and full perimeter Edge protection was provided by Westport Equipment's Rapid Edge Protection systems.
Overall, just 35 tonnes of shoring equipment was required for this project. Once the structure was cast in-situ and all M&E works completed, incremental backfilling of the excavation commenced, and the equipment was removed safely.
John Paul Ruane, Site Agent for Coffey comments;
"We were delighted to be one of the early users in Ireland of this Slide Rail System, the simplicity of the operations, speed of installation and the reduced footprint was a great help to us on the construction of the tank. To do this and reduce the carbon footprint on the job is exactly in keeping with where we want to be as a key partner to Uisce Éireann."