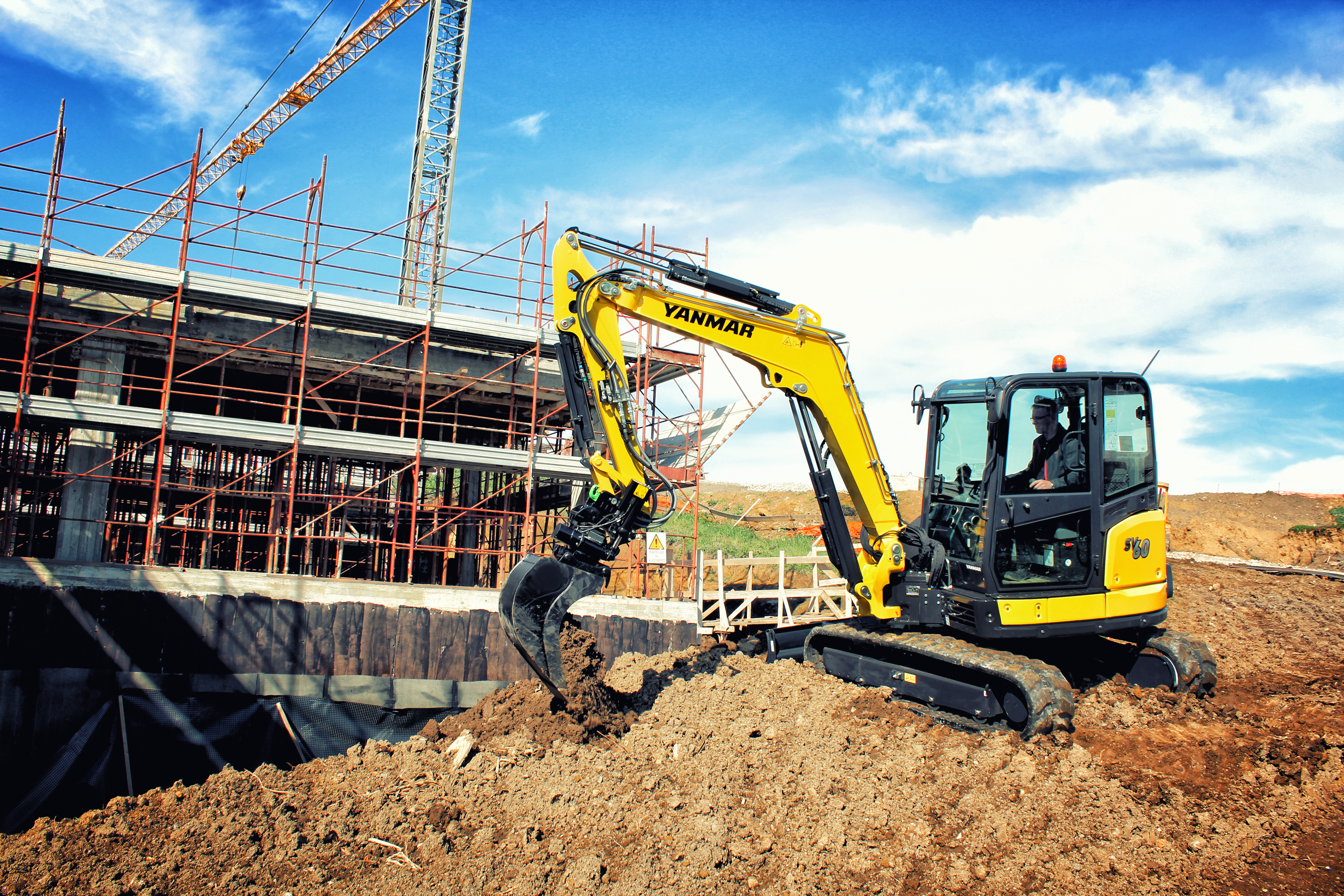 Yanmar Construction Equipment Europe (CEE) will showcase its class-leading compact equipment range at this year's Plantworx exhibition (East of England Arena, 11-13 June).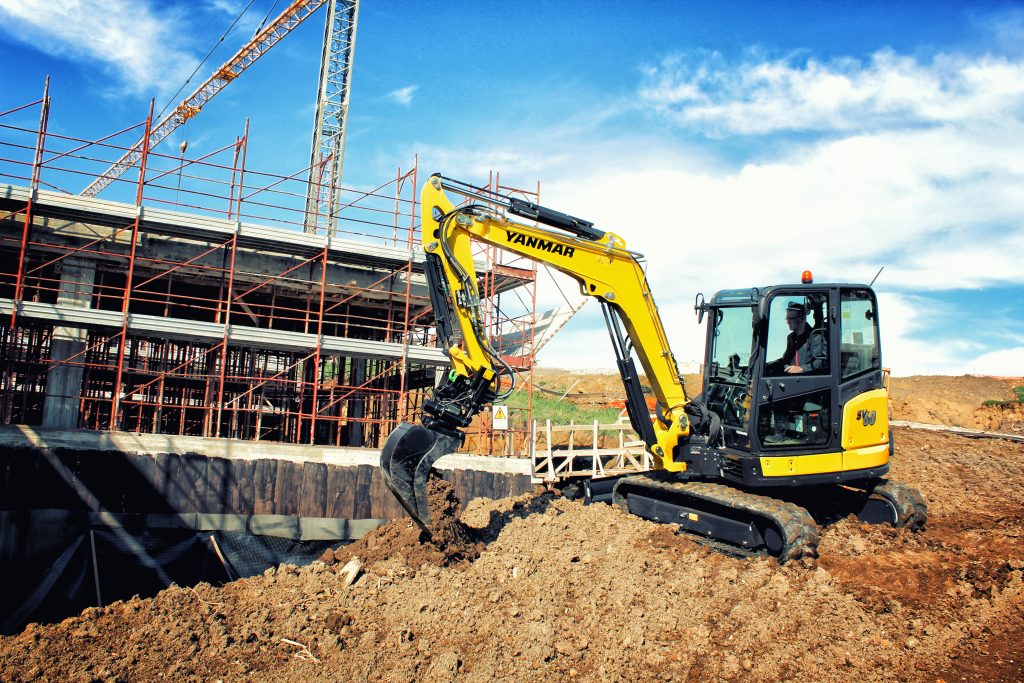 The compact expert, which specialises in equipment for the construction, civil engineering and landscaping sectors, will be located on Stand BA1 at the biennial event. Key models exhibited will include:
Yanmar SV60 –Combining sector-leading technology and future-proof innovation to provide a 'business class' operator experience, Yanmar's SV60 midi-excavator delivers exceptional performance, but with the space-saving benefits of a more compact model.
With an X-shaped undercarriage design and unique weight distribution, the SV60 delivers unrivalled lifting capacities and unmatched stability. Designed to minimise fuel consumption and reduce operational emissions, an impressive output of 33.4kW at 2,200rpm assures the highest levels of power, flexibility, productivity and precision.
Adopting Yanmar's VIPPS hydraulic system, the SV60 delivers optimum speed, power, smooth operation and balance. Eco-mode and auto-deceleration technology reduce engine emissions, while the ECU manages rpm according to torque and load – thus reducing fuel consumption.
C30R-3TV –Compact, robust and designed to excel in even the tightest job sites, the C30R-3TV is Yanmar's class-leading tracked carrier. The 180° turning vessel maximises loading, carrying and unloading performance for operators.
Adopting Yanmar's Stage V-ready 4TNV88C-KFW 4-cylinder diesel engine (with direct injection and common rail system), operators benefit from 34,3 kW gross power (at 2,800rpm) and 134.5-146.2Nm torque (at 1,820rpm). A long undercarriage frame minimises ground pressure to maximise traction, while a large loading capacity of 2,500kg and travelling speed of up to 11km/h guarantees excellent productivity.
A width of 1.5m and total length of 3.28m (standard) ensures a tight turning radius (2.1m), while Yanmar's unique 2-pump, 2-motor hydrostatic transmission system allows the carrier to spin turn 360° (in as little as 9.5 seconds) without stalling. Gradeability of 30° and ground clearance of up to 280mm helps operators to avoid obstacles and access isolated areas.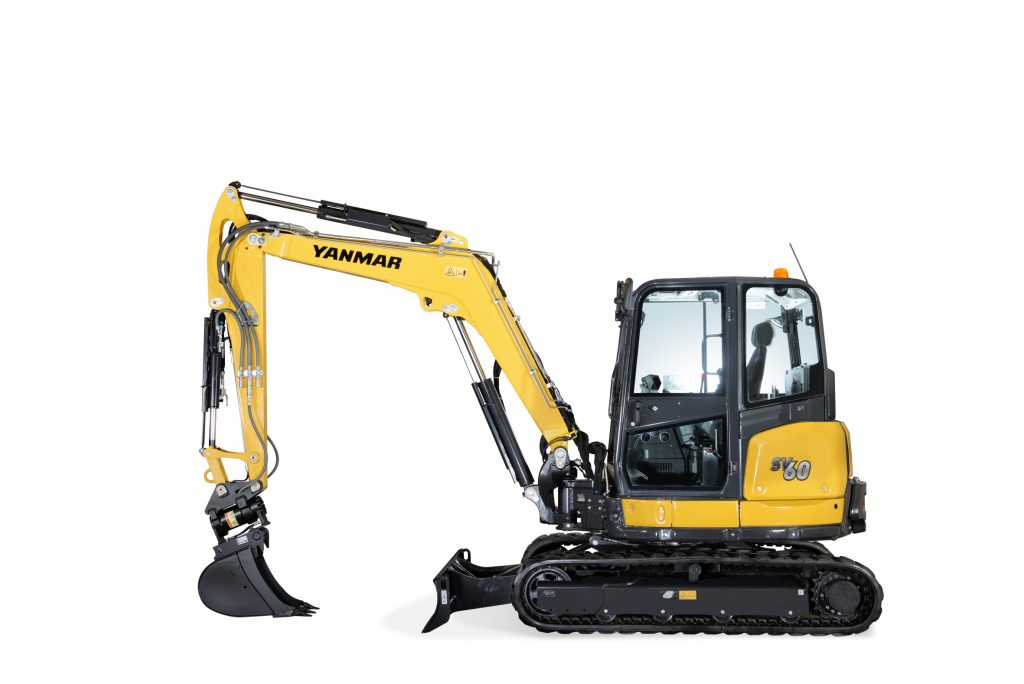 Yanmar B95W –Comfortable, powerful and efficient, Yanmar's B95W short tail wheeled excavator is the perfect model for almost every application. With an outreach of 8,009mm and digging depth of 4,080mm, the model is well-suited to road construction, landscaping and civil engineering applications.
Featuring a high-performance Deutz TCD 3.6 L4 EU Stage IV / EPA Tier 4 Final engine, operators benefit from 42.6kN digging force (bucket) and 53.2kN digging force (arm). Thanks to advanced exhaust after-treatment, including a diesel oxidisation catalyst (DOC), emissions pollutants are effectively minimised by up to 90% (0.025 g/kWh).
With four independent hydraulic circuits, the B95W is highly flexible and can be configured to exact requirements due to a wide range of equipment variants. For example, the driver can simultaneously operate a tilt rotator with hydraulic quick-hitch system, alongside a hydraulically-driven tool (such as a sorting grab or asphalt cutter).
Alongside the aforementioned models, Yanmar CEE will also exhibit some of its best-selling wheel loaders (V80, V120), tracked excavators (SV08, ViO12, ViO17, SV18, SV18, SV26, ViO27-6, ViO50-6, SV100-2PB) and tracked carriers (C08) on stand.
David Cockayne, Sales Manager (UK and Ireland) at Yanmar Construction Equipment Europe, said: "Plantworx is the UK's largest construction event – an ideal platform to showcase our comprehensive compact portfolio. Our team will be on hand to speak with visitors about our product line-up, as well as what benefits they can offer operators on site."