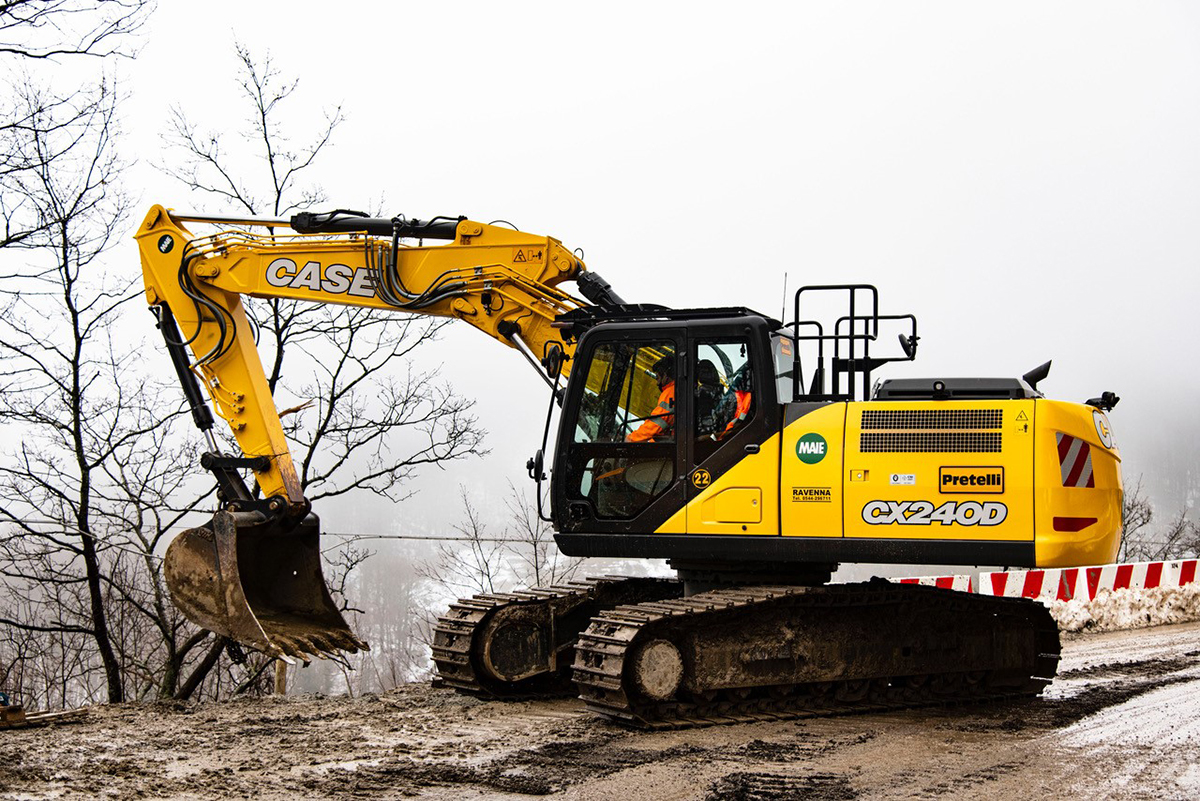 Two CASE excavators work to rebuild and strengthen a site in the aftermath of a landslide at Bocca Trabaria, the highest pass between Marche and Umbria.
State Road 73 bis "Bocca Trabaria" is one of the main routes connecting the regions of Umbria and Le Marche. The pass (1044 mslm) divides the province of Pesaro-Urbino (Lamoli-Borgo Pace) from that of Perugia (San Giustino) and the Val Tiberina from that of Metauro.
The name Bocca Trabaria derives from that of Massa Trabaria, dating back to the Middle Ages. It is a part of the province of the Appenine Alps, created by Giustiniano in 553 with Badia Tedalda as its center. The road that travels through the pass was opened by the papal government between 1822 and 1830, according to a plan that Napoleon had designed to connect Livorno with Ancona.
Recently, the road had been affected due to a landslide in the stretch from San Giustino to Borgo Pace. Unbelievably, during the restoration work the crew unearthed an old bomb dating back to the second World War, that resulted in keeping the pass closed even longer until it was able to be removed safely.
At the end of October 2020, a second landslide caused the pass to close again. Azienda Nazionale Autonoma delle Strade (ANAS) a government owned organisation who deals with construction and maintenance of Italian Motorways acted promptly by entrusting the clear up of the landslide slope and the subsequent reconstruction of the road to Pretelli Srl of Urbino, a company with extensive experience in infrastructure and road construction.
Francesco Pretelli, owner, explains: "This road was built between the beginning and the middle of the nineteenth century and suffers, like all mountain passes, from major geological and geotechnical problems. There was a historical landslide that have over the recent years worsened the condition, which threatened repeated closures of the road. For this reason, Anas decided to intervene immediately with the objective to rectify the problem as safely and quickly as possible."
The project, funded by Anas, had a total cost of €889,080.68. Begun in October 2020 and is scheduled to be completed by late April 2021, it looks like Urbino will be able to deliver the work in advance of the deadline. In addition to this, the crew were able to ensure that commuters who use the pass have not been affected, as they have been able to find a viable alternative to get people to where they need to be.
Providing Stability and Versability with a two-piece boom
Francesco's son, Enrico Pretelli, who is often dubbed "the new generation" of the company, explains: "We're using a CX240D recently taken from MAIE (which will be one year old at the end of July), that has already has 500 hours of work behind it. We're estimating that on this job it will do more than 1000 hours, designed specifically for our needs, together with the dealer Ravenna.
It has been configured for our needs with a two-piece boom, as working in high conditions this machine has been approved for lifting at great heights which will allow us to carry out tasks that usually require a construction crane. This way, we are able to do one job with the same machine whilst using an excavator for earthmoving."
Francesco Pretelli continues, "The machine is very stable, we had it custom made, with an operating weight of almost 26 tons, double rib tracks and a mountain wagon. On this site, at over 1,000 meters, it's proving important."
In the cab is longtime excavator Sebastiano Gabrielli, the oldest member of Urbino's fleet. Having over 40 years of experience and having also driven machines of other brands, he says he is very satisfied and happy with the CASE excavator, which he has also used in more challenging contexts.
Small footprint for tighter spaces
The second machine on site is the CX145DSR, a compact, short radius excavator that is being used to support the construction of passive tie rods, which make up another key phase of this project. "The machine has a very small footprint and excellent performance that equals a traditional machine in the 13 to 18-tonne tonnage class," explains Francesco Pretelli. "It can move extremely well in cramped environments and small spaces; we also use it to transport Micropiles that are comprised of high-strength steel casing, rebar and grout."
The ongoing operation at the top of the Bocca Trabaria pass involves stacking large-diameter piles, as many as 120 piles that are 20 meters long and 80 centimeters wide. Then, as soon as the bulkhead has been built, the passive tie-rods (approximately 100 in total) will be put in place inside the mountain with an incline of 20 degrees from the axis of the curb. Once those have been installed, the project will be completed with a retaining wall and the new barrier, which will future-proof the road.
Pretelli has several CASE machines in its fleet, including two 321D wheel loaders and a CX80D midi excavator. In addition, it has already ordered two new CX240D excavators and a CX160D. A complete and efficient fleet capable of guaranteeing the company can carry out the numerous jobs already scheduled for 2021.