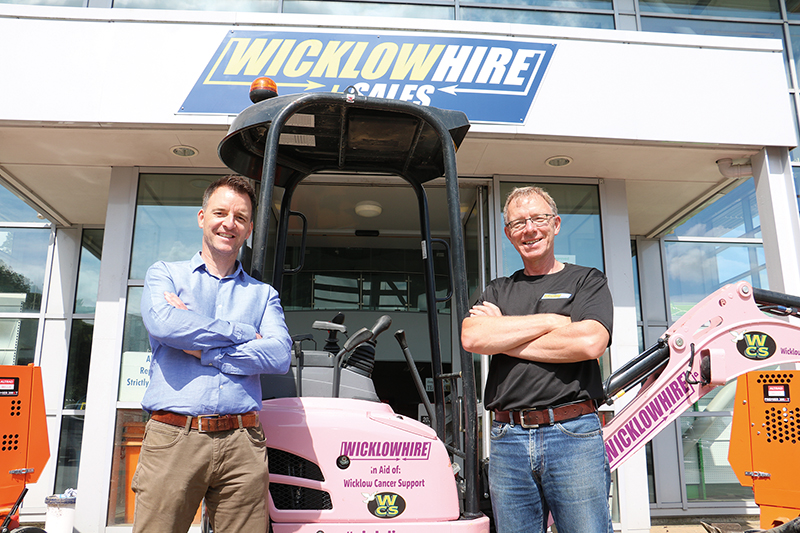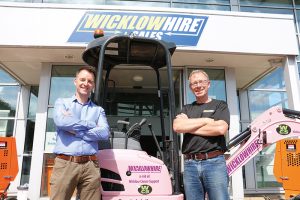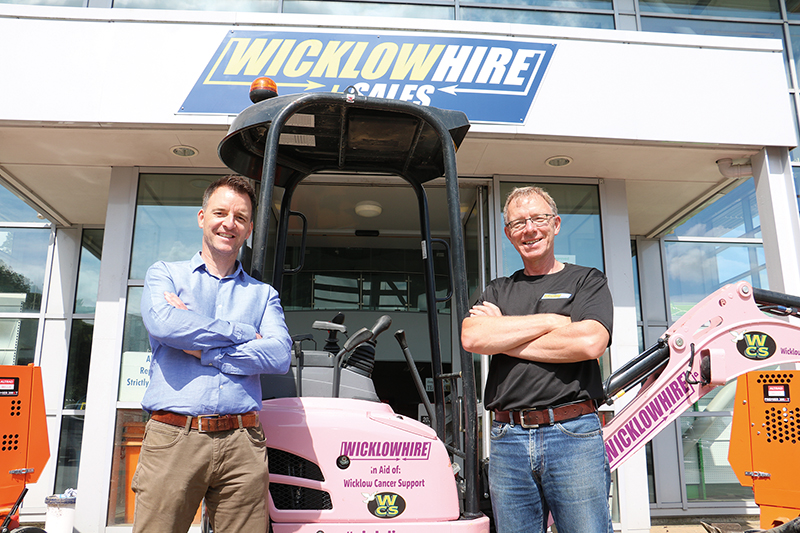 The Garden County is a beautiful part of the world, especially when the sun is shining. You can see how Wicklow got its nickname. Legend has it the county serves as the garden for the adjacent city of Dublin. You have rolling countryside and magnificent places to visit such as Powerscourt. Not far from Wicklow town centre you will find the aptly named Wicklow Hire. 
This business was started in 1974 by William and Clodagh O'Reilly. William first started business as the Fiat car dealer for the county, but times were hard in the early '70s and it was not easy to sell a new car. He decided that a better business might be in renting tools and equipment and hence, Wicklow Hire was born. 
It was a typical hire shop at first, renting out lawnmowers, ladders, drills, and small plant. Then when Quinnsworth built a new store in Wicklow town, he got very busy supplying the builder. 
Then a few schools and a medical centre were built, so William had to expand the fleet and purchased small excavators and compressors. The business grew over the following decades and this allowed for the building of a new premises and fleet expansion. 
Wicklow Hire is currently run by Billy and Barry O'Reilly. The two brothers took up the reins from their parents and have steered the ship through good times and bad. 
A full range
I sat down with Billy O'Reilly to get an overview of Wicklow Hire. He joined the family business after leaving college in 1998. I asked him how the business fared from then to now. 
"We had very big growth from '98 to 2008 as you could imagine, everyone in construction was doing very well. We moved into newer and bigger premises and everything was flying and then it suddenly stopped in late '08. We had to re-direct the ship and we focused on other sides of the business such as forestry and garden equipment. 
We started to see things getting a lot better from 2013 onwards and we are now seeing lots of house building happening in the Wicklow area and further afield, but we are also getting business from those involved with building infrastructure such as water, fibre optic and utilities", he said. 
Wicklow Hire, despite the name, are not just serving the Garden County. They follow their many customers and deliver equipment to Galway, Cork, and Limerick if required. Much of their work is in Wicklow, Wexford and Dublin. What they supply is very diverse. They have the full package of small diggers, from micro up to eight tonnes. 
This complements their range of dumpers and rollers. Access equipment plays a big part of their business and they supply the full range, from scissors to articulated booms. Billy likes to have a Kubota fleet of excavators and I ask him to expand on that. 
"In my opinion Kubota is the best on the market. Bought my first one in 2000 and compared to other brands, they are just much better built. We get great service from our dealer, FJS, and because of that level of service we then bought NC dumpers from them", he said. 
They also supply Manitou telehandlers from six metre up to eighteen metres. Wicklow Hire also rent out and sell a range of power tools. They have been using the Bosch brand for 40 years and they also are big fans of the Stihl range of tools. When you walk around their depot, they have pretty much every box ticked. 
What does impress me is the professionalism of the set-up. Inside the store, everything in its place and a place for everything. Friendly counter staff are there to assist in any way. Out in the workshops its all neat and tidy. As machines arrive back in from hire, they are immediately washed down and checked over. 
This is how a plant and tool hire business should be run in the 21st century. They renew their equipment on a regular basis and that keeps winning them business. "We do a lot to stay competitive, there are many other firms out there trying to win our customers. We open at 6.30am so that means our deliveries are out early. We ensure our equipment is kept in tip-top condition; our customers need to have max reliability on the job. Our staff are the best in the business, we send them on many courses through our membership of the Hire Equipment Association. We take huge pride in what we do, we have a very diverse fleet and we provide a great level of service to our many contented customers", said Billy. 
The pink lady
As I was talking to Billy one of their trucks arrived in the yard with a pink Kubota mini digger on the back. This grabbed my attention; you don't often see this colour for an excavator. I asked Billy to explain this bright choice of paint. "Barry's wife, Deirdre, unfortunately passed away to cancer last summer. 
We decided we wanted to do something to honour her memory and to raise funds for a great charity. We bought a new U-17 Kubota, and FJS very kindly then painted it pink for us. We then rent the digger out and 100% of the hire income is then donated to Wicklow Cancer Support. We hope to raise €10,000 every year from this idea and hopefully we can renew the machine every two years. This is something we want to do going forward for a long time and the reason I went for the 1.7-tonne machine was that it would be hired for jobs in town centres so that it would be very visible. It is in big demand for hire as everyone knows that the money is going to charity and they are doing their bit in helping people who are suffering from cancer", concluded Billy. 
I thought, and I am sure like many, that this is a wonderful idea. It ensures a steady stream of income for a worthy cause; it allows the customer to feel like they are contributing in a meaningful way whilst advertising the efforts of Wicklow Cancer Support. Most importantly, it keeps the memory of Deirdre to the forefront of everyone's minds. Billy, Barry and all the team at Wicklow Hire should be very proud of this initiative and indeed their business.