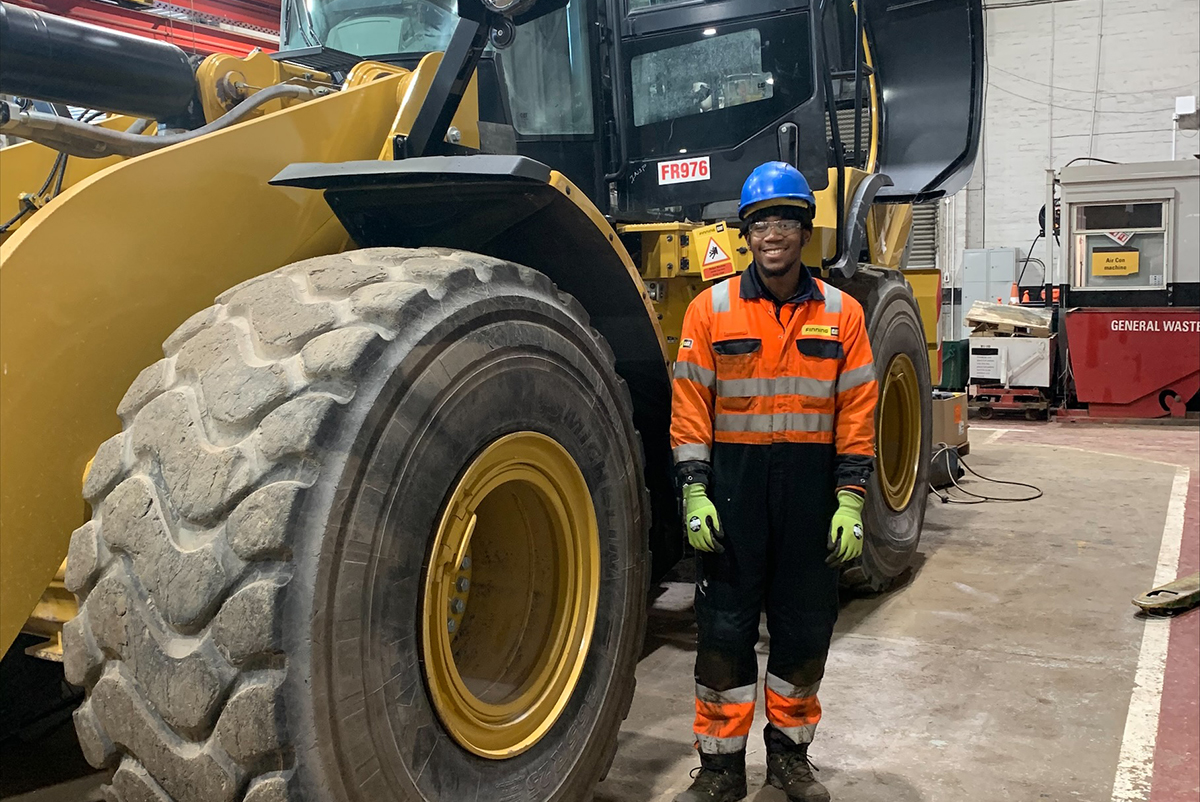 Finning UK & Ireland has launched a major recruitment drive to attract a more diverse selection of candidates to its award-winning apprentice programme ahead of National Apprenticeship Week.
The engineering specialist, which holds exclusive rights for the distribution of Cat® equipment and products in the UK and Ireland, aims to widen the scope of its workforce by encouraging candidates from a cross-section of society, rather than just those who fit the typical profile of an engineer, to apply for its apprenticeship scheme.
It is determined to buck international trends and attract a more varied talent pool by supporting the recruitment of women, as well as candidates with disabilities, people from black or minority ethnic (BAME) backgrounds and those from socially deprived areas
The business' commitment to creating a team which better represents the demographics of society was recognised in October 2021 when it was certified with the Disability Confidence accreditation. It also has an Inclusion and Diversity Council chaired by Iain Carpenter, Service Director, who was once an apprentice at the company, and an Allies for Inclusion programme which aims to raise awareness and understanding among employees.
A range of exciting opportunities for apprenticeships are available within the Electrical Power Generation and Service departments at its Cannock, Cardiff, Bristol, Leeds, Dublin, Chesterfield, Glasgow, Peterborough, Poole, Slough, and Winsford sites.
On successful completion of the programme, the apprentices will achieve nationally recognised qualifications and graduate as Cat Certified Engineers.
Seventeen-year-old Demeki Watson, from Stafford, embarked upon a four-year apprenticeship in land-based servicing at Finning UK & Ireland's headquarters in Cannock last September.
He said: "I've always had a passion for plant machinery, so engineering was the perfect career choice. I'm a very practical person and I really enjoy having hands on experience of fixing the machinery while at the same time having the opportunity to understand the theory behind how the equipment is put together.
"Finning UK & Ireland is a really supportive and inclusive environment to work in and the apprenticeship is everything I hoped it would be. It is great to be part of a global company that is at the top of its game in the industry. I would encourage anyone who is thinking about a career in engineering to apply for the company's apprenticeship scheme. Don't be put off if you haven't got a lot of knowledge, the trainers start everyone from scratch and teach you everything you need to know.
"I've only been an apprentice for around five months, but I have loved every minute of it, and I'm looking forward to progressing my career within the company."
Finning is taking a range of positive steps to help improve upon the latest figures released by the Women's Engineering Society which revealed that just 14.5% of engineers globally are female, and statistics unveiled by the Association for Black and Minority Ethnic Engineers (AFBE-UK) which show that only 9% of UK-based engineers are from the BAME community.
Learning & Organisational Development Manager Marsha Myles added: "As a leading global company we understand the benefits that colleagues from different backgrounds and with varying experiences can bring to the business. Sadly, and to the detriment of the industry, many groups of people have long been underrepresented within engineering and we are determined to play our part in helping to remedy the situation.
"Our award-winning apprenticeship programme offers amazing opportunities for people to gain qualifications, skills and a life-long career within a forward-thinking, dynamic, and professional organisation, whether they have just left school or college or are looking for a new challenge. No day is the same for our engineers, they could be working with anything from earthmoving machines to marine engines and electric power generators, the possibilities are endless."
The closing date for applications for the apprenticeship programme is February 25.
For more information click here or visit https://www.finning.com/en_GB/company/careers/our-people/apprenticeship.html