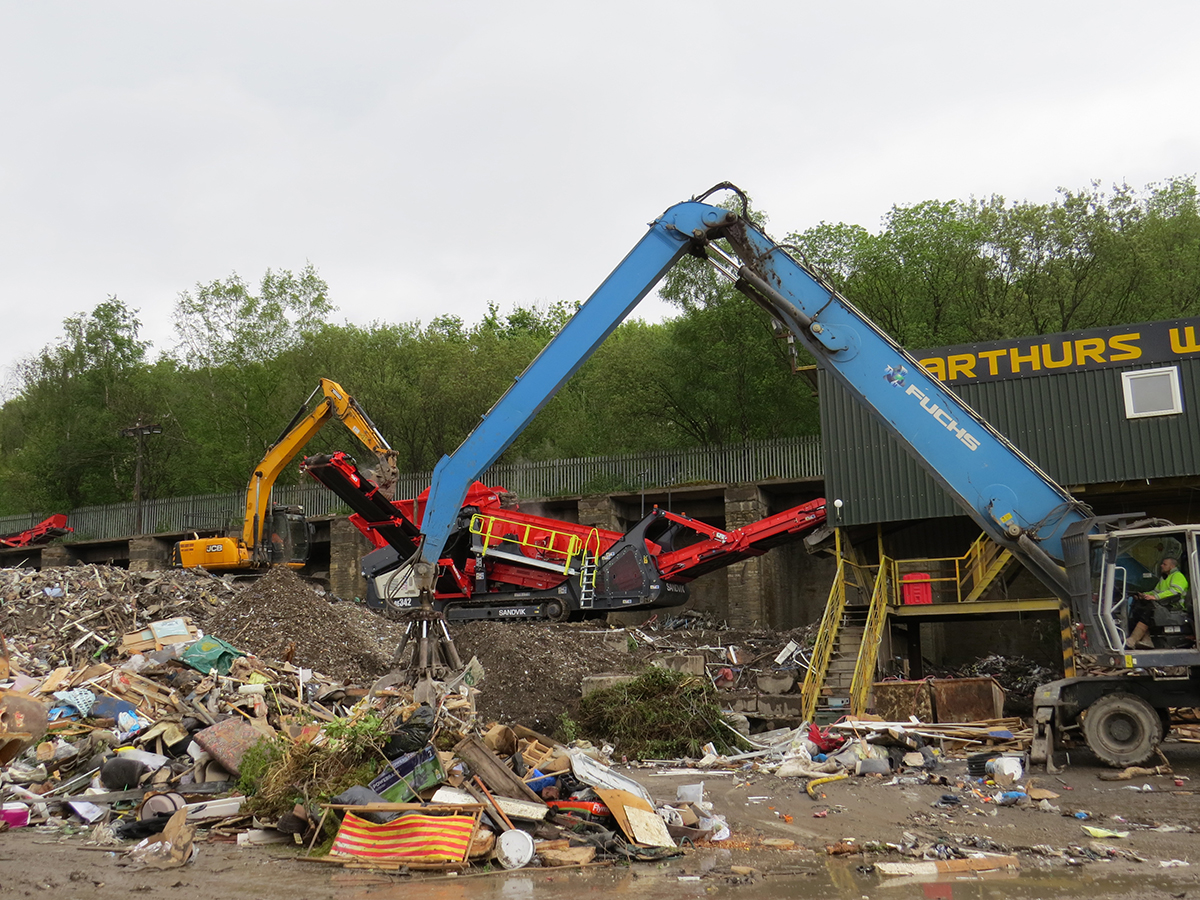 Arthur's Skips in Sheffield have been a loyal customer of Sandvik for a number of years. They have recently invested in the latest mobile scalper for their recycling operation due to the reliability and back-up provided.  
Arthur's Skips was established in 1994 by Arthur Hartley and his son, James. They began trading with just two vehicles and eight skips from their first premises in Sheffield. The business has since grown over the years and they have relocated to a large 13 acre site, where they now operate 30 trucks servicing over 2,000 skips and containers in Sheffield and the surrounding areas, employing 70 members of staff. With a £2m investment in aggregate production, the company now offers a complete waste management service as well as supplying recycled aggregates to its customers. This expansion has put them alongside the fastest growing recycling companies in the country.
Sustainability is an integral part of Sandvik's business. We are committed to using engineering and innovation to make the shift towards more sustainable business and drive to a more circular economy. Manufacturing equipment which will help our customers achieve their sustainability targets and add value to their operation, as well as society as a whole, is high on our agenda. This ties in well with Arthur's Skips and their mission to improve waste handling and the recycling processes they operate.
Arthur's Waste Management and recycling services offer complete recycling and waste management solutions to the construction and demolition sector. They provide onsite and offsite segregation for all recycling and waste materials, which they say are recycling in excess of 95% of most waste – the alternative to landfill. "With Site Waste Management Plans and annual increases in landfill tax, sustainable waste management is not just an environmental improvement, but a financial one" says James Hartley, Managing Director.
Expanding their fleet
Needing to invest in a new scalper due to increasing demand, they turned to Sandvik once again. They have been operating two Sandvik QE341 scalpers for the past 5 years and have been happy with both the product and aftermarket support provided, which James comments as "far superior in terms of build quality and reliability". They decided to purchase a new QE342, the successor to the QE341, which was upgraded to include a number of additional features for ease of operation, safety and performance.
As operational user friendliness is vital for enhanced use, the QE342's electrical control system incorporates several features to improve both the operational effectiveness and machine safety. The simple, easy to use system features a key switch, a mode selector switch (set-up, operation & tracking) and one global plant button to commence sequential automatic start-up & automatic shut-down of the plant whilst in operating mode. A large visual display is also provided to enable to operator to view engine & plant status.  Prestart warnings on all plant functions, ensure that safety, as well as ease of operation, is paramount at all times.
Versatility and durability at its core
With its wear resistant rigid hopper and steel apron feeder, it has been purpose designed to accommodate many tough and difficult to screen applications. It is versatile with a choice of screen media and is compatible for 2-way or 3-way split configurations, as well as having the ability to interchange side conveyors. The screen-box jack up facility allows easy access to the bottom deck for maintenance and screen media changes. The QE342 comes fitted with the latest generation fuel efficient engine for maximum performance and cost efficiency. Its extended hydraulic fluid change intervals from 2,000 to 4,000 hours also contributes to a reduced cost of ownership.
The new QE342 fits in right at home at Arthur's working at their waste transfer station, which was established in 1996. It is dealing with a variety of construction and demolition waste and pre-screening prior to being fed into a picking station. The fines as well as the waste are processed further. James says "this process enables us to capture good minerals that are located in C&D waste and makes the waste easier to sort through by hand to get it into the correct recycling waste stream".
The QE342 also comes fitted with Sandvik My Fleet as standard to help optimize utilization and performance. This  technology will help Arthur's Skips with their maintenance and servicing schedule reducing downtime, as well as facilitating remote operator support. When asked about thelevel of service and support received from Sandvik, James Arthur comments "Sandvik service is very good and they are always willing to talk you through faults over the phone which is unique. 9 times out of 10 any issues can be sorted over the phone without the need to send a technician to site costing time and money".