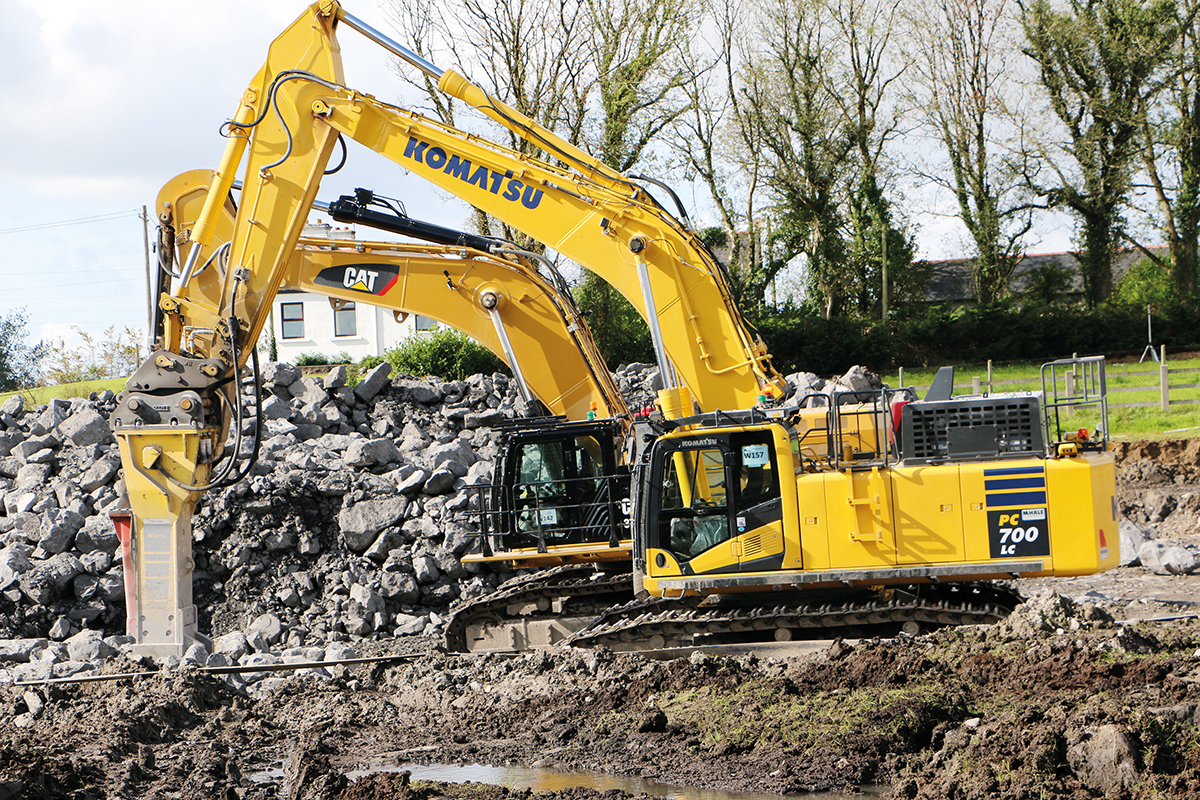 It takes a heavy machine to do heavy work. When McCabe Earthworks were faced with a lot of stone to smash, a brand-new 70-tonne Komatsu was brought in to run the breaker. Dara Boyle gets up close with this rock-busting beast.
It's a promising sign these days to see a large machine being loaded up and leaving the dealership, ready to be put straight to work. This was the case at the end of August, when a new Komatsu PC700LC-11 was drawn away from McHale Plant Sale's Rathcoole depot on a five-axle low loader, destined for a major infrastructure project in the west.
[divider style="solid" top="20″ bottom="20″]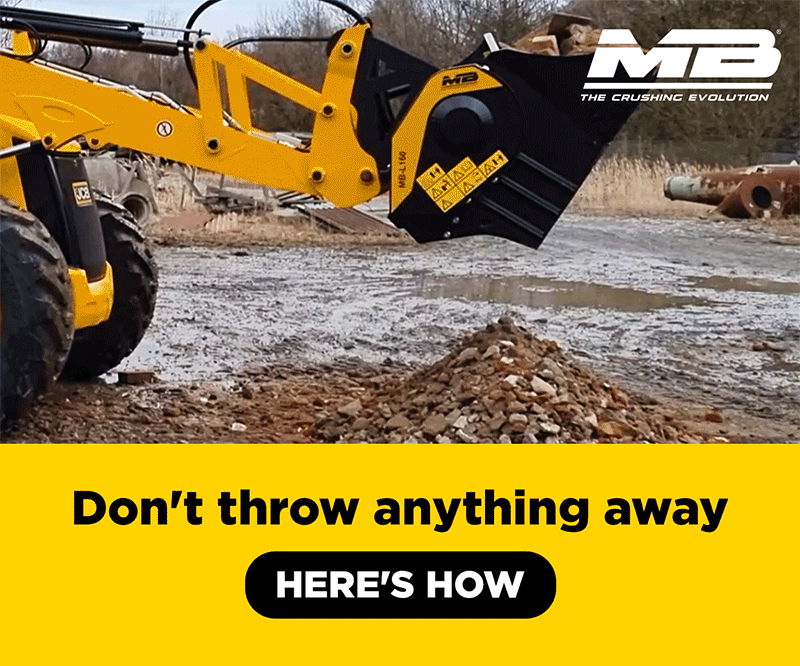 [divider style="solid" top="20″ bottom="20″]
The big 70-tonner is one of the latest additions to the McCabe Earthworks fleet. The Monaghan-based contract crushing and civil engineering company runs a mixed fleet, but the Japanese brand has a strong presence. Since it was bought, the 700 has been running a seven-tonne breaker, smashing rock as part of an effort to bring the site down to the desired level. There's plenty of breaking left in store for the Komatsu, as this part of the job is scheduled to last 12 months overall. The machine was also bought with a quick hitch, digging bucket and ripper.
Operator George Condell has no shortage of experience on excavators, having worked with various makes in Australia, Canada, France and New Zealand over the course of the last 20 years. His take on the big Komatsu is positive. "The Komatsu is a fine machine. It's very smooth to operate and has great reach with the long boom. There's great comfort because the undercarriage is that bit bigger too. It's a lovely machine overall and I'm very happy with it", he says.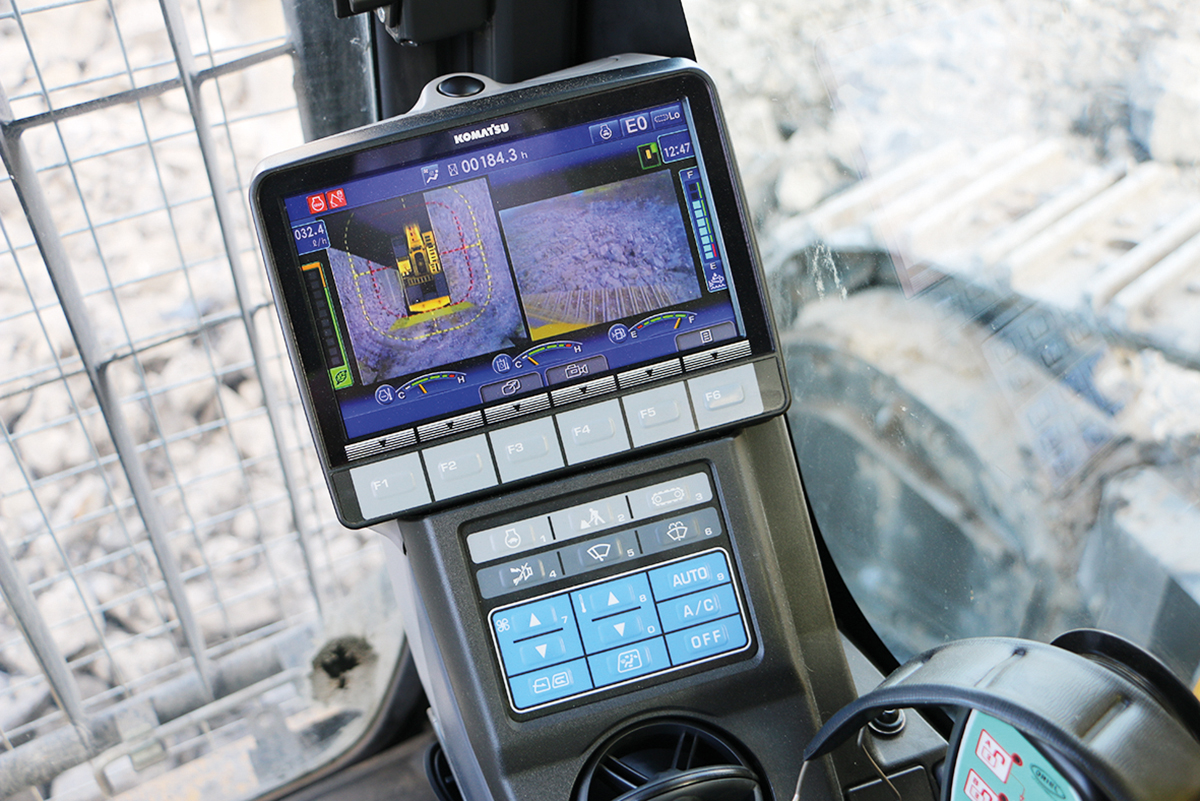 In the cab
The cab is comfortable and well equipped. The seat is heated and sits on air suspension and is paired with console-mounted armrests which can be adjusted easily to your preferred height. The joysticks have three buttons each for controlling attachments. A good-sized monitor shows a feed from the cameras, which are mounted at various points on the machine. The operator can toggle among views from different angles, while the KomVision system shows a bird's-eye composite view of the machine at the same time. Depending on the job at hand, you have the choice of power, economy or fine modes. Fine mode gives you 17 percent more boom lifting power. The home screen now also features an eco gauge, letting you see how you're doing in terms of fuel consumption. Creature comforts include two 12-volt outlets, an aux jack, a hot and cold box, a cupholder and a rack for your copy of Machinery Movers. The cab is also well insulated, and according to Komatsu, it offers "noise levels comparable to those of an executive car." There are four working lights mounted on the front of the cab and one on the rear as standard, along with flashing beacons. McCabe Earthwork's machine includes the optional cab guards, an important extra when working with heavy rock.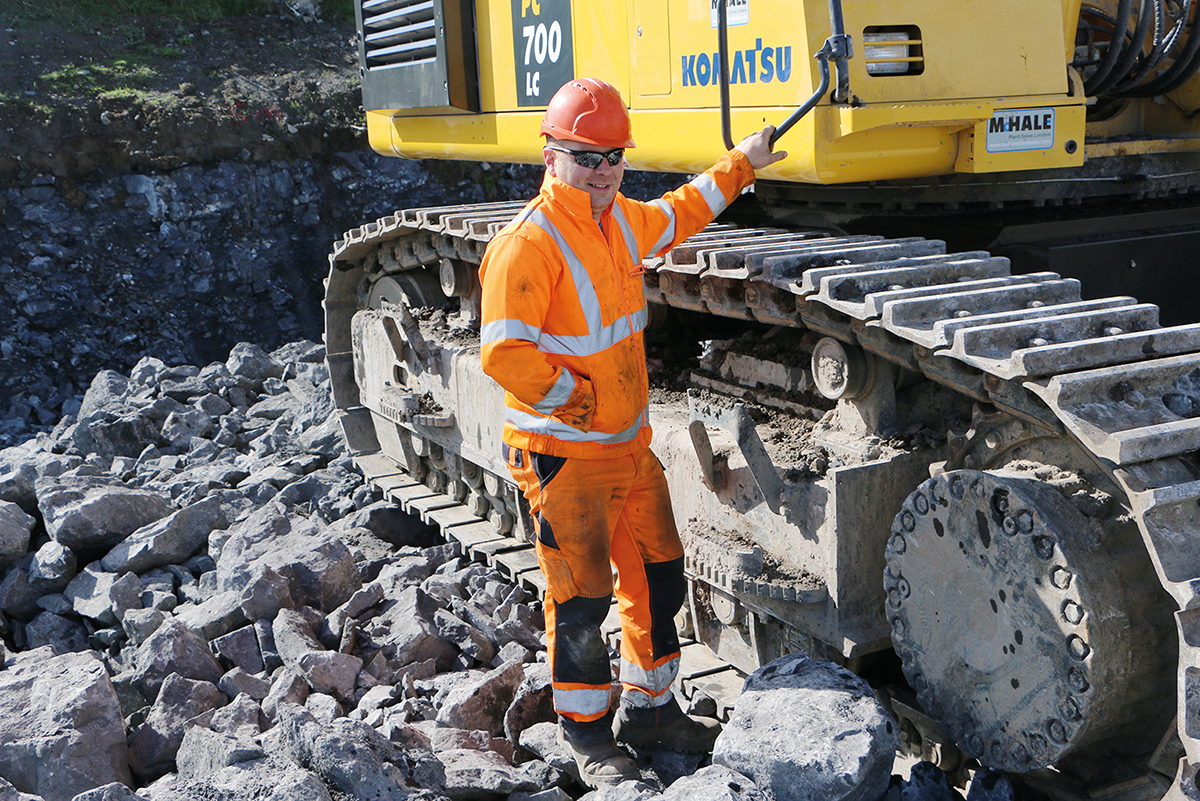 About the beast
The dash 11 machine was first introduced in 2017, billed by Komatsu as a machine designed "for hard and highly demanding applications such as mining, quarries and mass earth excavation." At the time, it was compliant with Stage IV emissions regulations, though it has since been upgraded to meet Stage V standards thanks to a DPF, EGR, DEF and other technology such as a variable geometry turbo. One aspect of the machine that the manufacturer highlights is that all of the main components are made by Komatsu itself. This includes the six-cylinder, turbocharged, common-rail injected engine, which makes 327 kW at 1,800 rpm. This same powerplant can be found in other machines across the Komatsu range, including large wheel loaders, dozers and rigid dumptrucks. 
Like many modern Komatsus, the PC700LC-11 comes with auto idle shutdown as standard. This shuts the engine down after a period of inactivity to save fuel. 
The operator can adjust this from five to 60 minutes. Komatsu says overall fuel consumption is down about six percent from the previous generation. Access to the upper platform is safe thanks to strong handrails and grippy surfaces. Lift the bonnet and you'll notice that the filters are grouped at the front of the engine, taking some of the pain out of routine servicing.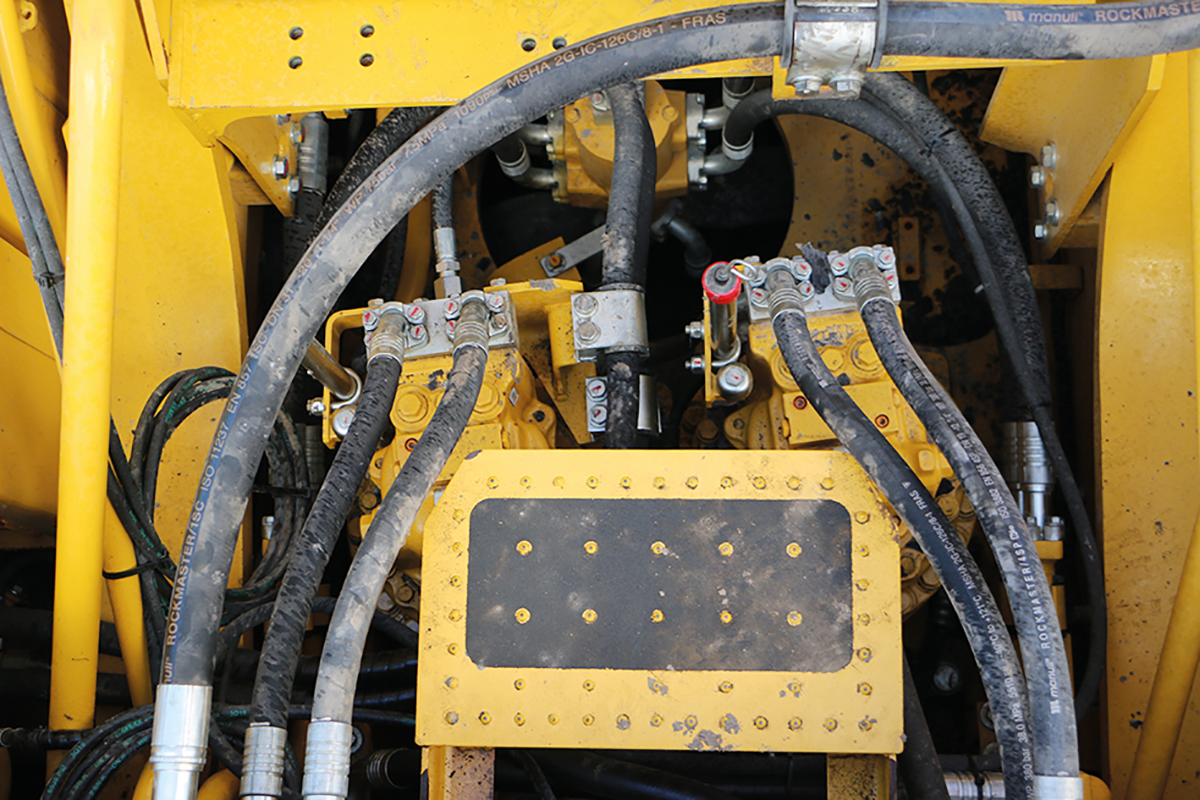 The hydraulic system uses a pair of variable displacement piston pumps, each with a max flow of 410 l/min.
A look at the undercarriage shows that this is a machine intended to hold up in harsh conditions. The frame is a h-leg design with box section track frames. 
A heavy guard on the inside protects the drive motor from damage. Track roller guards come as standard, and additional ones can be added as an option. 
There are four options for track shoes, ranging from 610 to 910 mm wide. The operating weight of the machine varies from 66,110 kg to 69,540 kg, depending on which boom and arm configuration it's fitted with. There are three boom options and two dipper options to choose from, with the longest combination giving you almost 1.5 metres extra reach over the shortest option. Equipped with the longest boom and arm, max digging depth is 8,325 mm, max digging reach is 13,030 mm, and max dumping height is 8,120 mm. In terms of digging power – again with the long boom and stick – it musters a bucket digging force of 29,100 kg. If you turn on the PowerMax option, this gives you a 10 percent power boost for eight seconds, pushing the digging force up to 32,300 kg.
By selecting either boom priority or swing priority mode, the pilot gets to choose to prioritise hydraulic flow to either the boom or the pair of slew motors.
With this machine, you get access to Komtrax – Komatsu's telematics system. This lets you monitor the digger remotely on a computer, phone or tablet. Hours, machine location, fuel use and service schedules are some of the information readily available through Komtrax. Servicing information and faults are sent to both the fleet manager and the Komatsu dealer.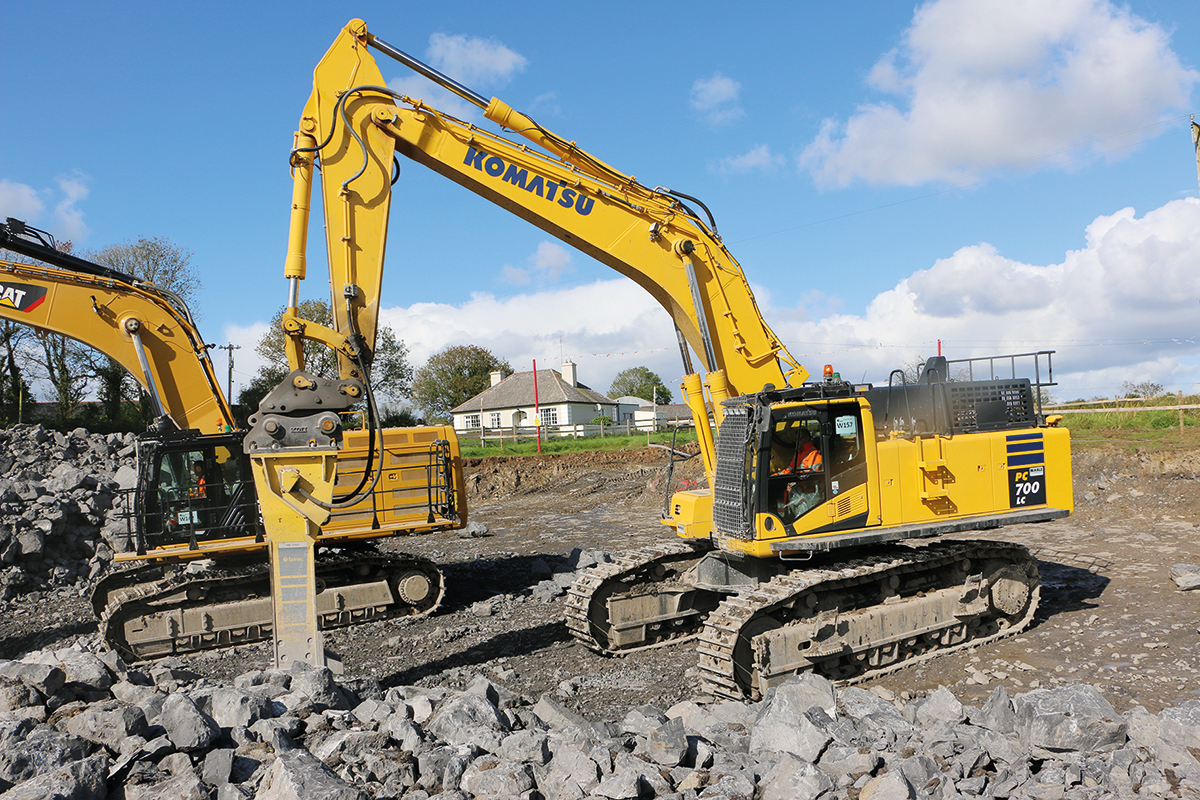 Keeping the hammer down
The PC700LC-11 has been running a large hydraulic breaker since new. The hammer in question is an Epiroc HB7000. This is the second-largest model in the Swedish manufacturer's Heavy Breaker range and is designed for carriers from 70 to 120 tonnes. The HB7000 can deliver between 280 and 450 blows per minute, features a built-in autolube system, and is silenced to reduce noise and vibration levels. The breaker can be specced with the optional DustProtector system, which uses a combination of coarse and fine filters to stop material from getting into the hammer around the chisel.
Clean machine
Also on site is a Komatsu Hybrid HB365LC. The manufacturer says this machine can achieve a fuel saving of up to 30 percent compared to non-hybrid models. The system uses an electric swing motor-generator which generates electricity during swing braking and sends this to capacitors to be stored. This is then reused by a generator to boost the engine's power. The HB365LC is powered by a six-cylinder engine making 202 kW at 1,950 rpm.
McHale Plant Sales of Rathcoole, Dublin and Birdhill, Co Tipperary are the Komatsu dealer for Ireland.