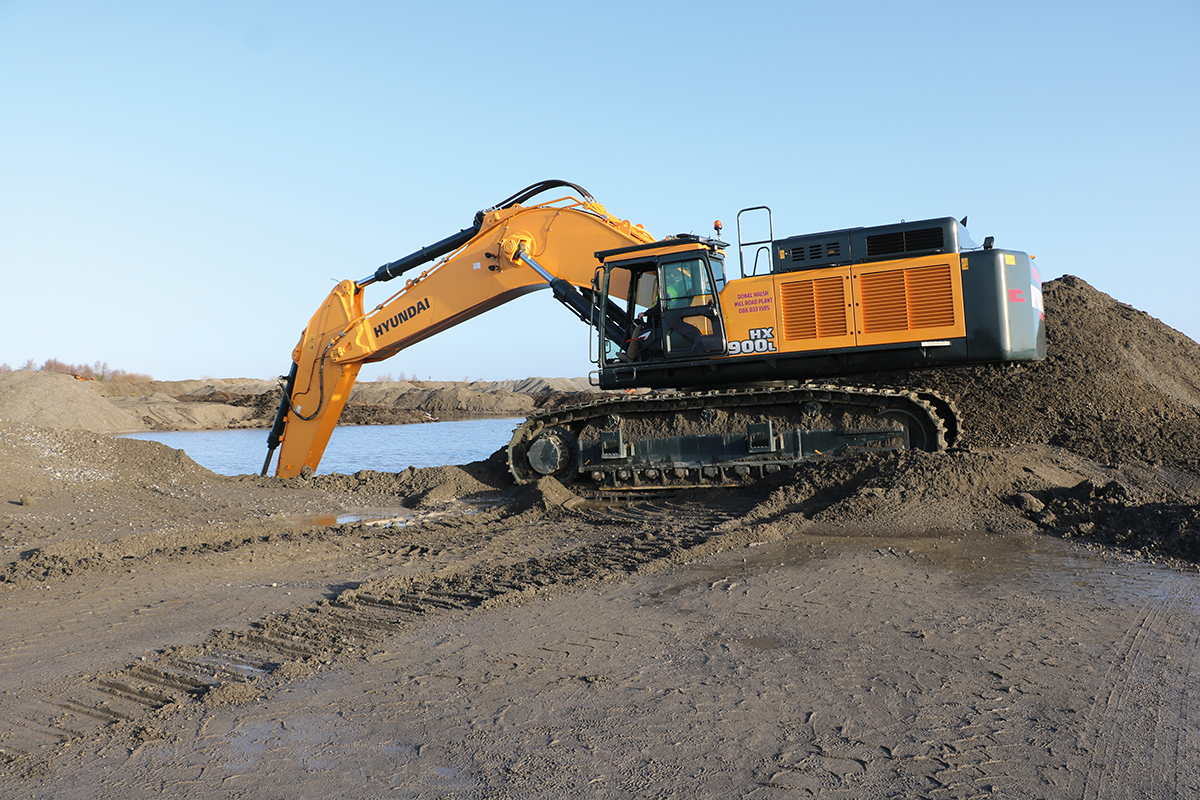 In the yellow corner, weighing in at nearly 90 Tonnes, the new kid on the block, Ladies and Gentlemen, the mighty Hyundai HX900. Darren Scully is your ringside commentator.

 
Just a couple of weeks before Christmas, Donal Walsh was getting restless and didn't really want to wait for Santa. Christmas came early for him and so arrived his brand-new Hyundai HX900 into the gravel pit where he operates. It is a big brute of a machine. Looks very tough and hungry for action. This is the first one into Ireland and is supplied by Hyundai dealer, George Whelan. This machine first appeared on the scene early last year and was on display and getting a lot of interest at the Bauma show last April. This 90-tonne machine replaces the R800LC-9 model and is designed for the demands of the European construction and quarry industries, it has been developed using market-leading technology to deliver exceptional productivity and is the second largest Hyundai machine in the stable sitting behind the gargantuan 120 tonnes R1200-9. I went to get a closer look at it in a quarry in Offaly and speak to its proud new owner. 
[divider style="solid" top="20″ bottom="20″]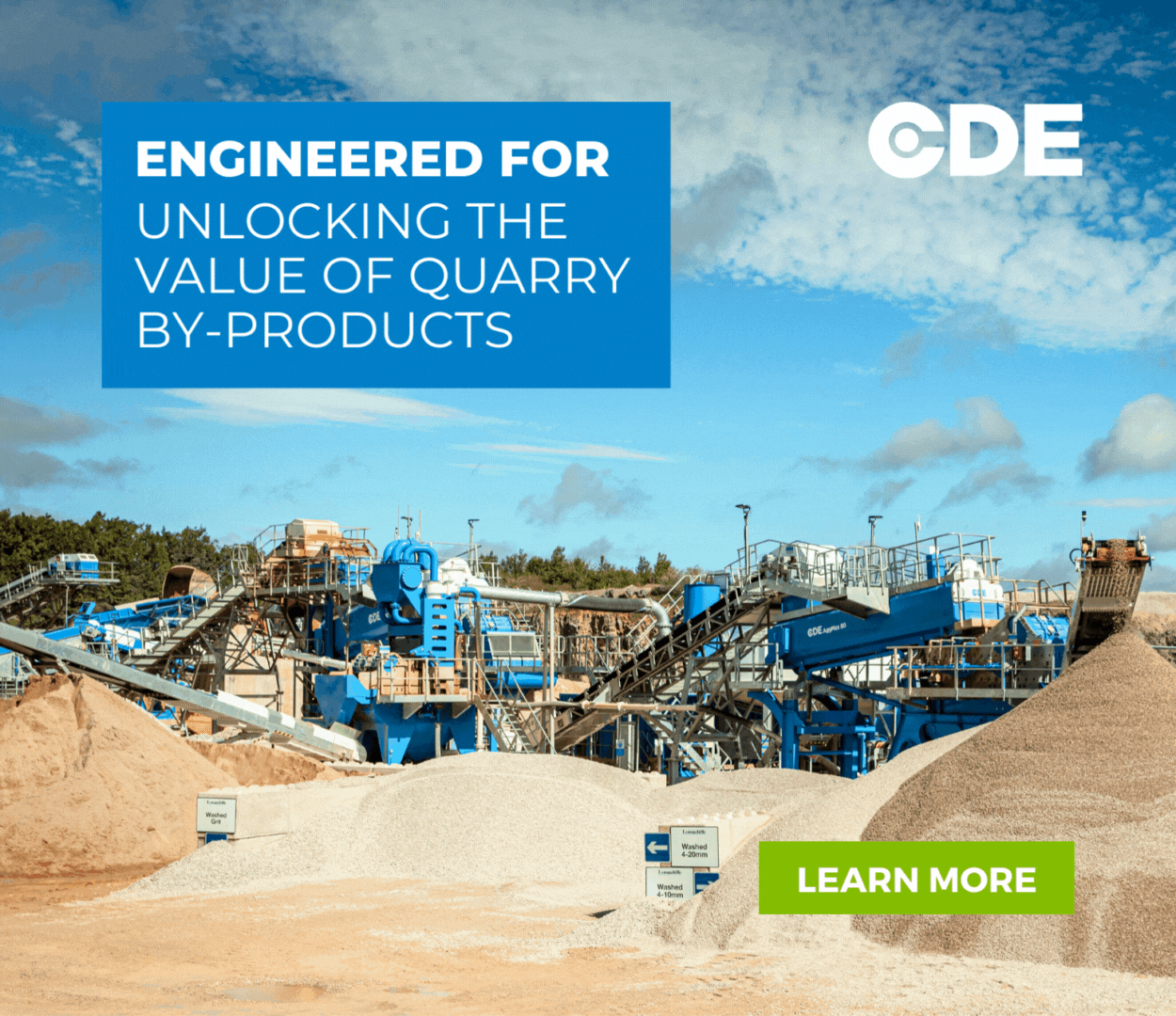 [divider style="solid" top="20″ bottom="20″]
Strength and Brute force
Donal Walsh gives me a warm welcome and is delighted to show off his new addition to the fleet. He is a very experienced operator himself and started life the hard way, operating mechanical draglines. Machines such as Ruston Bucyrus 54's and 71's. For those of you that have never operated a mechanical dragline I will give you a brief description as to what is involved. As it is mechanical there are no fancy things like hydraulics. Here brute force and strength is required to operate the machine. There is a large selection of levers and pedals to use and they must be used on a repetitive basis for the machine to fill a bucket. Here you must constantly use your arms and legs and you are constantly getting a full body work out. It is a bit like trying to balance a unicycle on top of a beachball. If you can operate a mechanical dragline then you can operate any machine on the planet. Donal expands on his experience. "I started with the board of works in 1971. I trained up on a RB22 and 38.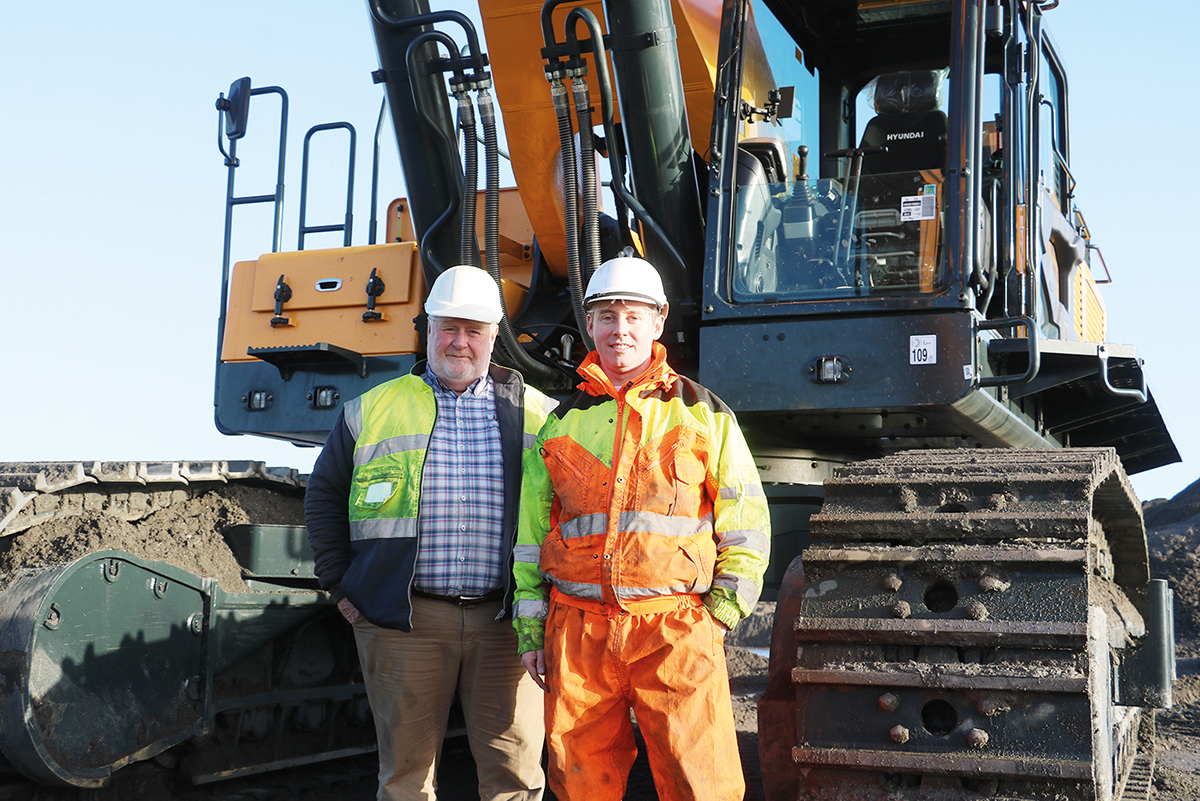 I then became a trainer/operator and then an opportunity came up for me to set out on my own and I purchased an RB54 and I started tidying up quarries and lagoons. I then started excavating sand from under the water and I have been doing that since 1992. The first hydraulic machine I bought was a Hyundai 450 the following year and I have been buying them ever since". Donal has tried other brands over the years including Caterpillar, Hitachi and New Holland, but he keeps on coming back to Hyundai. "To me they are by far the best. Service is top class from George Whelan, he gives a very personal touch and he is interested in what I am doing and what are my needs. The Hyundai machines have never let me down and that is why I bought the 900" said a contented Donal. Before he got this new beast, he was operating a New Holland 805 for thirteen years. It was a good machine and served him well and as he said himself, it owed him nothing. He hopes to refurb the 805 and keep it in the fleet for future years. He was on the market looking for a replacement for the New Holland about three years ago. 
He already had the Hyundai 520 in his fleet but needed something bigger. He got word that Hyundai were developing a 90 tonner and so he decided to wait. He ordered the 900 in early 2019 and it arrived here on site in early December. 
A smooth operator
Donal operates his company with his son, Mark. His business already operates a fleet of diggers, all Hyundai fitted with long reach booms. His fleet consists of a Hyundai 235, 480 and a 520. He also runs three Volvo A30's ADT's and a Volvo L180 loading shovel. You could say, Hyundai to dig it, Volvo to shift it. Mark will be operating this new HX900 on a permanent basis and he will be kept busy. A typical day is from 7am to 5pm. The work includes stripping the bog and then they dig out the sand which is hidden beneath the water. The dug-out sand is then screened and transported to Dublin. 
He is also digging out gravel in another pit and a constant flow of trucks come in to be loaded. This size of machine is needed due to volume and its production capabilities. This excavator will be moved from site to site depending on what is required. The sand is very hard under the water that is why a machine with such massive breakout force and power is required. I ask Donal what he likes about this new Hyundai. "It is so smooth for such a large machine. It is very fast through the cycles and at times it feels like I am operating a fifty-tonne machine. It has plenty of power, and this is fitted with a fifteen-metre boom and a five-metre bucket. I still haven't run her at full power as I need to break it in, but it does what I need it to do, I can't wait to get her up to full revs, she will be mighty on the dig" he said. When he looks back on his past with the draglines, he does comment on the comfort nowadays. "It's like being on the couch at home watching the TV" he laughs.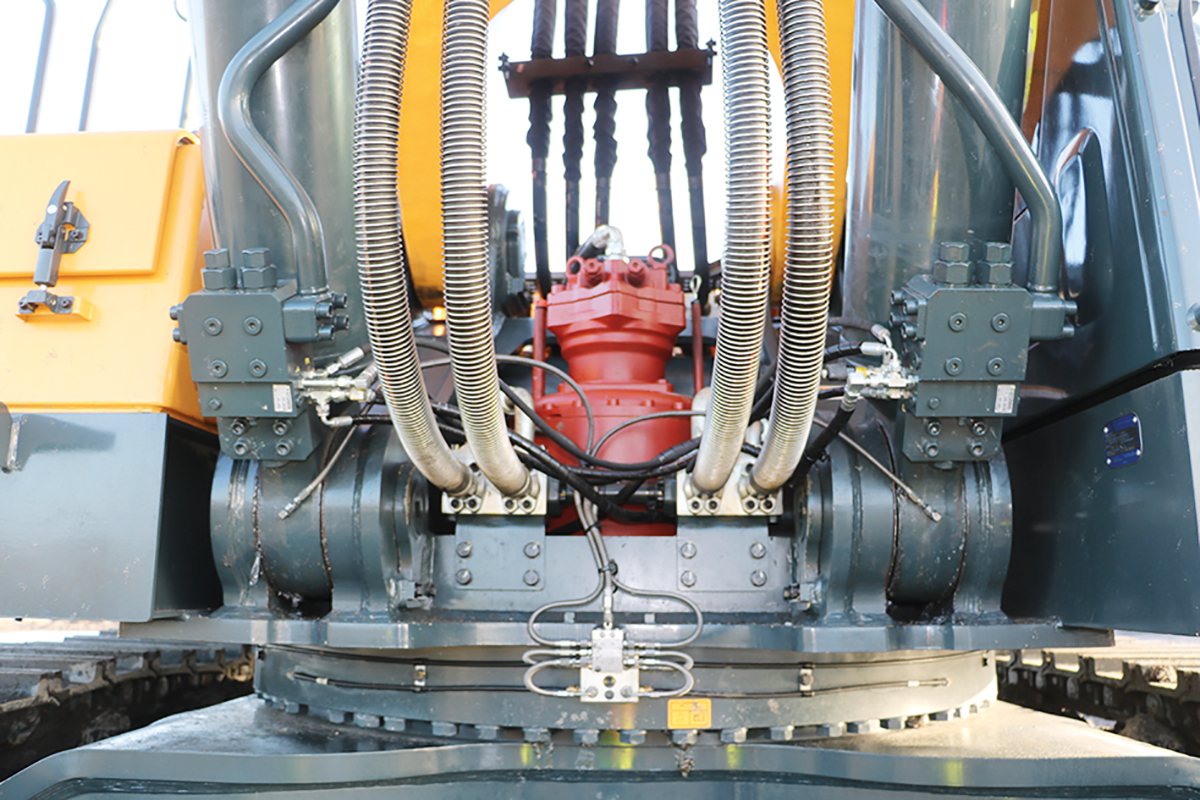 Under the hood
As with all the site visits, I get to take a closer look at this massive machine. When I open the engine cover, before me sits the environmentally-friendly Scania DC16 084A – 478 kW (641 hp) water-cooled stage IV compliant engine. The HX900L model has an operating weight of 88,800 kg and is designed and engineered to handle hard and abrasive materials in challenging working environments. Apparently, this model was tested in Africa for several years before it went into production. Its robust build is ideally suited for quarry and demolition work and on tough construction sites where a powerful 'work horse' is required. This latest HX model can be used with a variety of attachments and in various work modes to maximise its capabilities. The high rigidity boom and arm has been manufactured following rigorous testing and provides the operator improved stability working with high and heavy loads. With the strengthened boom and the installation of the highly wear-resistant shims the HX900L also offers excellent durability. The machine has been designed and manufactured with a full track guard which helps prevent separation of the track and strengthens durability by protecting the link and roller when working in harsh environments. 
The X-shaped lower frame guarantees maximum strength and its reinforced belly pans protect the machine's internal functional parts preventing damage especially when working on rugged terrains. The new cabin mount has made it possible to reduce cabin vibration and noise significantly and the latest air-conditioning system makes it possible for the operator to adjust the desired temperature through the Air Mix type cooling/heating system and the APTC (Automatic Positive Temperature Coefficient) with increased capacity and can quickly regulate the air flow in the cabin. A deluxe air suspension seat and a sunroof will also make the operator more comfortable working in his machine. The ergonomically designed joysticks are very responsive and provide easy manoeuvrability which can minimize an operator's fatigue when working over an extended period. The 8-inch high resolution cluster with touch screen provides integrated information on diverse operations and control functions to maximize the operator's convenience. In addition, intuitive control is made possible with the adoption of haptic control. The audio system has an integrated Bluetooth hands free feature, and a built-in microphone allowing the operator to take and make calls when in the cab. That will be handy to order the pizza delivery as you won't really want to go home, a superb machine.