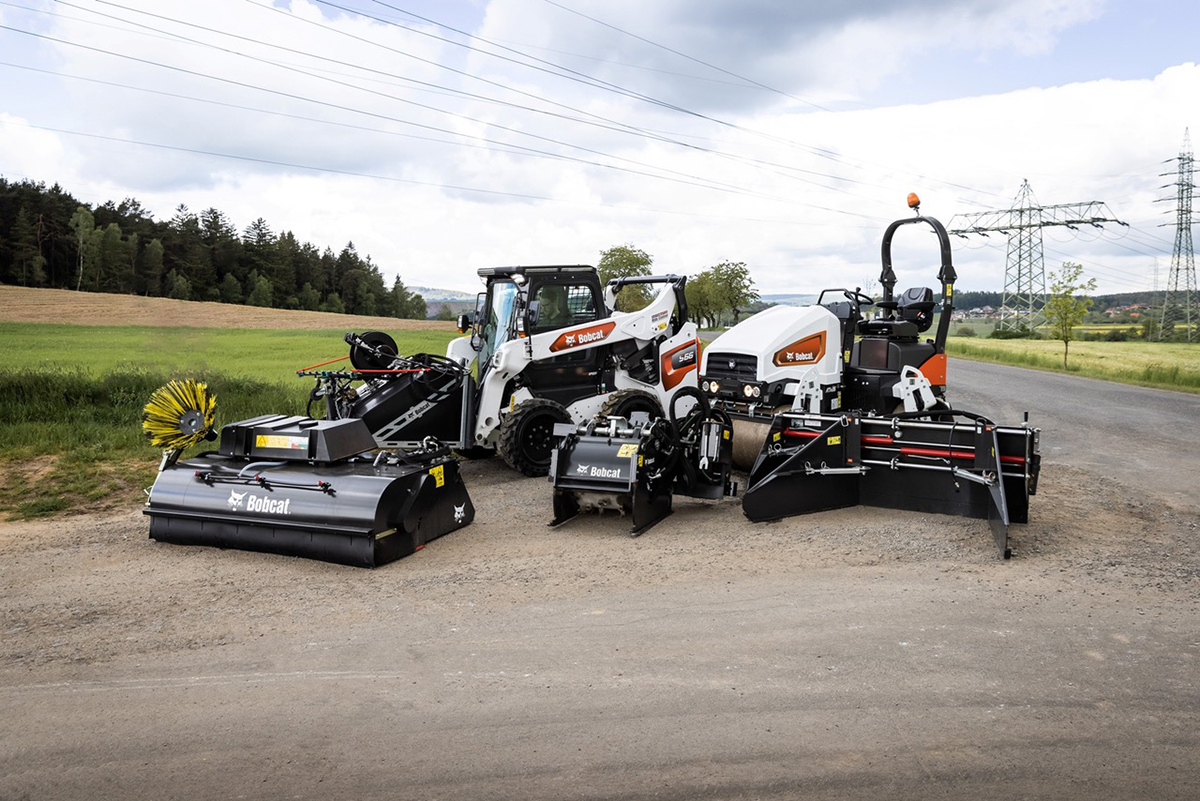 – New Sweepers Join Bobcat's Unique Road Maintenance Portfolio –
Bobcat has launched a new range of five sweepers that form part of the company's portfolio of road maintenance attachments, the most comprehensive on the market. The new sweepers are designed for versatility and are approved to use with many different Bobcat tool carriers, including skid-steer and compact track loaders, compact wheel loaders, small articulated loaders and rigid frame telehandlers.
Now part of Bobcat's unrivalled road and pavement equipment selection, the sweepers complement a wide choice of products for this sector, including planer, wheel saw, soil & asphalt spreader,grader, trencher and angle broom products. Combined with the growing line-up of Bobcat tool carriers, these provide high performance solutions for asphalt, concrete, road, pavement surface repair and many other applications.
Not only excelling in road applications, the new Bobcat sweepers cover a wide range of jobs from cleaning, recycling, construction and demolition to many tasks in the agriculture market.
Road and Pavement Maintenance – a Non-Stop Growing Market
The market for asphalt and concrete surface repair work continues to grow throughout Europe, Middle East and Africa. According to the European Asphalt Pavement Association, in Europe alone the network of motorways, regional and local roads stretches for a total length of around 5.5 million km, more than 90% of which is surfaced with asphalt and the number keeps increasing every year.
"All asphalt surfaces need to be maintained and repaired regularly to extend their lifetimes. At Bobcat, we continue to invest in expanding our range of road maintenance attachments as we see growing demand. We now offer the widest portfolio of compact solutions for road repair on the market, providing a choice of products from planers, sweepers and wheel saws to our recently added light compaction line-up," says Daniele Paciotti, Bobcat Product Line Manager for Attachments.
New Bobcat Sweeper Range
Bobcat sweepers are the perfect attachments for any surface maintenance project. The five sweeper models in the new Bobcat range provide sweeping widths from 110 to 215 cm, with bucket capacities from 0.22 to 0.44 m3for collection of debris.All model sizes are now available with unified platform features.
The new sweepers feature tougher, longer life heavy-duty bristles, and in response to customer feedback, Bobcat has developed a new optional integrated water tank unit, installed on top of the sweeper itself, with a cleverly designed, optimally front-positioned sprinkler system.
Bobcat sweepers can sweep and collect dirt or other debris in both forward and reverse directions. They are ideal for cleaning parking lots, pavements, docks and warehouses, as well as industrial and recycling facilities, construction and demolition sites and animal sheds in agriculture.
Durable and easy-to-use, the redesigned Bobcat sweeper attachments employ the very successful Bobcat plug & play system, which enables the operator to install and change attachments in less than a minute. The key to this is Bobcat's ACD – Attachment Control Device – feature with 7pin connector, which recognizes the attachment connected and allows the operator to utilize all of the features of the attachment from within the cab right away.
With the company's recent expansion in the wheel loader market, Bobcat now hasthe largest loader portfolio of any manufacturer in the world, providing a phenomenal choice of tool carriers to choose from.
Bobcat Planer Attachment Range
Ideal forrepairing not only potholes, surface cracks and ice damage, but also for milling surfaces and for working around manholes, the wide range of planers from Bobcat covers cutting widths from 35 up to 120 cm. Other uses include creating cuts for recessed lane markers; matching uneven pavement surfaces; producing vertical edges for pavement repairs; cutting drainage in parking lots and for tapering edges of roadways.
Bobcat Soil & Asphalt Spreader  
Designed to save time and labour costs, the Bobcat Soil & Asphalt Spreader, with a standard operating width of 190 cm or optional width of 196 cm,can be used to lay asphalt and other materials to create pavements; to widen and repair existing roads; to backfill, pave over and cover trenches and to lay sub-base materials. Thanks to its offset feature, this attachment can also lay asphalt without the loader needing to pass over the spread material – thus ensuring an unblemished and smoother finish.
Bobcat Wheel Saw Range
The rugged, powerful Wheel Saw attachments from Bobcat cut through asphalt, concrete, frozen ground, wire mesh and other hard materials with more precision than either air or hydraulic breakers. They can be used for road repair and cutting trenches for laying water, gas, electric and fibre-optic cable lines. The trench cleaner raises and lowers hydraulically and, depending on the model, cutting depth ranges from 15 to 80 cm. Bobcat also offers wheel saws with segmented wheels allowing the user to quickly change the width of the wheel (50, 80, 100 or 120 mm) in the field, instead of replacing the complete wheel in a workshop, a saving of 10 hours in the process.
New Bobcat Light Compaction Range
Compaction of subbases and asphalt is a must in road maintenance applications. To meet this demand, Bobcat has launched the company's new Light Compaction Product Line.
This latest expansion of the Bobcat product range is designed to meet work requirements on any job site. Compacting asphalt and base materials improves their capacity to withstand heavy traffic and improves their general durability.
Altogether, the Bobcat light compaction range comprises seven different product families and offers 37 models in total, from vibratory rammers weighing 29 kg up to 2.6 tonne tandem rollers.