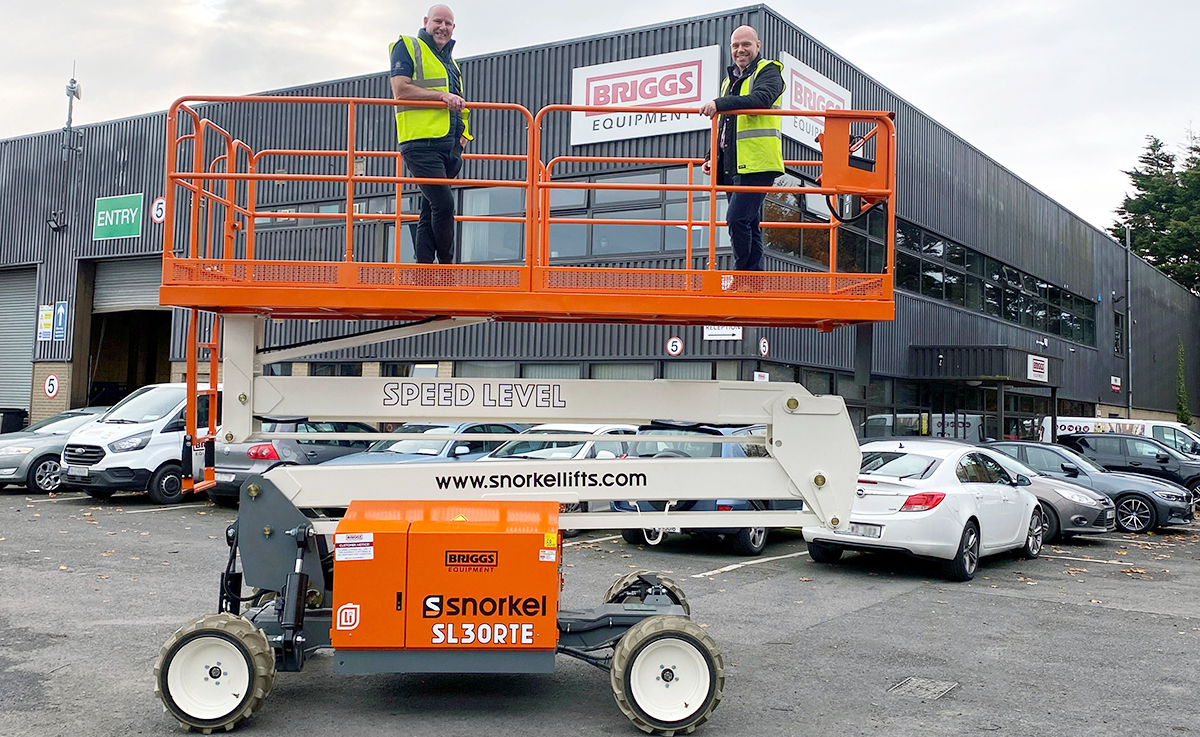 Briggs Equipment have become the first company in Ireland to invest in Snorkel's zero emission lithium-ion powered Speed Level lifts.
The company took delivery of two electric Snorkel Speed Levels at their Dublin depot in early November from Ahern Ireland. Introduced in November 2019, the Snorkel SL26RTE and SL30RTE have powerful four-wheel drive capabilities and are able to self-level and drive at full height on compound slopes without the need for outriggers, yet are zero emission and are significantly quieter than the diesel equivalents.
The Snorkel SL26RTE delivers a maximum platform height of 8.0m, a lift capacity of 680kg and a spacious 1.72m x 4.6m platform with the 0.91m roll-out deck extension deployed. The larger Snorkel SL30RTE can reach a maximum platform height of 9.0m, lifting a maximum platform capacity of 590kg, and has a fixed platform of 1.72m x 4.23m.
Both models come equipped as standard with 11.5kW Li-ion batteries with integrated battery management (BMS) systems. This standard two battery pack system has been proven to deliver at least an eight-hour shift on a single charge, and in some cases, up to one week between charges, subject to usage. Designed for outdoor applications, the powerful and efficient AC electric motor creates efficiencies in the hydraulic drive system with higher torque than a diesel engine, which in turn provides improved gradeability and enhanced performance on rough terrain than traditional combustion lifts.
Manufactured by Snorkel in the U.K., the SL26RTE and SL30RTE were available from Ahern Ireland's inventory in Rathcoole for fast delivery, and Briggs Equipment were able to put the units out on hire almost immediately. The SL26RTE was deployed in its first job on a retail park being used to lift workers to clean building facades. The customer was very pleased with the performance of the unit, especially the Speed Level's capability to be driven at full height while positioned on the pavement.
Martin Masterson, Short Term Hire Manager at Briggs Equipment in Dublin, said, "We are really impressed with the two electric Snorkel Speed Level's. We are finding many benefits to the unique design of the Speed Level in terms of its ability to be driven at full height unlike a comparative rough terrain scissor lift, and our customers, depot team and delivery drivers are also appreciating the clean and quiet operation of these electric lifts."
"As a leading hire company, we recognize the importance of embracing cleaner equipment in our fleet and are delighted to be the first company in Ireland to invest in the electric Speed Level and Snorkel's lithium-ion solution. The machines have seamlessly integrated into our fleet and the feedback so far has been really positive. I would like to thank Ahern Ireland for all of their support with this order."
David Roddy, Sales Director at Ahern Ireland, added, "It is great to see Briggs Equipment taking the first step into zero emission powered access alternatives, and we sincerely thank them for their trust in Ahern Ireland and Snorkel with this order. We are confident in the performance of our lithium-ion battery solution and we are thrilled that Briggs Equipment is already receiving positive feedback from their team and customers."
With two locations, in Dublin and Lisburn, Briggs Equipment provides equipment sales, hire, service and training across the island of Ireland. Briggs Equipment is part of Briggs International, which is the world's largest global distributor of Hyster material handling equipment, and is owned by parent company, Sammons Enterprises In., one of the world's largest privately-owned companies.
For more information on Briggs Equipment please visit www.briggsequipment.ie and for Ahern Ireland please visit www.ahernireland.ie. To learn more about Snorkel's lithium-ion battery powered equipment, please visit www.snorkelnetzero.com.