Caterpillar introduces the 990K Aggregate Handler, designed to handle greater payloads in aggregates yard applications. With as much as a 25 percent payload increase, as compared to the standard 990K, the new Aggregate Handler enables customers to load trucks and railcars faster and to move more material in load-and-carry and stockpile management tasks.
The Cat® 990K Aggregate Handler has a payload of 22 tons (20 tonnes) and a full turn static tipping load of 96,426 lb (43 738 kg). Additional counterweight maintains machine stability, and robust 990K structures ensure durability in the Aggregate Handler configuration.  The loader makes best use of general purpose and coal buckets for increased volume.
The 990K Aggregate Handler is available in standard lift configuration with 13.5-ft (4108-mm) dump clearance and in high lift configuration with 15-ft (4569-mm) dump clearance. Increased capacity and high dump clearance enable customers to load railcars and large trucks with a better pass match for faster material handling at lower cost per ton.
The 990K Aggregate Handler complements the smaller 986K and 988K Aggregate Handlers in the Cat large wheel loader line. The Aggregate Handler, however, is not designed for use in quarry face or other shot rock applications.
Building on the 990K
The new 990K Aggregate Handler is built on the proven features of the 990K Wheel Loader. The 990K powertrain provides powerful operation with superior fuel efficiency. The Cat C27 engine powers the loader and delivers net power of 699 hp (521 kW). Lower engine speed helps drive economical fuel use. Additional fuel savings accrue with the ECO Mode (on-demand throttle), engine-idle shutdown system, and engine-idle kickdown/auto-resume system.
The Cat exclusive, field-proven impeller clutch torque converter uses a lock-up clutch, providing direct drive to boost fuel economy, trim cycle times, and reduce heat—especially in load-and-carry applications. The system allows operators to balance rimpull and hydraulic power for optimum loading efficiency. Positive Flow Control implement hydraulics use a variable displacement, electronically controlled pump to precisely apportion oil flow based on operator control inputs.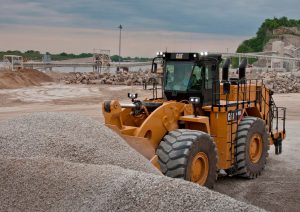 A number of drivetrain options are available. The integrated axle cooling and ride control options are particularly beneficial in load-and-carry work.
The operator station features the Cat Vital Information Management System, VIMS™ 3G, which provides customizable operator profiles, a cycle timer and an integral Payload Control System, which provides on-the-go payload weighing. The graphical information display is easy to use and keeps key information in front of the operator. The Cat Comfort III seat provides integrated seat-mounted controls for smooth and comfortable operation. Transmission controls, integral with the STIC™ steering lever, allow convenient travel control.
The 990K is equipped with the Cat Vision rearview camera system and in-cab display to show the operator the area behind the loader. The Cat Detect object detection system, available as an option, builds on the camera system with radars and in-cab software that provide notification to the operator when an object is detected within the radar coverage area. The systems are designed to enhance operator awareness, especially in congested loading areas.