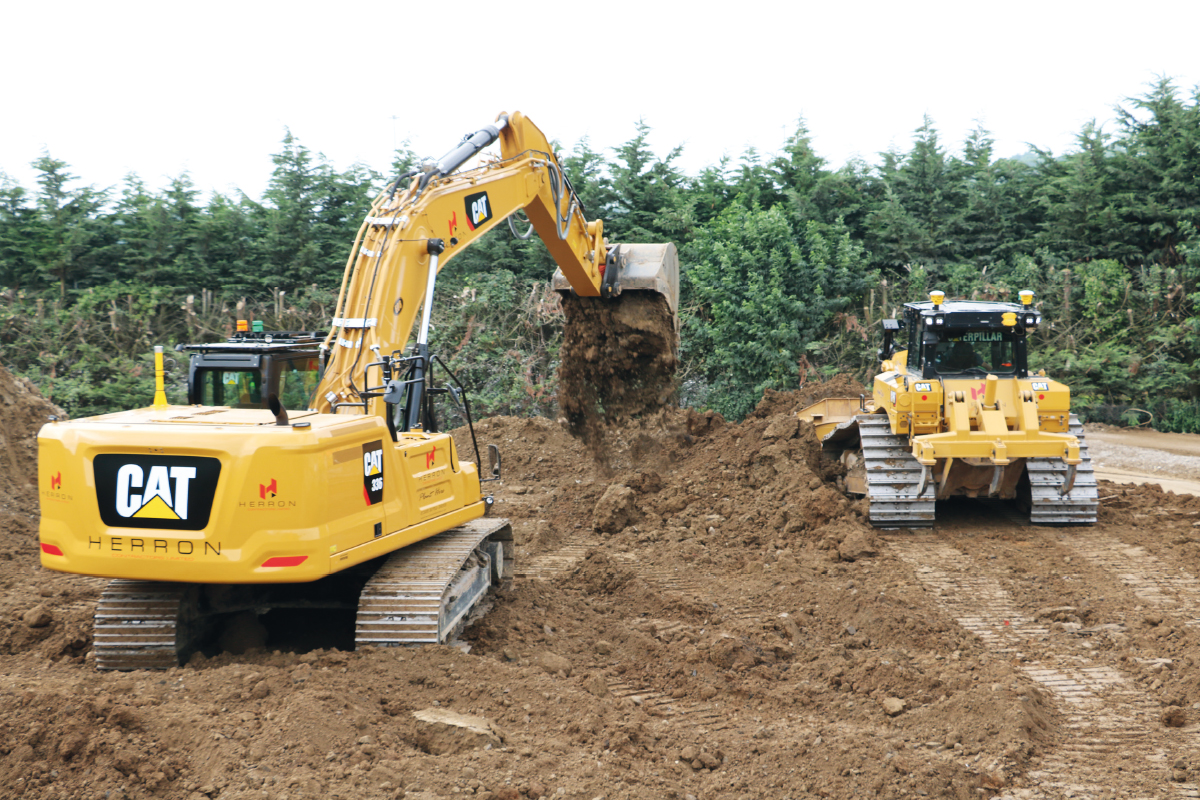 Herron contractors have recently purchased some new Caterpillar machines. They have huge confidence in the new additions to their fleet and their operators are like the cats that got the cream. Darren Scully went to see the machines in action on a new house build in Kildare.
Without doubt we live in truly bizarre and unprecedented times. Since March, all of our lives have changed dramatically. What we all took for granted, such as going for the casual pint or watching a football game has been put on its head. The construction industry has also had some major obstacles and challenges to face. Social distancing, cleaning down cabs, reduced numbers in canteens, even travelling to work with colleagues has been a headache to manage. It has also been a massive challenge for machine dealers and manufacturers. Global new machine sales have literally fallen off a cliff.
My email inbox has gone very quiet announcing new models and normally I would be attending press launches of new equipment, but that has all stopped, dead. But in this industry when the going gets tough, the tough get going, and that is why I was delighted to hear a contractor had bought a new digger and dozer, and was asked if I would be interested in visiting a site to see them in action. I didn't need asking twice, I love site visits, not only to see the machines; but for me it would be great to talk to the operators to get their views, from two metres of course. So, I headed off to a new house build just outside Kildare town to see these new Cats in action.
How it all began
Like many plant contractors in Ireland, this is a family business. When I got the history of the company from the boss, Mark Herron, I was suitably impressed. Herron Contractors is a business that specialise in all areas of ground and earthworks for both the private and public sectors. Agricultural contracting also forms part of their skill set and they provide plant hire with qualified operators. They are based in Dromora in Co. Down, and now also have a facility in Carrickmacross, Co. Monaghan. They are a second-generation family business that has gone from strength to strength and grown with modern times to boast a very modern plant fleet. Their areas of expertise include muck shifting, drainage, plant and low loader hire, concreting, kerbing and much more. They have worked for many large construction and quarry companies over the decades, such as BAM, Northstone, Lagan and Farrans.
Their machinery fleet is very fresh and very Caterpillar. They run several models of Cat excavators and dump trucks. They are also very much with the modern times and the latest technology. All excavators and dozers come equipped with Trimble machine control systems which gives them the edge with regard to saving time and saving fuel. Herron also have a range of Atlas Copco breakers and attachments and they use crushing buckets. I ask Mark to expand on why they like using Caterpillar. "They are top quality machines, great power and super on the dig. They give us superb service and our operators love them. It is a brand with a fantastic reputation which means exceptionally good resale value. Our company has been using Caterpillar for years and that is why we recently purchased the new D6 dozer and the 336 excavator and well also recently added two new 730's to the fleet", said Mark.
Fly-by-wire
I arrive at the new house build just outside Kildare town. The new way of life is very evident. Hand sanitiser stations everywhere and everyone keeping their distance. I spot the two new machines over on the far side of the site. The 336 is ripping down a bank of muck and throwing it out into the path of the D6 which then levels off the dirt. This is all part of a ground stabilisation project and that work is being carried out by Celtic Soil Solutions from Wexford, ensuring that the new houses will be solid as a rock on this reinforced ground. They also provide site clearance, foundations, and pipe installations. Operating his brand new, out of the box Caterpillar 336 excavator, is Cyril Hamilton. He has been working for Herron the past five years. Like many digger men, he is from a farming background and remembers getting his first taste of machinery at the tender age of four. All through his childhood he got huge experience on various tractors and agricultural equipment. He then went working with diggers at the age of 17 and his first chariot was the Massey Ferguson 450D. Back in the '70s Massey were of course well known for their tractors, but they were also a big player in the construction equipment market, even getting an Italian styling house to help them with their designs. Cyril then went around working for various contractors on different projects, including working for Ashleigh contracts on sea-defence projects.
As he has decades of experience of working the levers, I ask him for his views of his new 336. "Absolutely love it. I am a Cat man through and through. I have driven them all and the Cat is the best in my opinion. My first Cat digger was a 215, it was totally bulletproof. Over the years I driven all the models. This new 336 is a really good machine and it has lots more vision out of it and more comfort than my last 336F. The levers are fly-by-wire control and that has meant less heat coming into the cab as there are no hydraulic pipes anymore.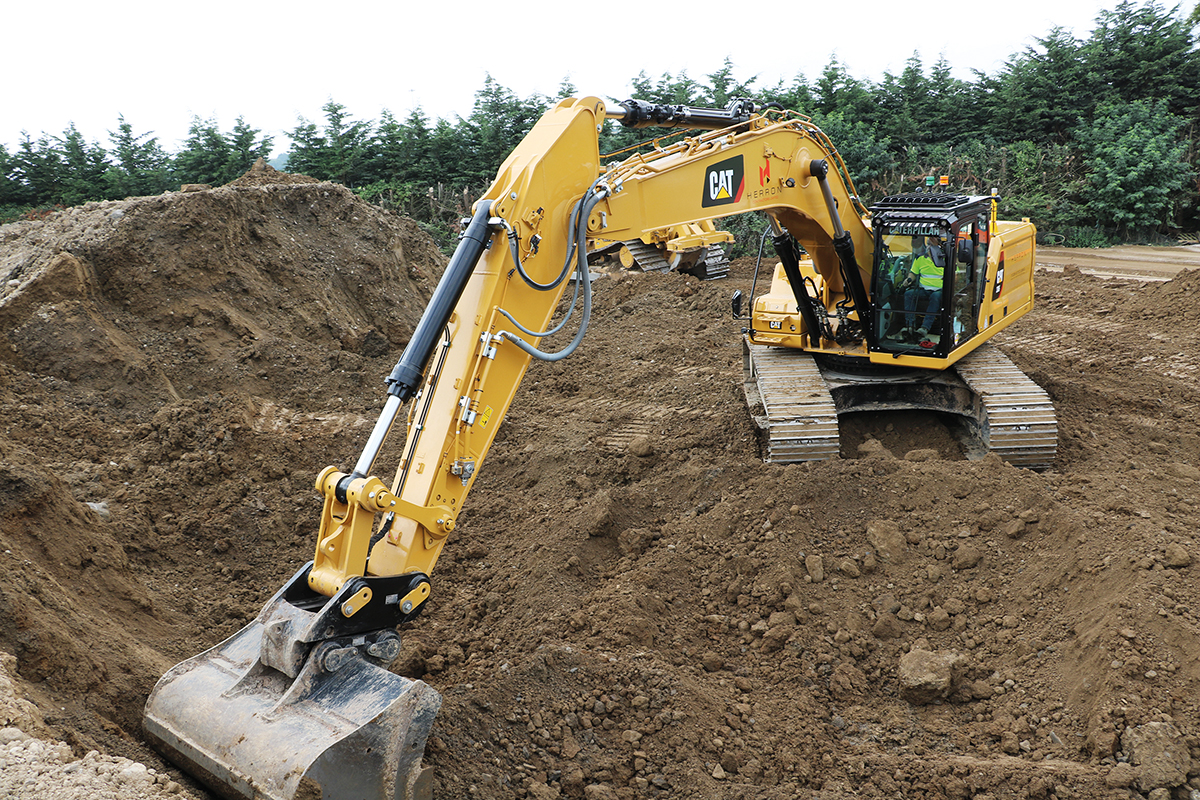 The machine is also a lot quicker than the previous model and it just has a sensitive touch on the controls", said Cyril. Caterpillar recently thought it would be a clever idea to drop the letter after the machine model number on its branding. This means you will now have to look at the data plate to figure out which build number the machine is. Personally, I don't like this new idea, the old way worked fine, and it was obviously dreamt up by some marketing guru who thought the letters looked clumsy. Same way I do not like the new Cat logo. The new logo looks like it was designed for some fast food chain. Thankfully, you can order your machine with the older logos which is exactly what Herron did for the 336. Take pride in what you do
This new excavator comes fitted with Trimble machine control systems. Cyril did not have this fitted to his older machine but has used GPS on other models and is not afraid of it. "I had it on the 312 and the 324, I got my first taste of the machine control about 15 years ago. It makes life quite easy; it gives you the grades, the cuts and the levels. It is particularly useful for us because we don't need an engineer on site. This job we are on today will only last a week, so we need to be quick and on time and the Trimble system really allows us to do that. The D6 dozer is also fitted with this latest technology, so together the machines work in harmony", said Cyril. As he has many years' experience and just by speaking with him, I can sense here is a man with great knowledge, I ask Cyril what he thinks makes a good operator.
"The problem nowadays is that young people just don't get a chance to get experience of operating machines on a site. Years ago, you would get an opportunity if you showed an interest, but because of health & safety regulations you cannot give a young person some stick time unless they have their tickets. It is only a farmer's son that would now have any notion of how to operate a machine. There do not seem to be as many young lads coming through at the moment, but I do see more young ladies getting on the machines which has to be a really good thing. They are far better looking as well. "What makes a really good operator is someone who takes pride in their machine and their work. Old school fellas like myself do not worry about the hours as long as we get the job done. You really must enjoy your work, and if you do not then there really isn't any point and you should look for another career. A good operator will also be able to see the out the job three steps in advance. In their heads they will be able to see what the finished job will look like. I've loved this job since I was knee high and if I had to buy a machine with my own money it would be a Cat," concluded Cyril.
Pushing on
John Rice is the man in the cab of the new D6 dozer. He looks young but is operating diggers and dozers for the past 15 years. He also comes from a farming background and is working for Herron the past four years. Before he got this new D6 (first in Ireland), he was operating the D6T. His new dozer has the fully automatic transmission which he believes better suits a younger operator with less experience. "With the older model, you just you slapped it into the gear you wanted and hit the dirt. You chose the gear and you controlled the engine speed with your foot, but the new model now controls everything. The dozer selects the gear and the engine speed and the ground speed. This new one has four gears, where the older one had only three. They have added a new gear which is between one and two and is called 1.5. I personally don't see the point of it, but I assume it has to do with fuel burn and torque", commented John. This new dozer is used for all types of work including roads, stabilising and grading, and farm work with drainage. The D6 here today is also fitted with the Trimble machine control, and John first got to use this cutting-edge technology when he joined Herron.
"It gives me excellent guidance and a really good overview of the job. It helps you picture in your head what the finished job will look like. It is incredibly good for final trim, and anything that does away with engineers on site is a good thing in my book", said John. Before working with Herron, John spent time working in Australia operating Cat D11 dozers in large quarries and I ask him is there a difference in operating a dozer that big and the one he is operating today. "No, not really, a dozer is a dozer except the different sizes. A good dozer operator will be able to hop into different brands and models and get the job done. The more experience will make you a better operator, and I think you can take any digger driver out of an excavator and if he has a bit of common sense then he will be able to operate this dozer. I think that is the most important ingredient in machine operating, having some good old common sense", concluded John.
Under the covers
I had two machines to choose from on this assignment for an under-the-covers technical look. After spinning the one euro coin, heads came up, so let us take a closer look at the new Caterpillar 336 excavator. The Cat 336 raises the bar for efficiency and fuel economy in this size class. With the highest level of standard factory technology, a cab made for operator comfort, plus lower fuel and maintenance costs, you can see why Herron invested in this machine. Cat claim this new model can deliver 15% in fuel savings compared to previous models, which delivers 12 more truckloads. Comfort and efficiency of movement keep operators productive and alert all shift long. The standard seat is wide and adjustable for operators of virtually any size. The deluxe cab package includes a heated air suspension seat; the premium seat is both heated and cooled.
Most machine settings can be controlled through the high-resolution touchscreen monitor. It offers 42 languages (no Irish) and is easy to reach from the seat – no twisting or turning. Smart Mode, one of three power settings, automatically adjusts engine and hydraulic power for the highest fuel efficiency – less power for tasks such as swinging and more power for digging. Operators can set and store their power mode preference using Operator ID; owners can lock in the mode they want their operators to use to help manage fuel consumption.
The tech wizards at Cat have been remarkably busy. The 336 uses a keyless push-button engine start. This adds security for the machine by using Operator ID codes to limit and track machine access. Codes can be entered manually, via an optional Bluetooth key fob, or smartphone app. Overall this is a well built, well designed and well thought out excavator. It's easy to see why Caterpillar is the number one best-selling digger on the planet.