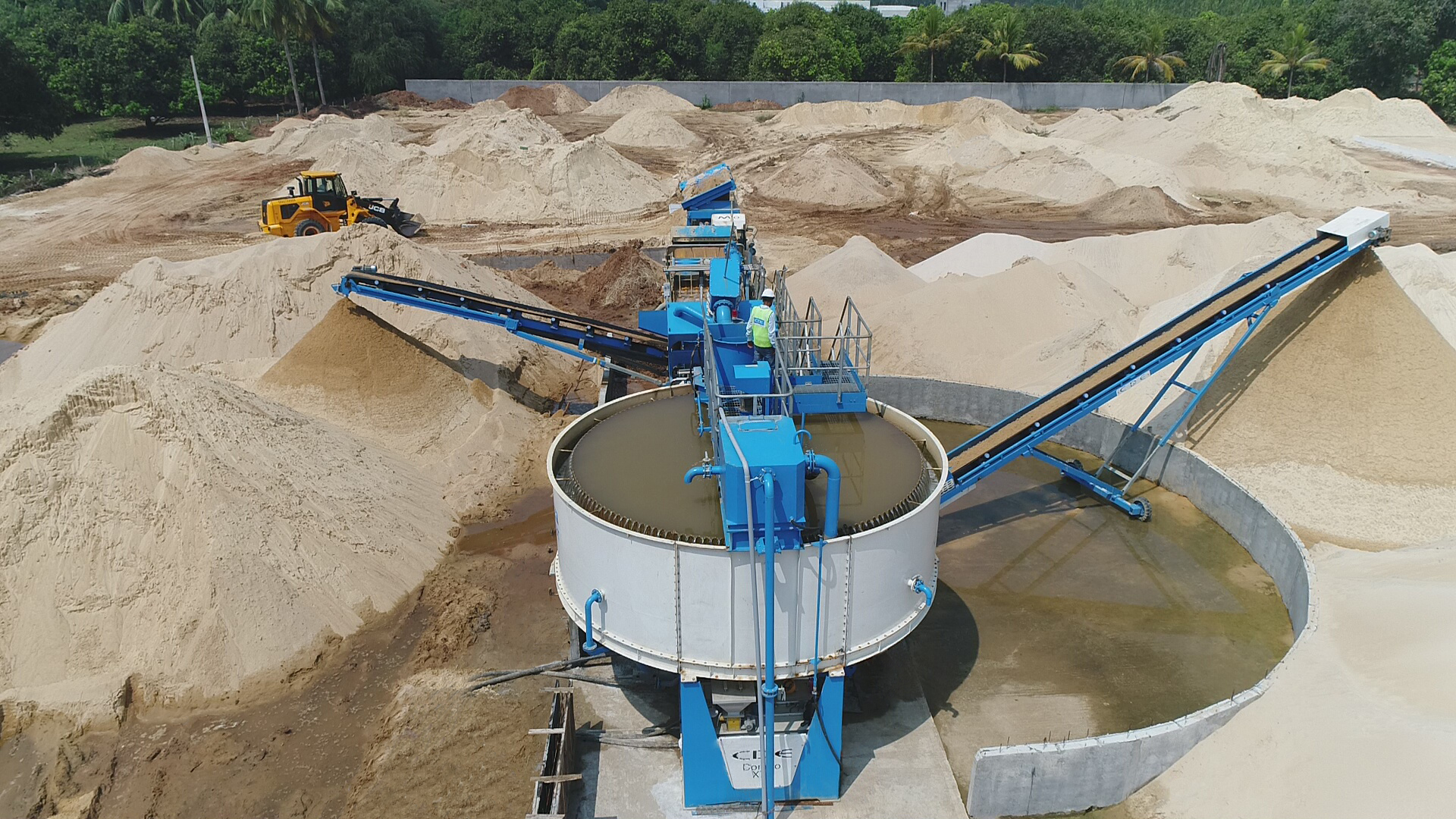 CDE Asia's Integrated Mobile Washing Plant for Superior M-Sand Production
A larger version of the flagship X70 model, the Combo X150 cleans, grades and recycles up to 95% of water in one machine, and can produce concrete and plaster sand simultaneously.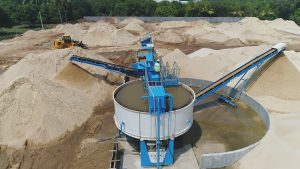 Developed specially for the m-sand washing market, CDE Asia's Combo X150 washing system integrates all washing processes from end-to-end in a single compact mobile unit. The plant, with its cutting-edge technology, gives accurate control of silt cut points to deliver high-quality sand. According to the company, the plant not only maximizes production of m-sand but also reduces water consumption by 95%. It incorporates a water management system, making it extremely eco-friendly. The integrated water recycling and sludge management capability enables the plant to be deployed in areas where traditional sand washing systems cannot be used, as large volumes of water and land required to operate them is readily available.
Combo requires a small supply of fresh water as opposed to traditional systems which typically consume 10-15 times more water. "This is what makes the Combo the most eco-friendly sand washing system in the world," avers Manish Bhartia, MD, CDE Asia."The other significant advantage is the low power consumption of 0.85kW per ton of feed – at just 170 kW maximum power rating – which makes Combo X150 the most power-efficient machine using clean energy. Our innovations demonstrate CDE Asia's commitment to help customers achieve the highest sand specifications, using washing technologies, while ensuring minimum impact on our environment."
An intelligent remote monitoring platform is also on board the Combo X150, as an option. It enables real time measurement of critical functions, storage of equipment-usage data for accurate diagnosis during service calls, and broadcast of user warnings for service requirement. It assists users in getting maximum plant performance with maximum equipment availability, such that customers can meet and exceed their production targets.
Elaborates Manish Bhartia: "The Combo X150, with its production capability of 150-200 tons per hour, provides an attractive proposition to the maturing washed m-sand market in India, and is now available in over 10 countries in Asia. In fact, our washed m-sand is a preferred choice as it is a viable alternative to river sand. With the spurt in construction projects, the larger companies are regularly demanding high capacity plants to meet their sand requirement. Combo X150 provides the perfect solution in meeting their need for an integrated mobile wash system that maximizes water use. It also allows operators the flexibility to produce concrete or plaster sand simultaneously, from one machine."
The Combo X150 system can be applied for washing a wide range of materials including m-sand, crushed rock fines, natural sand, gravel, etc. Due to its mobility, there is no requirement for bulky civil and structural work and the associated time-consuming process of dismantling and reinstallation. Companies engaged in quarrying in different geographic locations can move the plant as per their requirement, plus the plant can be commissioned onsite in just less than 7 days.
A feeding system puts the feed material into the washing unit, which removes more than -75 microns fraction from the feed material. The material is then forwarded to the dewatering unit, which delivers washed, dewatered, and well-graded sand products of two grades of concrete and plaster sand via an integrated stockpile of conveyors. Waste water from the system is transferred to inbuilt recycling unit, where the solids are separated from the water. The recycled water is circulated back into the plant and the final waste silt is removed from the recycling unit in the form of concentrated sludge for easy recovery through the integrated EasySettle sludge management system. The technology to convert sludge into light-weight bricks for construction use is also provided by the CDETechCenter.
The new mobile Combo X150 was invented at the company's R&D center. CDE Asia has created this entirely new marketplace across Asia with over 300 installations spread over 10 countries. "Our eco-friendly technology of producing washed and graded manufactured sand is helping developing economies to reduce their reliance on natural sand, which is fast becoming scarce and expensive. It has benefitted construction companies by providing top quality graded construction sand and sustainable operations. By utilizing normally low-value crusher fines for sand production, we can extend the life of natural resources and also add huge commercial value to our customers' enterprises," concludes Manish Bhartia, Managing Director of CDE Asia.