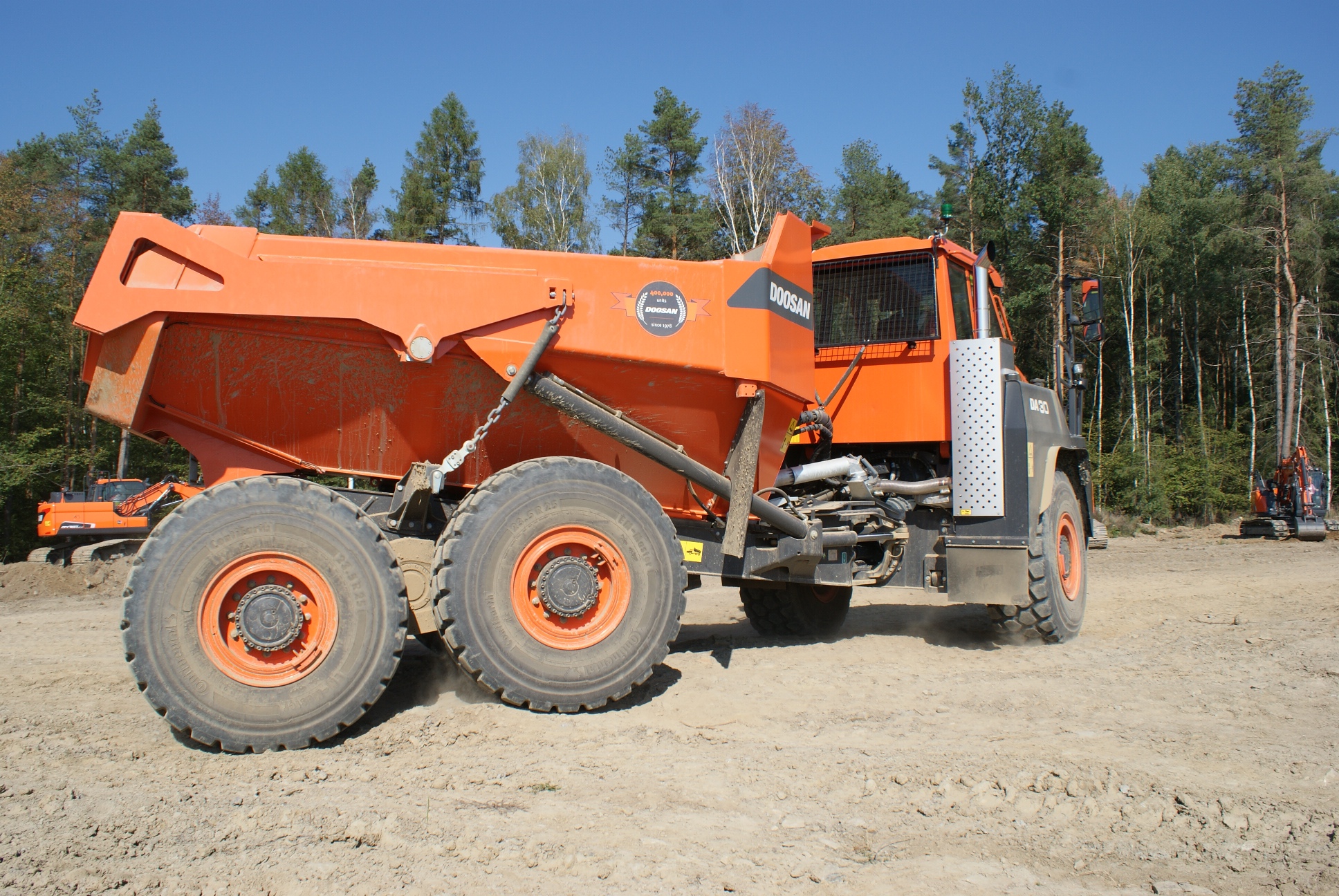 The 2018 version of Doosan's popular Quarry Days event in the Czech Republic saw a record attendance of around 380 customers and dealers from 14 countries all around Europe. Held over three days in bright sunshine throughout, this year's Quarry Days took place in the Belice Quarry near Prague.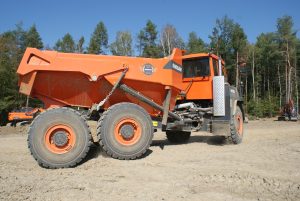 Product highlights of this year's event included the new top-of-the-range DL580-5 wheel loader, a new version of the company's DA30 articulated dump truck (ADT) and the new DL420CVT-5 and DL280-5 wheel loaders, all of which were appearing for the first time at Quarry Days.
These products were top of the list for many attending Quarry Days, which provides customers with a unique platform to try out the latest Doosan excavators, wheel loaders and ADTs in the working conditions of the Belice quarry. As in previous years, customers expressed very high satisfaction with the event, particularly the opportunity to operate the full range of Doosan machines themselves and to have the assistance and advice provided by the many Doosan product experts in attendance.
With over 25 Doosan machines available to try out,Quarry Days meets requests from dealers and customers for hands-on testing of the latest machines in true working environments.  As a precursor to agreeing current and future purchase deals, this provides advantages for Doosan dealers and helps to strengthen customer relationships.
Unlike many manufacturers, where customers are only allowed to view companies' staged demonstrations of machines, Doosan has listened to customer requests with the Quarry Days programme.  The event is designed to provide them with the best possible experience, backed by support, expertise and consultation provided by Doosan demonstrators, trainers and product managers.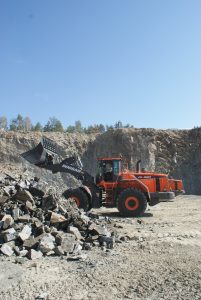 A Fantastic Tool for Customers and Dealers Alike
Wikor Danielewski from Poland, a customer of Grausch i Grausch Sp. z o.o. Maszyny budowlane, Doosan's Polish dealer, explains: "Doosan always offers good machines and some of those at this Quarry Days were new – I was very pleased to see them. We already have six Doosan machines in our company!We have several Doosan DL420 wheel loaders working in Poland in gravel pits and they are well known for their high performance. Some are even 10 years old and have more than 15000 hours, but are still working very well!"
James Bird of Murley Construction, the Doosan dealer for the Midlands region of England in the UK, added: "Quarry Days is a great tool that we can use both with existing customers to build on the relationship with the Doosan brand and for prospective customers who have never tried a Doosan product before, so that they can see everything in the Doosan range from the mini-excavators right up to the biggest machines we had working at the rock faces in the Belice quarry.
"We call it the 'Orange Injection' and it also applies to the many accessories on show that are available with Doosan machines including Steelwrist, SVAB and Trimble products as well as the new capabilities offered by the latest version of the DoosanCONNECT Telematics system for the Doosan range."
Over 25 Different Doosan Machines Available to Try Out
Among over 25 different Doosan machines available to try out, the company's new DL580-5 top-of-the-range Stage IV compliant wheel loader ensured a commanding presence. The DL580-5 is the latest development in the high performance Doosan wheel loader range, which comprises 13 models – covering operating weights from 12 to 36 tonne.
With a bucket capacity of 6.4 m3, the DL580-5 has a similar look to the existing DL550-5 model,but features robust structural components and an advanced sophisticated double circuit axle oil cooler system to provide an ideal solution for applications such as block lifting and other heavier material-handling needs in industrial, construction, recycling, mining and quarrying applications.
To meet these requirements, the DL580-5 has an operating weight of 36030 kg and higher static tipping loads (straight/full turn 40°) of 29700 and 26200 kg, respectively.  The overall size of the DL580-5 is almost the same as the DL550-5, but the new model is equipped with a series of features that make the machine extremely reliable and durable.
Doosan has also launched a new version of the company's DA30 30 tonne class ADT. Most of the changes in the new DA30 are aimed at enhancing operator comfort and the controllability of the machine, but there are also changes in the driveline and electrical systems.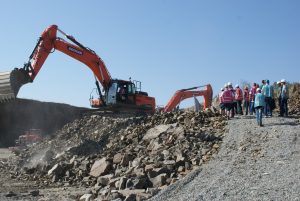 The most important development is in the suspension of the DA30 which has been upgraded to a hydro-gas self-levelling system to provide outstanding performance and superior shock absorption for better driving comfort, especially when the truck is being driven when it is empty. To complement this, the operator benefits from a Grammer Actimo XXL seat, electrically controlled mirrors, a new dashboard and many other new features in the new cab as standard with a wide scissor-type suspension and a new operator hand support to improve the operator's driving position. As an option, there is a new tyre pressure monitoring system available for better control of the tyre pressure, traction and operator comfort.
With the new features incorporated, the DA30 establishes a unique benchmark in load carrying performance, fuel efficiency, enhanced controllability and high operator comfort, together with improved reliability, durability and reduced maintenance and servicing costs.
Returning to the comprehensive wheel loader range from Doosan, the new DL420CVT-5 is the first model in the range to be equipped with a Continuously Variable Transmission (CVT).  A CVT transmission is the result of a permanent combination of a hydraulic technology and a mechanical technologywhich provides a smooth and continuous speed variation.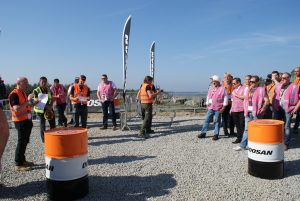 The CVT design provides the benefits of a hydraulic mechanical transmissionand a hydrostatic transmission in the same machine. It allows the DL420CVT-5 to automatically transition from hydrostatic power at low speed to the mechanical system to operate at higher speeds.
By combining the two types of transmission, the new CVT technology ensures high loads can be carried at low engine speeds with high dynamics for an optimum wheel loader operating cycle.  The DL420CVT-5 therefore provides an increase in machine performance for operators working in digging, loading and lifting applications.
With a maximum bucket capacity of 4.4m3, the new Doosan DL420CVT-5 wheel loader is intended to meet a wide range of material-handling needs from loading and transporting granular material (such as sand orgravel) to industrial, construction, demolition, mining and quarrying applications.
For most tasks, operators will utilizethe hydrostatic part of the transmission, which offers greater fuel efficiency in low-speed applications.  The combination of the two transmissions is automatic and fully transparent for the operator.
Up to 20% Additional Fuel Savings
The complete driving range, forwards and in reverse, is controlled by the CVT system.  Low engine speeds ensure a high efficiency and the highest driving comfort irrespective of the traction speed.  The power splitting continuously variable technology facilitates moving off softly and hydraulically.  Furthermore, with the CVT, a fuel saving of up to 20%can be achieved.
Doosan has also launched the new DL280-5 wheel loader, with a dedicated design for waste and recycling and general industrial applications.
The DL280-5 offers high performance and high productivity with outstanding breakout force, tipping load and enhanced output.  The front lift arm is powered by a closed centre hydraulic system with a 210 l/min axial piston pump.  This system provides maximum hydraulic performance, without producing excess capacity, thus saving on fuel and extending the lifetime and reliability of vital components.
The DL280-5 features Z-bar kinematics with a simple lifting piston system designed for heavy-duty applications.  The breakout force of 145 kN is combined with a constant bucket angle that is maintained throughout the range of movement.  Bucket angles are also optimizedin the travelling position and at ground level.