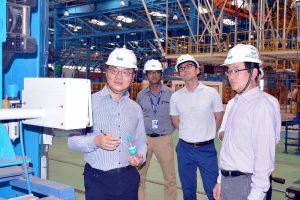 Doosan Bobcat has opened its new backhoe loader plant in India, thus marking its entrance into one of the world's three largest markets for the compact construction equipment industry.
On 4 June 2018, Doosan Bobcat President and CEO, Scott Park, visited the new backhoe loader plant in India, where he checked on the progress of the business.  Doosan Bobcat took over this plant last month, which has a site area of 80,000 ㎡, a factory floor area of 15,000 ㎡ and is capable of producing 8000 machines a year.
Doosan Bobcat has entered the backhoe loader market in a bid to expand its emerging market portfolio with the aim of exploring mid- and long-term growth engines.  India's compact equipment market is the third largest in the world after the US and China, with an estimated worth of KRW 1.3 trillion, where the backhoe loader sales account for more than 80%.  Since 2014, the Indian backhoe loader market has grown at an average annual rate of 9.7%.
Doosan Bobcat has acquired idle facilities to produce backhoe loaders in India to minimize its risk of investment.  By dramatically shortening the period from preparation time to shipping time compared to the time taken to establish an entirely new plant, the company will be able to start releasing its first batch of backhoe loaders in the second half of next year.  They will then focus on marketing activities targeting the Indian market in a bid to expand its market share.
Doosan Bobcat President and CEO, Scott Park, said: "With government-led infrastructure investment increasing in recent years, the compact market is growing rapidly in India, making it a highly attractive market.  Our mid and long-term goal, beginning with backhoe loaders, is to lead the Indian small construction machinery market."
For more information about Bobcat and Bobcat products, visit www.bobcat.com