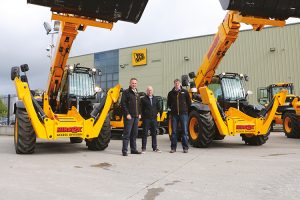 Hire2K have just bought some new machines to add to their already large equipment inventory. This investment points to a growing economy and confidence in the equipment rental sector. Darren Scully reports.
It is starting to become a more common sight: machinery salesmen handing over the keys of new machines to happy new owners. Rental firms are coming under increasing demand for equipment that can get the job done. Not only must it perform, but it must do it under tough conditions and give brilliant reliability. As the apt saying for this industry goes, 'time is money'. Therefore, Hire2K have got the cheque book out and bought more new plant. The 100% Irish-owned company have recently purchased three JCB 540-180 telehandlers. I went to see the new machines been handed over at dealer ECI-JCB in Rathcoole, Dublin.
ECI JCB
ECI have had a long-standing relationship with Hire2K for over fifteen years now. JCB machines are very popular with the rental sector and when you think of telehandlers, a picture of a yellow Loadall built in England instantly pops into the head. The telescopic loaders purchased by Hire2K are the latest 540-180s. They are powered by a 75 horsepower JCB diesel – non-ad-blue, thankfully. I spoke to ECI managing director Denis Murray and asked him how the market for his telehandlers in the rental sector is currently. "The Loadall market is currently on fire. The factory is now building one hundred telehandlers per day, and our biggest problem is that we can't get them out fast enough to cope with demand", he said. You could say that is a nice problem to have. I am sure many Irish machinery dealers would love to have that problem, but it does highlight how popular the Loadall is within the industry. Denis pointed out that the market is experiencing fast growth and that it is currently up 15% on this time last year.  With the recent launch also of the new X-series excavators, as well as electric mini-diggers and new dumpers, things are going to get a lot busier at ECI-JCB.
Hire2K
There to shake hands on the deal and take away his new machines was Hire2K sales manager Enda Finnerty. I asked Enda: with this new purchase, things must be getting busy? "Oh yes, there's lots of activity in the market. Customers want good machines at good rates and we deliver that, as well as top-class service", he replied. There are many manufacturers to choose from when buying a telescopic handler, so why did Hire2K buy JCB? "They have always been our preferred supplier. The service and quality are excellent. They have supplied us with our 5-metre, 13-metre, 17-metre and now 18-metre machines, they do a good job and we like dealing with them", said Enda. They now have 17 telehandlers in total across their two depots in Greenogue and Dunshaughlin. Enda already has jobs lined up for his new machines and they will be delivered to the customers' sites directly from ECI's yard.
The Fleet
Hire2K are always adding to the fleet. They have also purchased some new Bomag rollers, and whilst I had a look at them I spoke to their Dunshaughlin branch manager, Derek Madden. I asked him for an overview of the business currently, and who their typical customers are. "We are dealing with a lot of large house-building companies and most of the equipment is out on long-term hires. Our most popular items to hire out are teleporters and diggers. A lot of our customers don't want the hassle of owning their own plant, so they just rent them off us, sometimes it can be for a couple of years", he said. That is an interesting point – house builders don't want to own their plant but rent it instead. This makes a lot of sense if you just want to just concentrate on what you know best. So, what does Hire2K look for when they are buying new plant? "We like to buy from local suppliers, and of course brands do play a part in the selection process. We are very proud that we are 100% Irish and that every euro we earn we try and put back into the local economy. When dealing with local companies, we can then get issues resolved very quickly to everyone's satisfaction", said Derek. It was great to see inside a very successful rental firm and one that is very committed to their customers. It is also great to see new machines rolling out again; this will ensure a modern plant fleet and undoubtedly a contented customer. Happy days.