Dara Boyle visits Dan Morrissey & Co's sandpit in Ballyburn, Co Kildare, where a CDE modular washing plant takes centre stage.
Ballyburn is a townland in Kildare, located between the village of Castledermot and the Carlow border. The area is home to a deposit of high-grade sand, which is being quarried by Dan Morrissey & Co.
"We have very high-quality sand and gravel here, and it has NSAI certification for use in concrete and precast, and also in aggregate products like 803 and 804", says Kevin Morrissey Jnr, Director.
[divider style="solid" top="20″ bottom="20″]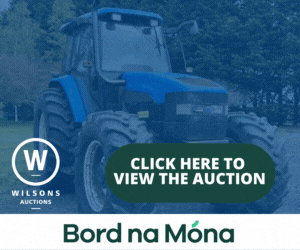 [divider style="solid" top="20″ bottom="20″]
Kevin says that although they had no orders when the gates opened, a good year last year means a solid customer base is building up. The pit is only one kilometre away from the M9 motorway, allowing the journey to Dublin to be done in under an hour. This has allowed Morrisseys to expand their range and supply concrete plants in South Dublin.
Kevin is the third generation of his family to run the business, which was founded by his grandfather in the 1930s, before the baton was passed to his uncles in the '60s. The company now operates across six locations in four counties, producing asphalt, tarmacadam, concrete roof tiles, precast and a full range of aggregates. Morrisseys have a number of high-profile names among their clients, including Irish Rail. Development of the quarry at Ballyburn began in the years before the recession, but when the downturn came the opening was put off until January 2019. This was when the decision was made to equip the site with the CDE Global system.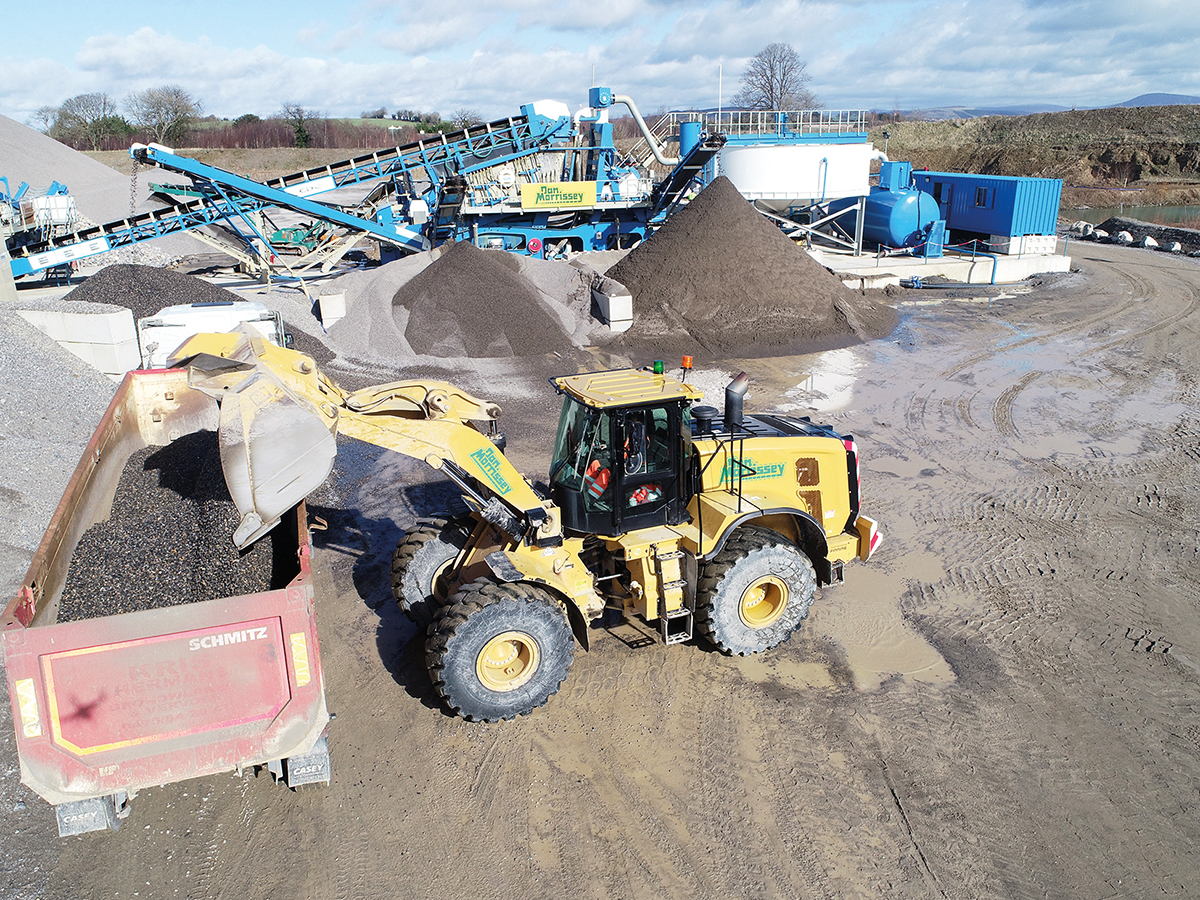 Into the blue
"When we decided to open the plant, time had moved on and there were different regulations to follow", explains Kevin. "After consultation with a number of suppliers we chose CDE for our washing and screening plant. It was a big investment for us, but we will be here for 25 to 30 years. We went all-out to get a very high-calibre plant to match the high standard of deposit we have here", he says.
The plant includes a CDE R2500 primary scalping unit, which can process material at a rate of over 500 tph. This is used by Morrisseys to separate everything below 24 mm. The R2500 features the Infinity P2-75R double deck screen, which comes galvanised as standard and has side walls with no welds. 
Having a weld-free design saves weight and lets it run more economically. The unit is electrically powered, cutting fuel consumption and environmental impact. The hopper can be fed from any angle, making it easier to set up.
The setup also includes an M2500 modular wash plant which can produce three washed aggregates (6mm, 10mm & 20mm) along with two washed sands (0-2mm building sand and 0-4mm concrete sand). Kevin explains the benefits of being able to produce this sand. It also uses an Infinity screen, the triple-deck P3-75. "This has made us more self-sufficient across our operations. The fine grade of sand that comes off the M2500 is perfect for our asphalt production, and the coarser grade is perfect for readymix. We are now using it in all of our readymix installations in Carlow and Wicklow", he says.
The addition of the CDE AquaCycle thickener ensures up to 90 percent of the water can be reused in the plant. "From an environmental perspective, we wanted to be as efficient and as ecologically responsible as possible, so we put in a full water treatment and management system – something we haven't had to do on any of our other sites", says Kevin. Using the Aquacycle reduces the need for settling ponds, as only around 10 percent of the normal amount of water is required to top it up.  The FlocStation is completely automated and manages the purification of the water by separating the silt content. This takes place in the thickener tank. The silt is dispersed using a four-arm rake at the bottom of the tank and the clean water is then recirculated back to the washing screen for reuse.'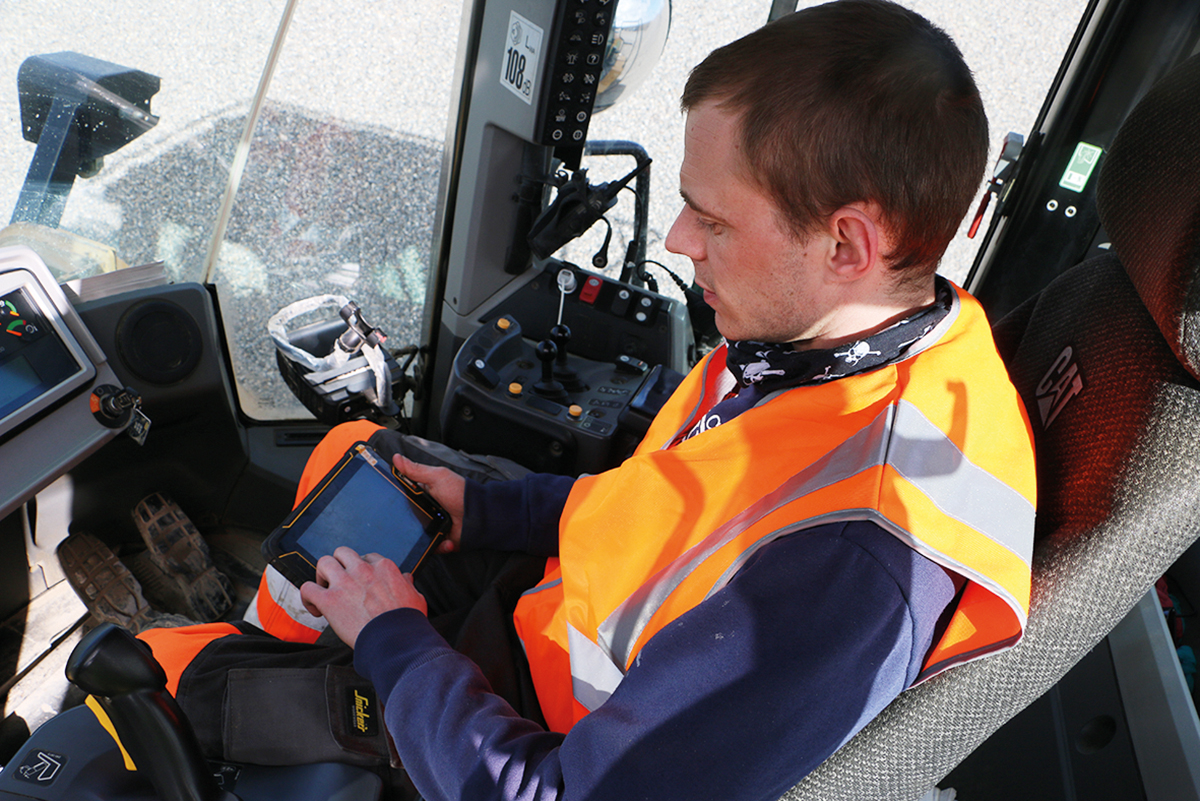 Kevin credits his father, Kevin Morrissey Snr, for having the knowledge to recognise the build quality of the CDE product, the Infinity screen in particular.
The plant can also be monitored and controlled remotely. "CDE have been to the fore in terms of technology. The plant is quite high-tech and is fully controllable from a tablet in the loader. You can see what the plant is doing and make adjustments, which you have to do as the material going in changes. It's been a steep learning curve for us, but we have gotten on fantastically well", says Kevin.
"No matter where I am, I can pull out the phone and see what the plant is doing or if there's a problem with it. Likewise, CDE can diagnose any problems because it's all connected", he adds.
Kevin also points out that it's an advantage to be within driving distance of an equipment supplier, rather than buying kit from overseas. This means backup and parts are hours away, as opposed to days.
Another modern approach Morrisseys take to the job is using a drone to measure stockpiles. This allows the company to have an accurate knowledge of the rate the different materials are moving at and manage production more efficiently.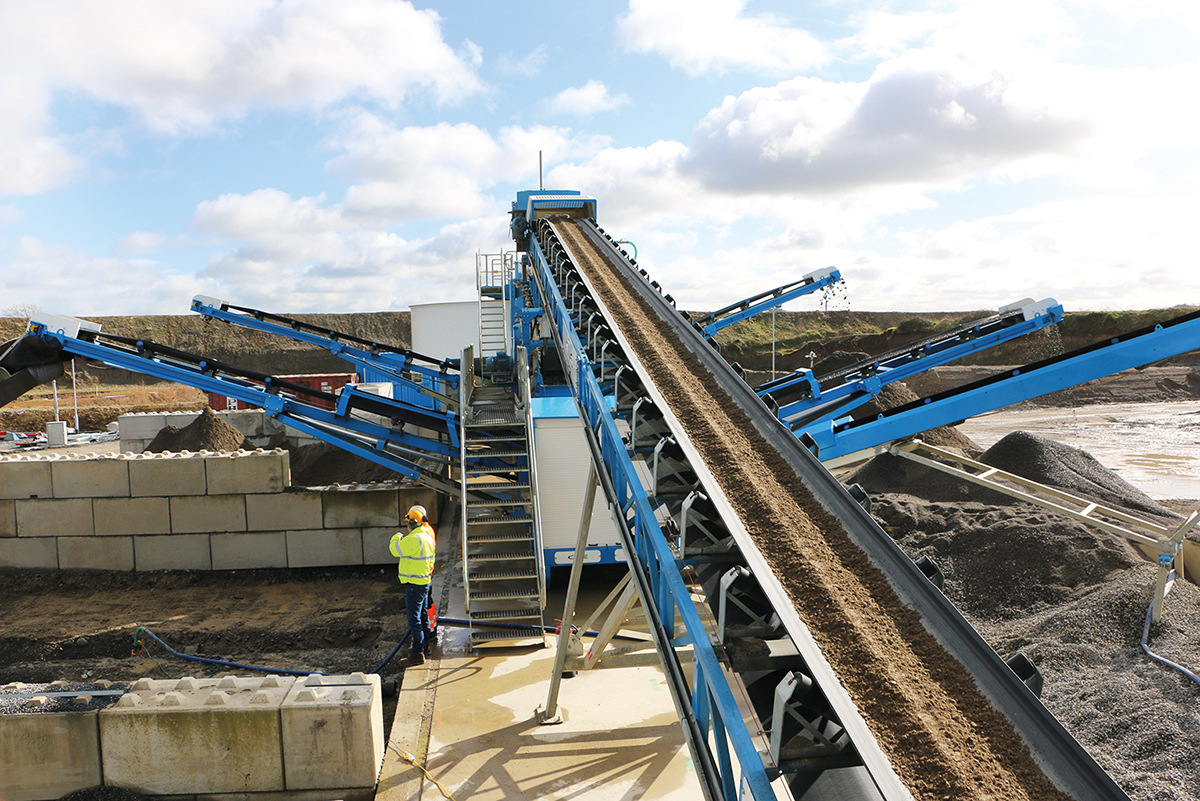 Shovelling sand
The wheel loader filling the trucks when I visited was a Cat 966 M. A Stage IV-compliant, 9.3-litre, six-cylinder engine making 206 kW gives this machine its grunt. Operator Jamie Dowling is the man in the cab. Jamie has been shifting material for Morrisseys for 14 years and is the third generation of his family to work for the company. In fact, Jamie's grandfather is still part of the operation, driving a truck.
Jamie has operated other brands of shovel, but he is a particular fan of the American machine. "It's hard to beat the Cat – it's a great, solid machine", he says. Jamie likes the Cat's joystick controls, and says they make for an easier workday than operating with a conventional steering wheel.
Morrisseys also use a number of Komatsu machines, including wheel loaders, ducks and PC350 and PC360 tracked machines. Some of the excavators are hired in from plant hire companies, and others were bought from McHale Plant Sales. "Tim Shanahan and McHales have looked after us fabulously well over the years", Kevin comments. There are also several Powerscreen machines on site.
The company runs a mixed fleet of around 40 trucks, including Hino, Volvo, Renault and MAN models. "We do a lot with Renault. We've found Setanta Trucks to be quite a good supplier with good backup", says Kevin.
High standard
In addition to investing in high quality equipment, Morrisseys have made the effort to prepare the premises themselves to a high standard. "We have put in excess of 1,000 tonnes of stone into our internal road. It has also been fully tarmacadamed and lined, and we enforce speed zones along it too", says Kevin. The quarry entrance has also been landscaped. "Anybody coming in can see that this is the next step up for Morrisseys and is the standard of operation we intend to run across the board", he says.
Along with the work carried out on site, the company also upgraded the public road to prepare it for a higher level of traffic due to movements in and out of the quarry. "Our civils division has resurfaced, reshaped and reprofiled the roads. Our surface dressing division then put down the tar and chip. We kerbed both sides and put in wider footpaths, which were tarmacked to the highest standard. We also lined it, put in drainage and put in ducting to future-proof the road. A full lighting system was also installed", explains Kevin.
After hearing about a local incident, Morrisseys decided to place a defibrillator at the entrance to the Ballyburn quarry, and later expanded this to all of their premises in the south-east. "It's always positive to give something back into the area", says Kevin.