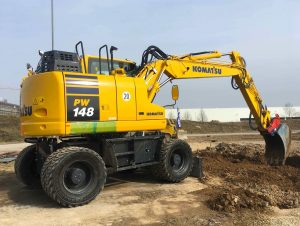 Latest 'Dash 11' versions of Komatsu's wheeled excavator product offering have arrived on the market here and early indications are pointing to a positive reception.
According to distributor McHale Plant Sales of Birdhill and Rathcoole, interest is high and a number of deliveries are said to be 'in the pipeline'.
All powered by a EU Stage lV compliant engine, popular untis here are the 121HP, PW148 with an operating range of 14.200 – 17.160kg, the 150HP, PW160 and the 165HP, PW180, with operating ranges of 16.700 – 18.600kg and 17.600 – 20.600kg respectively.
Often seen as the street-friendly alternative to the more muscular and imposing tracked versions, these versatile and compact machines are designed to operate in urban areas or on job sites where space is limited.
Equally comfortable in heavy-duty lifting applications or simple excavating tasks, the PW range is ideally suited to working in narrow alleys, pipe-laying, sewer-construction work or on road-construction sites.
Other areas where the wheeled excavator shines is in applications requiring a softer, more gentle footprint – in fields, on smoothly-laid tarmac and in situations requiring more silent operation and a lower-noise output than even the most well-mannered tracked models can deliver.
Added appeal includes manoeuvrabilty, infinitely faster repair time when wheels give out and tyres need replacement and the advantage of being adaptable for rail track use.
Building on the established benefits of their predecessors, with the same basic machine dimensions, linkage and main hydraulic valve, Komatsu's new PW148-11, PW160-11 and PW180-11 feature design and technology enhancements introduced with versatility, efficiency and operator comfort in mind.
Capable of working in low emissions zones, Komatsu says fuel consumption is reduced by up to 4% with no loss of performance, while an integrated SCR (Selective Catalytic Reduction) system further reduces NOx emissions.
Operator comfort is improved thanks to a new boom suspension system (ECSS), suspended joystick consoles, premium cushioning, auto weight adjustments and pneumatic lumbar support as standard. Joystick Steering (JSS) is available as an option.
An upgraded high-resolution TFT-LCD widescreen colour monitor panel provides key machine metrics including AdBlue® e-level, fuel consumption, and performance data, while attachment control is integrated. Safety is enhanced through Komatsu's standard "KomVision" system of multiple cameras.
For increased versatility, the PW148-11, PW160-11 and PW180-11 can be equipped with either a truck type automatic hitch or a car ball type hitch for a trailer of up to 8 tonnes, which can then be operated from the cab's joysticks.
Coupled with Komatsu's EMMS (Equipment Management Monitoring System) enhanced diagnostic features to give operators and technicians greater monitoring and troubleshooting capabilities, the machines are built for ease of maintenance. An "auto grease" function can be ordered, and regular engine service points, greasing points and filters are centralised making them quick and safe to access.
In common with other Stage IV machines, the Dash 11 wheeled excavators come equipped with latest KOMTRAX telematics as standard and are all backed by Komatsu CARE maintenance support.