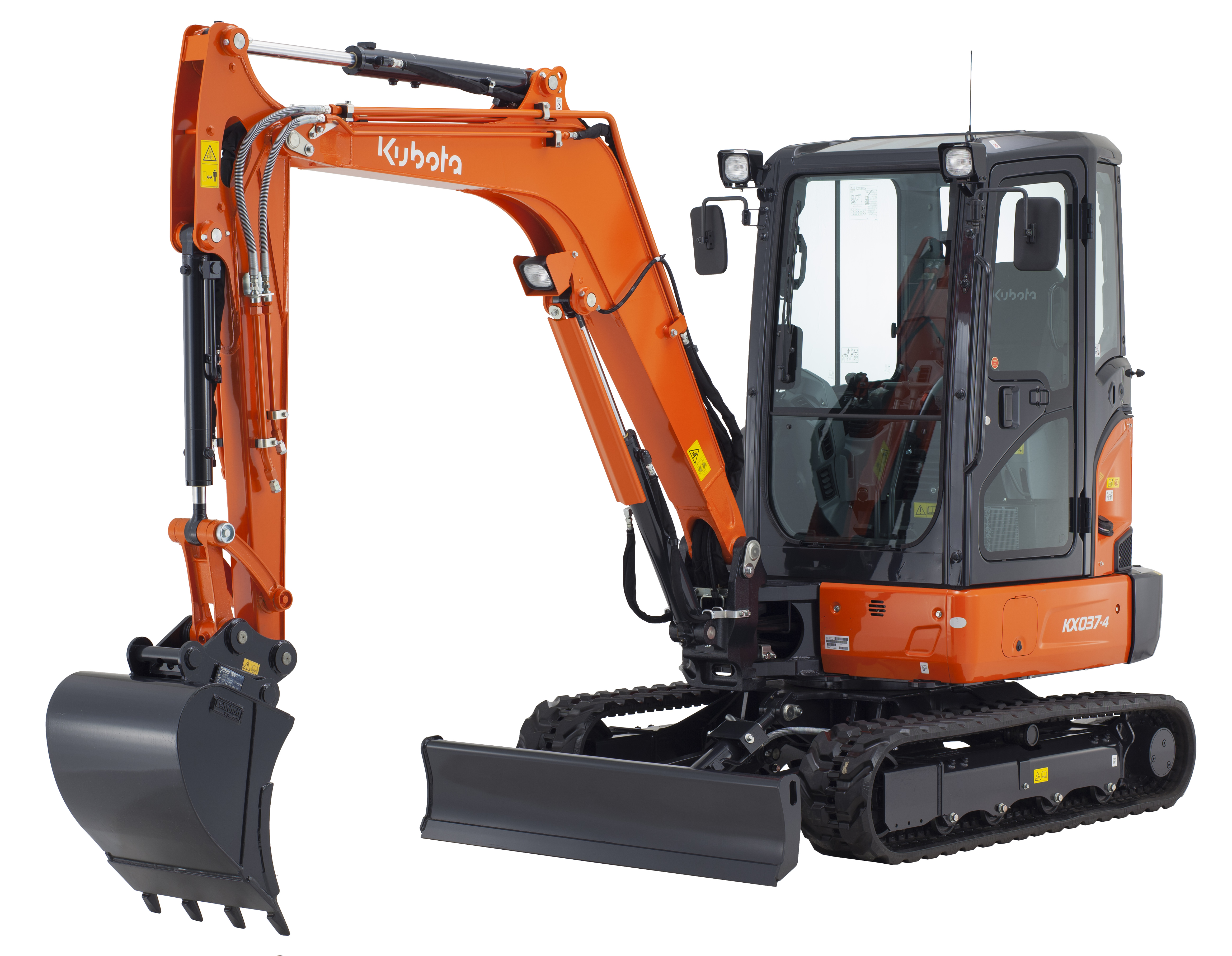 Thame, UK, 3rd January 2019 – Kubota today announces the launch of the KX037-4, a new and improved zero tail swing mini-excavator for 2019.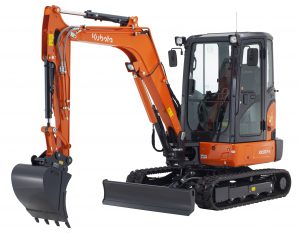 The new KX037-4 replaces another model in Kubota's construction range, the KX101-3a4, and boasts a wealth of new features to improve everyday efficiency, ease of use and compliance with construction industry regulations.
The 3.7-tonne machine will be available from Kubota dealers in the UK and mainland Europe from January 2019.
Numerous safety features come as standard on the KX037-4, including four top frame tie-down points for safe transportation of the machine on other vehicles. The new model also features Kubota's engine safe start system plus a hydraulic lockout on the left-hand console, and optional safety valves for the boom, arm and dozer.
A fuel tank buzzer alerts operators to prevent fuel waste and minimise financial cost to operators and harm to the environment. The machine also features easy access for daily maintenance and safety checks, with large opening panels covering the engine and side of the vehicle. The KX037-4 is protected by Kubota's highly-regarded anti-theft system, which is fitted as standard.
The updated excavator also features numerous improvements to comfort for operators, including a larger and more spacious cab with improved foot space, and a new door configuration which is approximately 40% wider than that of the previous KX101-3a4, offering improved access. The cab also features a weight-adjustable full suspension seat as standard, and air conditioning as an optional extra. An easy-to-read LCD panel in the cab enables effortless monitoring of the machine's status at all times.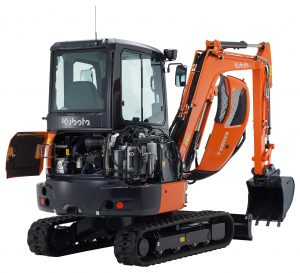 The KX037-4 is powered by a Stage V-ready 17.8 kW Kubota engine delivering power, economy and low emissions. The excavator also has auto-shift and auto-idle features as standard, which offer both smoother operation when dozing and turning and reduced fuel consumption with lower noise levels and emissions.
Glen Hampson, Business Development Manager, Construction Division, Kubota UK, comments: "Offering powerful digging force, market-leading versatility, and smooth, simple and comfortable operation, the KX037-4 is a mid-weight compact excavator which does not compromise on performance. As well as Kubota's traditional reliability and ease of servicing, the new features of this model are designed to aid compliance with environmental and construction industry standards making this the ideal excavator for multiple applications."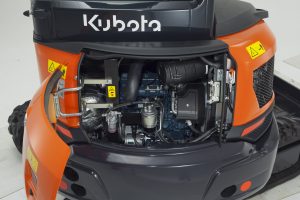 The KX037-4 also offers proportional controlled Aux 1, with 11% greater flow than the previous model, with proportional Aux 2 available as an option. In addition, large capacity variable displacement pumps enable smooth, synchronised operation of the boom, arm and bucket, returning exceptional productivity.