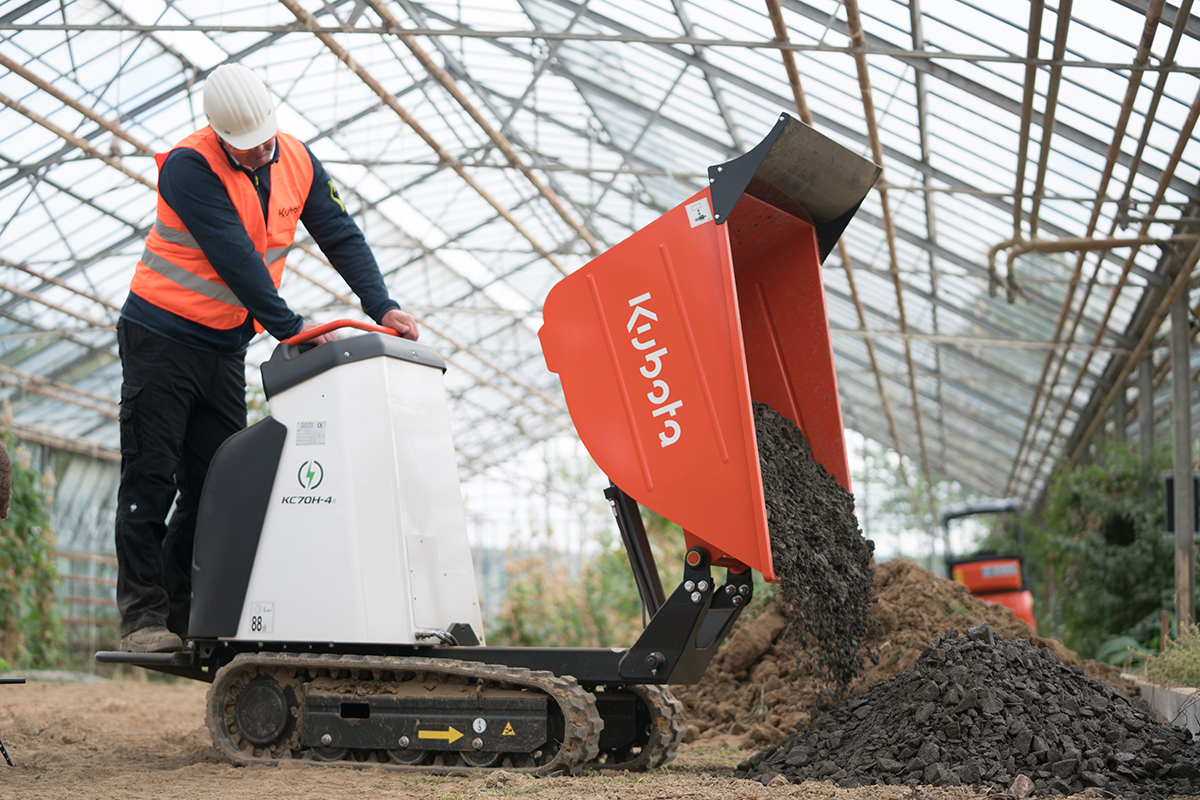 Kubota, the market-leading manufacturer in mini construction equipment, has launched an LPG-powered mini-excavator alongside a fully electric track dumper, offering users even more options to drive down emissions.
Forming part of the manufacturer's Smart Energy Solutions range, the new KX019-4 SI HGL (LPG) mini-excavator and KC70H-4e track dumper utilise next-generation low and zero emissions technology, all while providing the same proven performance and capabilities of Kubota's most compact and versatile machines.
Powered by LPG, The KX019-4 SI HGL (LPG)'s Spark Ignition engine enables dramatically reduced emissions and toxicity in the familiar form factor while offering the same levels of performance and productivity as the standard KX019-4. Compared to diesel engines, the new excavator emits almost zero particulate matter and reduces nitrous oxide and hydrocarbon emissions to just 5% of an equivalent diesel engine.
On site, LPG offers a number of advantages over traditional fuels. Refueling is simpler, faster, and unlike diesel fuel, the canisters cannot contaminate the work site through spillages.
Kubota's Spark Ignition engine no longer requires a diesel particulate filter, reducing the need for maintenance, and operates at lower noise levels, while providing the same levels of power as before. The KX019-4 LPG's all-day uptime, quieter operation and 2.5m dig depth ensure the new machine is among Kubota's most versatile mini-excavators, capable of operating anywhere and at any time of day or night.
The KC70H-4e offers the same performance and productivity improvements introduced with the KC70 in a fully electric, zero-emission solution.
Its fast charge time and all day continuous run time work hand-in-hand to maximise time on site, while its 700kg load capacity, compact design and low noise engine make the machine perfect for use in any environment at any time of day, including in low emissions areas.
Glen Hampson, Construction Division Manager at Kubota, said: "We believe our customers shouldn't have to compromise on productivity or power when it comes to the tools that help them get the job done. That's why when we introduce a new technology, such as the KX019-4 SI HGL (LPG) Spark Ignition engine or the KC70H-4e's lithium battery, we do so in a way that ensures our customers can rely on the machine's quality and reliability just as much as before.
"Both new machines offer the same power and capabilities our customers expect, alongside new enhancements set to reduce Kubota's impact on the planet and deliver on our mission: For Earth, For Life.
"We can't wait to get these new machines into the hands of customers to show them the future of the Kubota lineup."
To learn more about the KX019-4 SI HGL (LPG) or KC70H-4e, or locate your nearest dealer, please visit: https://kuk.kubota-eu.com/constructionmachinery/product-category/smart-energy-solutions/