The position of importance Merlo holds within the McHale Plant Sales model mix will be underlined at the FTMTA Farm Machinery Show (Punchestown, February).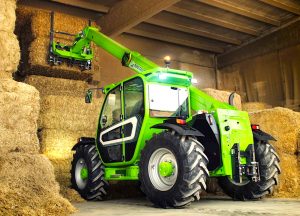 Featured units will be a TF35.7-115 Turbofarmer model, displayed alongside a P27.6 Plus unit from the compact end of the Merlo model spectrum.
Aimed at agricultural contractors and farm owners alike, the TF35.7-115 Turbofarmer is described as a 'versatile' telehandler proven in winter feeding, silage harvesting and other farming applications.
Equipped with a tractor-like rear pick up hitch attachment, it bridges the gap between tractor and general farmyard load carrier, its other attributes including a 7 metre boom reach and suitable headstock for all types of farming attachments.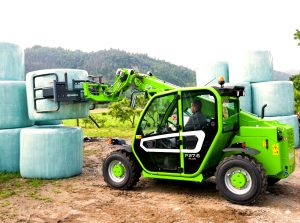 Amongst the standout features of the Merlo P27.6 Plus is its full size cabin with compact dimensions – measuring just 1,840cm wide and 1,920cm high – making it suitable to handle a wide range of applications. Its 6.1 metre reach, 2.7 tonne lifting capacity and maximum road speed of 40Km/h make it one of the most versatile machines in its class.
Buoyed by a new, faster, more streamlined factory-to-buyer supply chain arrangement, McHale Plant Sales has set new targets for the Italian-made range in terms of Irish market expectations. Its sales director, John O'Brien said: 'more deal-focused, our aim is to raise Merlo sales to levels that better replicate the brand's position in other European and North American markets'.
From Komatsu will be the new WA320-8 wheel loader, launched just a few months ago.
Fully specified and fitted for agricultural use, the heavy-duty unit comes with a full range of attachments to suit the requirements of farm contractors, grain harvesters and merchants. Class-leading features include wide core radiators, limited slip differentials, autolube system, boom suspension, agricultural size 750-65R26 tyres, climate control and a full light package.  A front quick coupler with extra hydraulic lines is designed to accommodate a variety of attachments including silage forks, pallet forks and bucket applications.