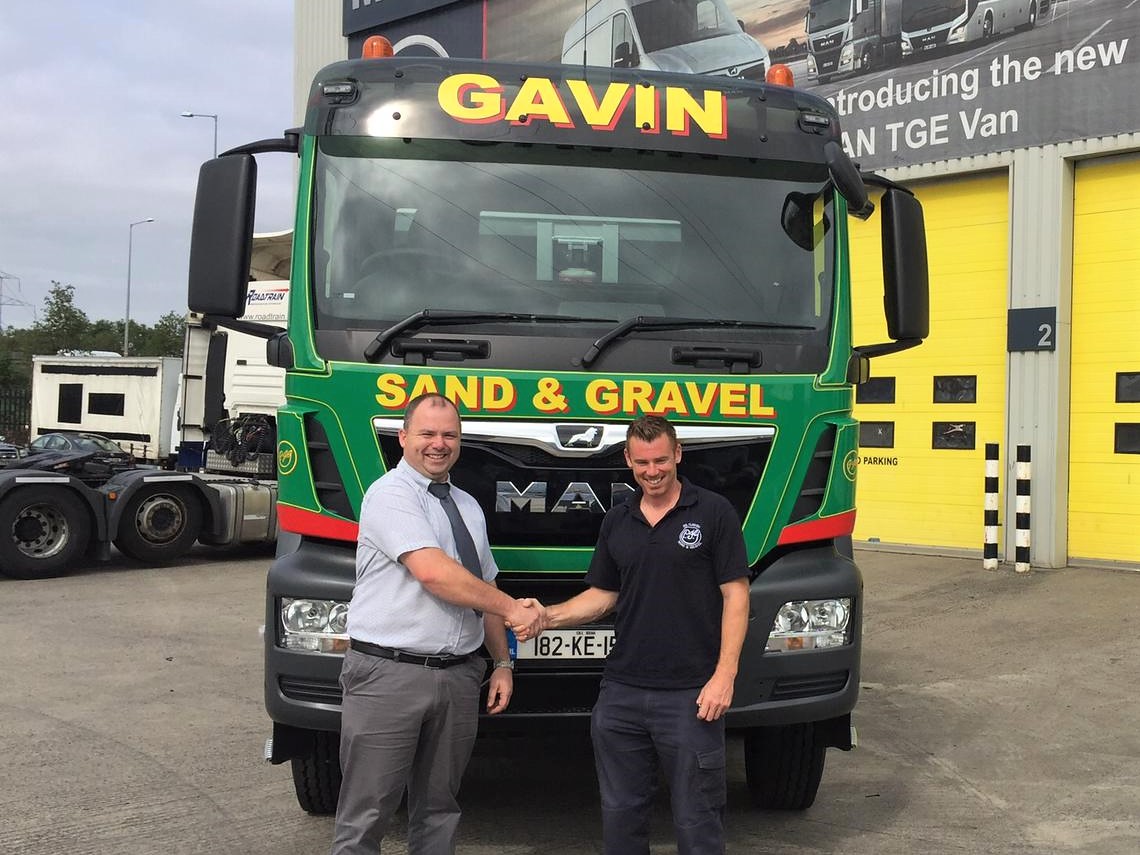 Well-established suppliers of construction trade materials, PJ Gavin Sand and Gravel of Co. Kildare, have taken delivery of a brand new TGS tipper truck from MAN Importers Ireland.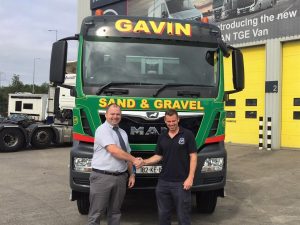 A family business, dating back to the 1950's, PJ Sand and Gravel know the challenges of their environments and what features a truck needs to thrive. When the time came to replace an older MAN, the decision for its replacement didn't need much consideration.
"The TGS is a strong, robust truck which is exactly what is needed for quarries and building sites. They perform well in this environment which is helped by their good ground clearance, and they're fuel efficient which is a bonus too" – Eric Gavin, Director of PJ Sand and Gravel.
The new MAN TGS 35.420 has joined a fleet of eight other tippers, including another MAN. Together this team haul sand, pebble and crushed stone to the Kildare, Dublin and Wicklow areas of Ireland.
Sitting on straight beam front axles and rear hub front axles, with a 3-piece steel front bumper, powered by a 13 litre D26 engine and with TipMatic off-road transmission, this truck is well equipped to handle the construction environment. For a comfortable working environment, the driver also benefits from cruise control, an engine brake and Bluetooth voice control.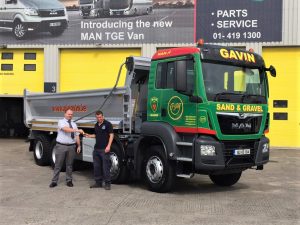 Having had the vehicle for just a short while, Eric was pleased to report back on the new model, "The thing I like most about this truck is the comfort. It's automatic, driver friendly, it has good vision and the steering has improved too. The traction is brilliant as it holds the road very well with great stability, so it must be very well balanced."
Gavin is confident that purchasing the MAN TGS was a good choice for his business, "The TGS is comfortable, strong, well-built and for the type of site work we have they're the most suitable for the environment."
"The team at MAN Importers Ireland were a pleasure to deal with and presented the new truck to me in showroom condition, so I couldn't ask for more."
The MAN TGS is robust and reliable with strong pulling power and is able to rise to all challenges in heavy-duty transport. From construction to distribution, agriculture to long-haul, the TGS has unparalleled versatility.